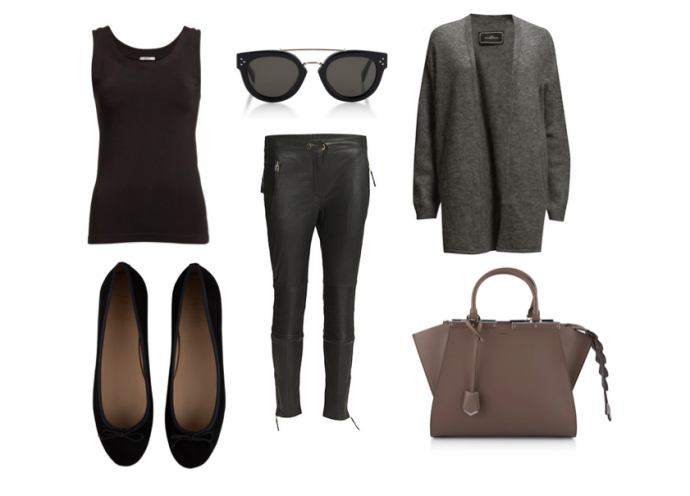 [spacer]
Tank / Wolford*     Sunnies / Céline     Knit / By Malene Birger*
Flats / Flattered Flats     Leather pants / Day Birger et Mikkelsen*     Bag / Fendi
[spacer]
[dropcap custom_class="normal"]Ranskassa ilmat ovat olleet suhteellisen epävakaiset vuodenaikaan nähden, mutta loppuviikosta helteet palasivat. Alkuviikosta oli muutama sateinen ja viileä päivä, joten tämä ylläoleva asu ei olisi ollut yhtään liioiteltua. Etenkin yöt ovat olleet lähes kylmiä ja esimerkiksi viime viikonloppuna lähdin illalliselle villakangastakki päällä – ja onneksi lähdin, sillä kaikki muut seurueessamme palelivat. Nyt ilmat näyttävät taas parantuneen, eli ehkä ne villakangastakin ja muhkeat neuleet voi haudata taas kaapin perälle odottamaan syksyä.[/dropcap]
Bongasin muuten tuon Fendin laukun Natalie Schutermanin alennusmyynneistä ja miten kaunis väri tässä laukussa onkaan! Muutenkin malli näyttäisi toimivan täydellisesti arkilaukkuna olkahihnansa ansiosta.
Tänään palaamme takaisin Deauvillestä Orléansiin ja tiistaina lähden Pariisiin. Juttua kuluneesta viikonlopusta tulossa sitten loppuviikosta. Hyvää sunnuntaita kaikille!
The weather in France has been very strange lately. There are cooler days and really warm ones and the nights are actually quite cold. This outfit would not have been too much last week during an evening. Now the weather is heating up again so maybe I can put my wool coat and heavy knits in the closet to wait for Fall?
Today we are heading back to Orléans from Deauville and later this week I'm leaving to Paris. Looking forward to visiting my old home town again! More about Deauville later this week.
Enjoy your Sunday everyone!
*Mainoslinkkejä/Commercial links.