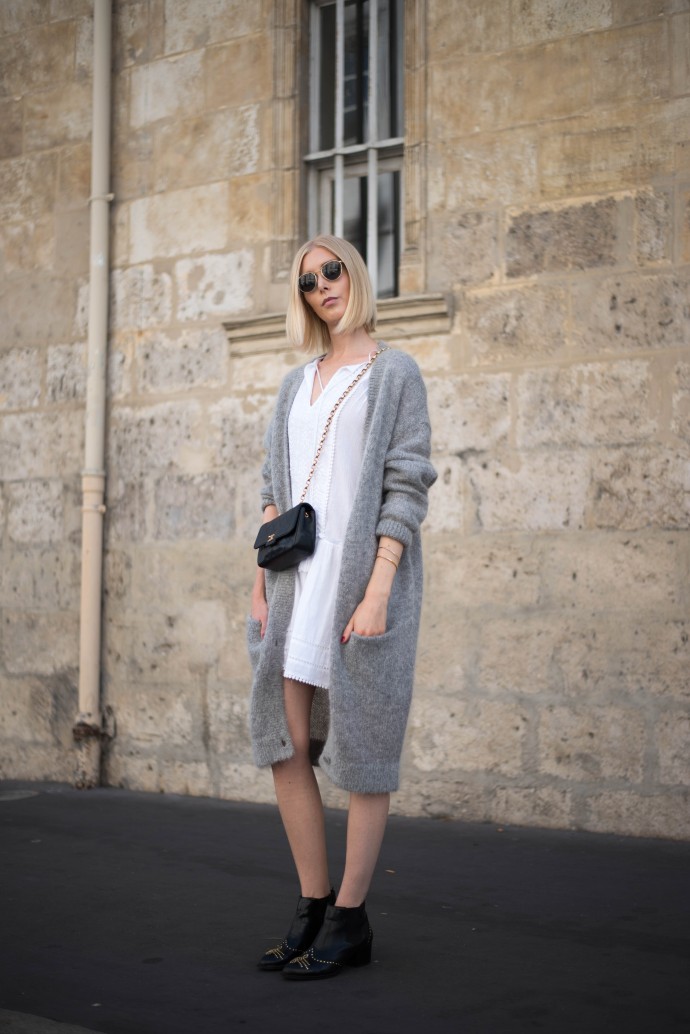 Valkoinen pitkähihainen hellemekko on sellainen vaate, jota olen aina kaipaillut kaukolomilla. Talvisin matkustaessa hellevaatteita ei Suomesta löydy ja kesällä sellaisia harvemmin tarvitsee (ainakaan Suomessa). Seuraan Lindexiä Instagramissa ja löysin sieltä kuvan heidän mallistonsa mekosta. Kriteerini olivat valkoinen väri, vilpoinen materiaali ja pitkät hihat. Tässä mekossa yhdistyivät kaikki nämä, joten etsin sitä Ranskasta käsin Lindexin Suomen myymälöistä. Yhden kappaleen onnistuin viimein löytämään ja onnekseni kyseessä oli vielä oma kokoni. Ihana äitini kävi ystävällisesti sen hakemassa, joten uusi hellemekkoni odotti minua Suomeen palatessani.
Luonnollisesti se matkusti muiden tavaroideni mukana uuteen kotiini tänne Ranskaan ja viime viikonloppuna vedin sen ensimmäistä kertaa päälleni. Halusin yhdistää siihen tämän paksun neuleen ja mustat nilkkurit kaveriksi, jotta se toimisi vielä tämän kuukauden vaikka lämpötilat viilenisivätkin. Mitä mieltä te olette tästä yhdistelmästä?
Ja sitten asiasta kolmanteen…Tänään itselläni alkaa ranskankielen intenssiiviopinnot. Tai oikeastaan vietän koko päivän kielikokeessa, jonka perusteella meidät laitetaan ryhmiin. Loppuviikko onkin sitten tutustumista yliopistoon ja muihin kurssilaisiin ja virallinen opetus alkaa  ensi viikolla. Tulossa on siis varmasti tapahtumarikas viikko.
Hyvää syyskuuta kaikille! Lempikuukauteni alkakoon.
A little white dress is something I've been looking for and missing especially on my trips during winter. I wish I would have had it already in Seychelles last winter, because it would have been perfect there. I wanted a white dress made of cotton and with long sleeves and I finally found it at Lindex. This dress was sold out online and almost in all the stores, so I spent a day calling Lindex boutiques in Finland looking for it. Finally I found it in my size and my helpful mother picked it up as I was still in France at the time.
Naturally I brought it back to France with me and this weekend was the perfect occasion to wear it. I wanted to combine it with a heavy knit and black boots so it would be less girly. Now I also know it works during fall as well, when combined with warmer pieces!
And then onto something different…I'll spend all of today in exams to test my French level as my French classes start next week and they need to know which group to place me in. The rest of the week is then getting to know the university and my classmates a little better. Next week the actual lessons start. I'm sure it's going to be an interesting week for me to say the least.
And happy 1st of September everyone. Let my favorite month of the year finally start!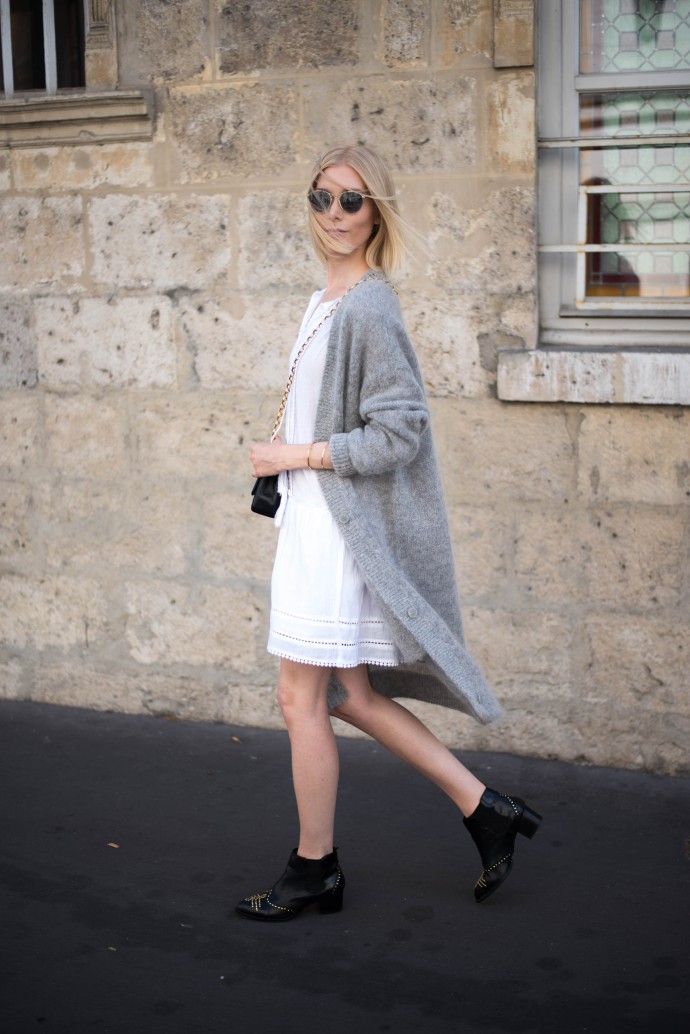 Dress / Lindex
Knit / & Other Stories
Boots / H&M
Bag / Chanel
Sunnies / Vintage Luxottica
Bracelets / Saint Laurent and & Other Stories