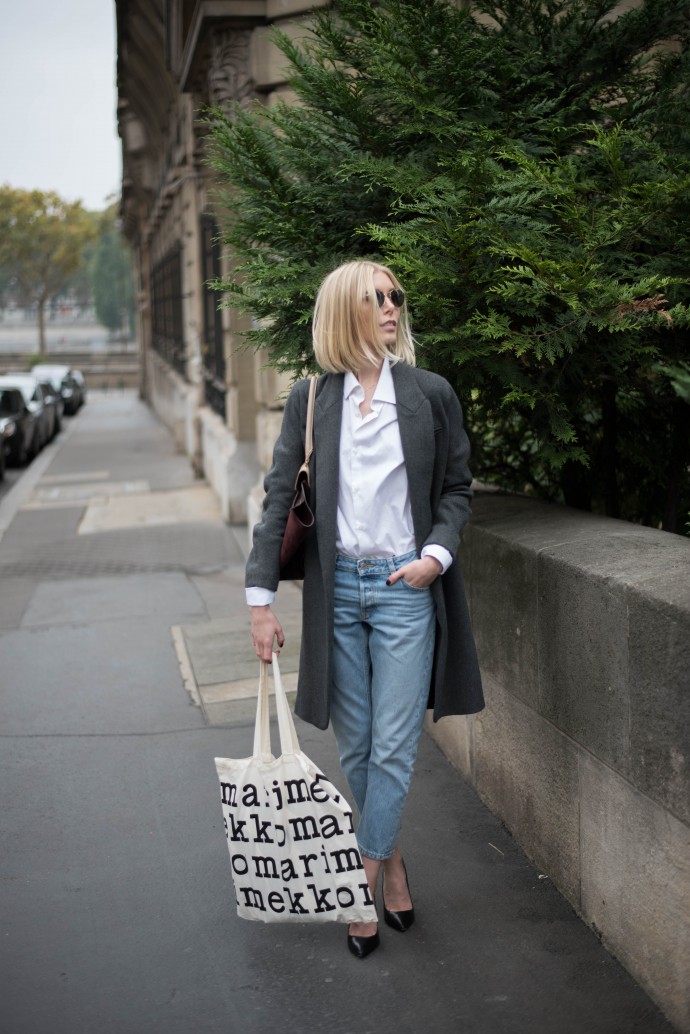 [dropcap custom_class="normal"]Sunnuntaina pääsin seuraamaan Marimekon ensimmäistä presentaatiota Pariisin muotiviikoilla ja enemmän tästä hienosta tapahtumasta huomenna! Tässä katsaus näytöspäivän asuuni, joka itse asiassa muuttui viime hetkellä. Huomasin nimittäin Pariisissa, että olin jättänyt sen aikaisemmin suunnittelun asukokonaisuuden kotiin, heh. Ei siis muuta kuin matkalaukku nurin ja miettimään mitä sitä pukisikaan päälleen.[/dropcap]
Onneksi poikaystäväni oli pakannut kolme valkoista kauluspaitaa mukaansa (huomautin hänelle tästä vielä ennen lähtöä, että miksi ihmeessä kolme?) ja lopulta pilkka osui omaan nilkkaani, sillä hänen vaatevarastonsa pelasti minun asukriisini. Valkoinen kauluspaita, rennot farkut ja siisti takki on sellainen yhdistelmä jossa viihdyn aina. Valinta oli siis lopulta helppo.
Pariisissa ilmat heittelivät aivan täysin, sillä lauantai oli lähes helteinen, mutta sunnuntaina iltapäivästä viileni huomattavasti ja tummat pilvet vyöryivät Pariisin ylle. Täällä Orléansissa on nyt satanut kaksi päivää putkeen ja toivon, että Pariisissa on ollut hieman parempi ilma. Muotiviikot ja kova sade ei nimittäin ole mikään helpoin yhdistelmä kenellekään. Vähiten katumuodin kuvaajille! Toivotaan siis, että Pariisin muotiviikot päättyisivät aurinkoon ja lämpöön. Juuri niin kuin ne alkoivatkin.
P.S. Mádaran 24h ostotapahtuma on meneillään parhaillaan!
On Sunday I attended the presentation of Marimekko's Spring/Summer 2016 collection in Palais de Tokyo as a proud Finn. More about this beautiful event tomorrow! Here is a look of what I wore that day. I had actually planned an outfit already the previous week, but once I got to Paris and opened my suitcase, I realized I had left it at home, heh. A true fashion crisis in the making!
Luckily my boyfriend took three white shirts with him (I even made a remark of his excess selection of white shirts for a one night trip), since one of his shirts saved the day and saved me from a fashion crisis. A white shirt, jeans and a sharp coat – you can't go wrong with that!
The weather in Paris was very bizarre. On Saturday it felt very summery, but then on Sunday the air was almost cold and dark clouds made their way over Paris. In Orléans, the last two days have been rainy, but I hope it hasn't been the case in Paris. Fashion week and rain is never a good combo. Especially for the street style photographers! Let's hope the sun and warmth return so the fashion week can end how it started – sunny and warm!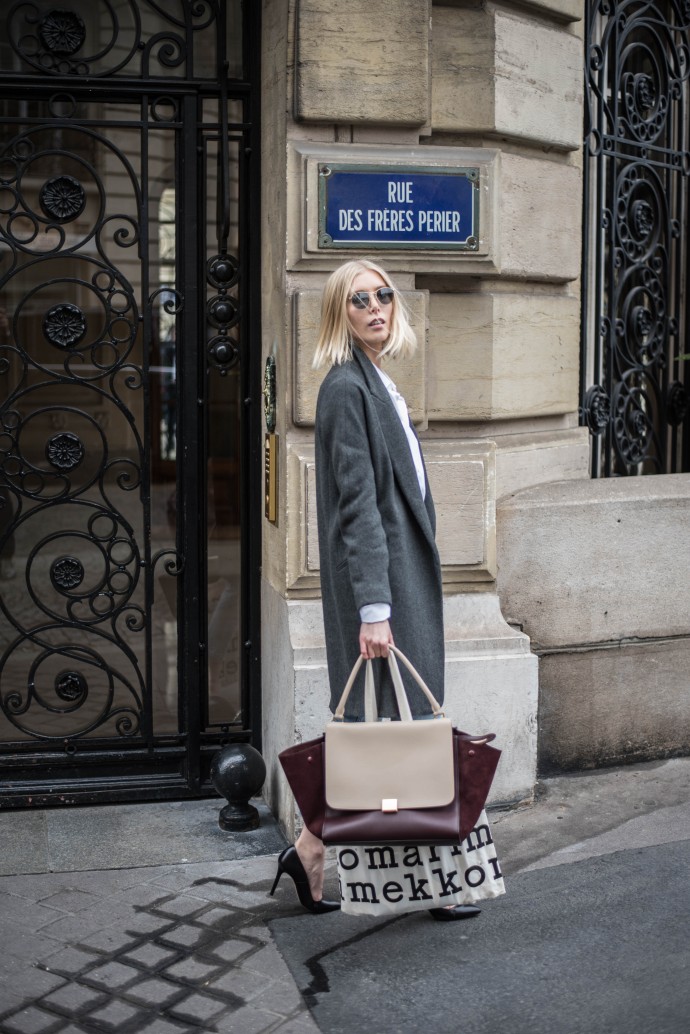 Coat / Zara
Shirt / Hugo Boss (my boyfriends)
Jeans / Monki
Heels / Zara
Bag / Céline
Sunnies / Vintage Luxottica