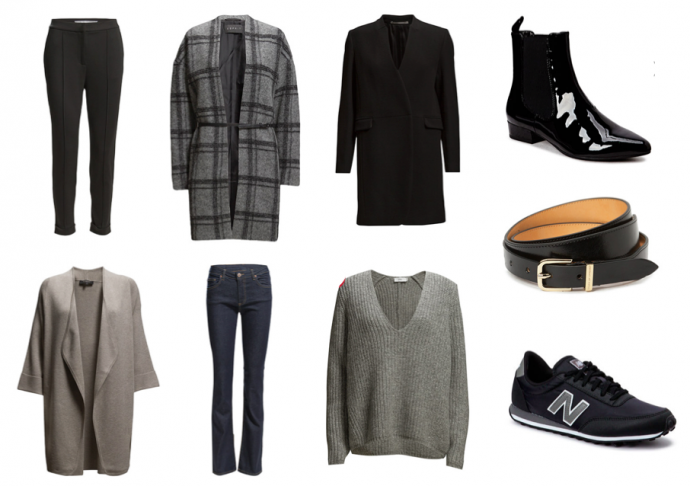 [spacer]
Pants / Tiger of Sweden     Coat / Esprit     Coat / Tiger of Sweden   Boots / Vagabond
Coat / Selected Femme     Jeans / Five Units     Knit / Closed    Belt / Tiger of Sweden     Sneakers / New Balance
[dropcap custom_class="normal"]Terveisiä Suomesta! Ihanaa olla taas täällä. Eilen oli vielä niin upea ilma, että ei voinut muuta kuin ihastella kaunista Helsinkiä! Tuli vietettyä aikaa niin perheen kuin ystävien kanssa, joten sain mitä parhaimman alun tälle reissulle. Voi olla, että blogissa on tämän viikon normaalia rauhallisempaa, sillä yritän pyhittää mahdollisimman paljon aikaa läheisilleni, mutta vauhti sitten vilkastuu taas kun palaan Ranskaan.[/dropcap]
Booztilla on menossa Mid Season sale ja valitsin joukosta omat suosikkini. Nuo ihanat lakerinahkabootsit on näkynyt täällä jo aikaisemmin, joten mietin jos nyt laittaisin ne tilaukseen kun niistä saa hieman alennusta. Toinen kenkäsuosikkini on New Balancen tennarit. Ranskassa ne ovat tällä hetkellä kova sana. Kuulemma vielä varsin mukavat jalassa!
Toivottavasti teillä on ollut hyvä viikonloppu? Rauhallista sunnuntaita!
Bonjour from Helsinki! I'm so happy to be back. Yesterday was sunny and quite warm, so I had the best possible start to this vacation. I also had time to see my family and friends who I've missed! I might take some time off to enjoy this week properly, so don't wonder if you don't find a post daily this week. I'll get back to the normal rhythm when I get back to France!
Boozt.com is having their Mid Season sale at the moment and here are my favorites. I'm still in love with the patent leather boots, so maybe I should get them now that they're on sale?
I hope you had a good weekend so far? Enjoy your Sunday!
*Commercial links/ Mainoslinkkejä.