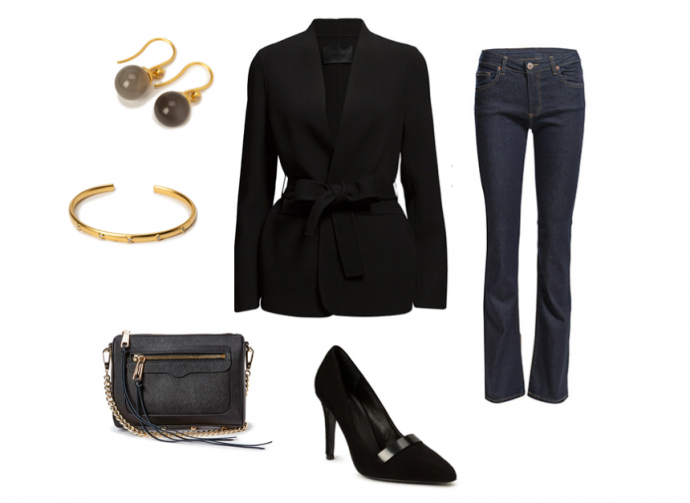 Earrings / Julie Sandlau     Bracelet / Julie Sandlau     Blazer / 2nd Day    
Jeans / Five Units     Bag / Rebecca Minkoff     Heels / Filippa K
Viikonloppu on nyt takanapäin ja täällä valmistaudutaan uuteen kouluviikkoon. Tuntuu, että aivot saivat tarpeellisen tauon opiskelusta, joten nyt on taas uutta puhtia jatkaa. Pakko  kyllä myöntää, että ranskan kielen opiskelu on ollut paljon hankalampaa kuin alkuun ajattelin. Etenkin kielioppi on sellaista, että huh. Tunneilla täytyy siis todella olla hereillä jos oikeasti haluaa oppia jotain.
Ranskaan on palannut kesä ja lämpötilat ovat päivisin kohonneet sinne +20 asteeseen. Kylmän alkusyksyn jälkeen tuntuu todella oudolta, että yhtäkkiä onkin niin keväistä. Ei voi kyllä valittaa!
Viimeksi kun olin Pariisissa niin kävin sovittelemassa eri merkkien laukkuja. Chanelin WOC oli ensimmäisenä vuorossa ja se tuntui oikealta. Sen lisäksi kävin Fendin ja Chloén myymälöissä. Kokeilin harmaata Drew-laukkua ja upea sekin, mutta se ei kuitenkaan tuntunut täysin omalta. Ilokseni kuitenkin huomasin, että Hannalta löytyy nykyään tuo kyseinen laukku, joten pääsen ainakin kuvien kautta ihailemaan sitä hänen yllään.
Itselläni on tänään taas vuorossa verbien opiskelua huomiseen kokeeseen (how exciting) ja töiden tekoa. Rauhallista sunnuntaita kaikille ja hyvää marraskuun ensimmäistä päivää!
The weekend is soon over, which means I need to start preparing for next weeks French classes. A break was very needed and now I feel I have more energy to learn again. I do have to admit that learning French this intensively has been harder than I thought. I wish this language was even a little easier…French grammar is a real nightmare, but I'll get through it.
The temperatures in France have been really high this weekend and it feel like we skipped Winter and went straight to Spring. After a cold start to Fall, this feels kind of nice! Can't complain.
Last time I was in Paris I went to try out a few different bags. My first stop was at Chanel and as you know, I fell in love with the WOC. Besides that I tried on Chloé's Drew-bag in grey and even if it's super beautiful, it just didn't feel right for me. However, I'm happy it's so popular right now, because it means I can admire it on others.
So today I need to catch up on my French studies (how exciting) and get some work done. Wishing you all a great weekend and happy 1st of November!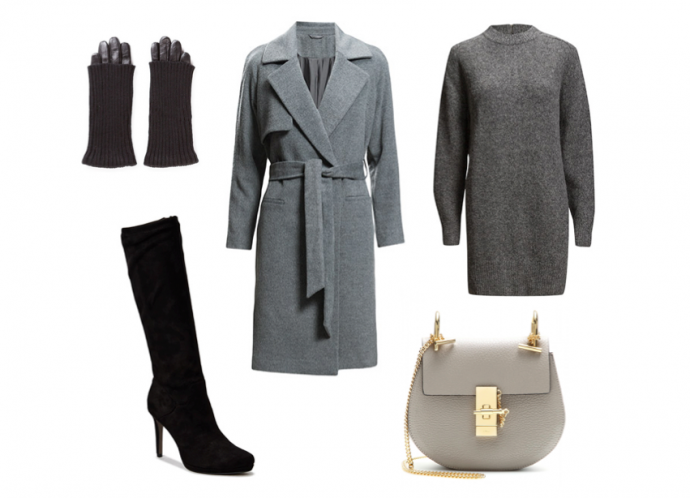 Gloves / Maya Copenhagen     Coat / 2nd Day     Knit dress / Wood Wood
[spacer]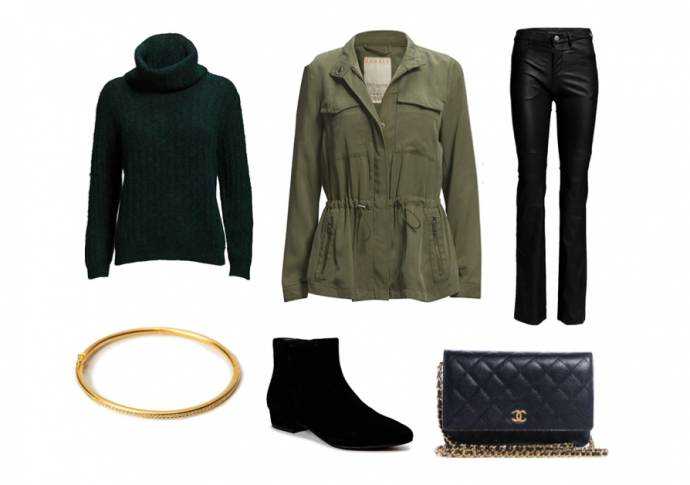 Knit / Tiger of Sweden     Jacket / Esprit     Leather pants / Gestuz
Bracelet / Julie Sandlau     Boots / Vagabond     Bag / Chanel
[spacer]
*Mainoslinkkejä/Commercial links.
Save