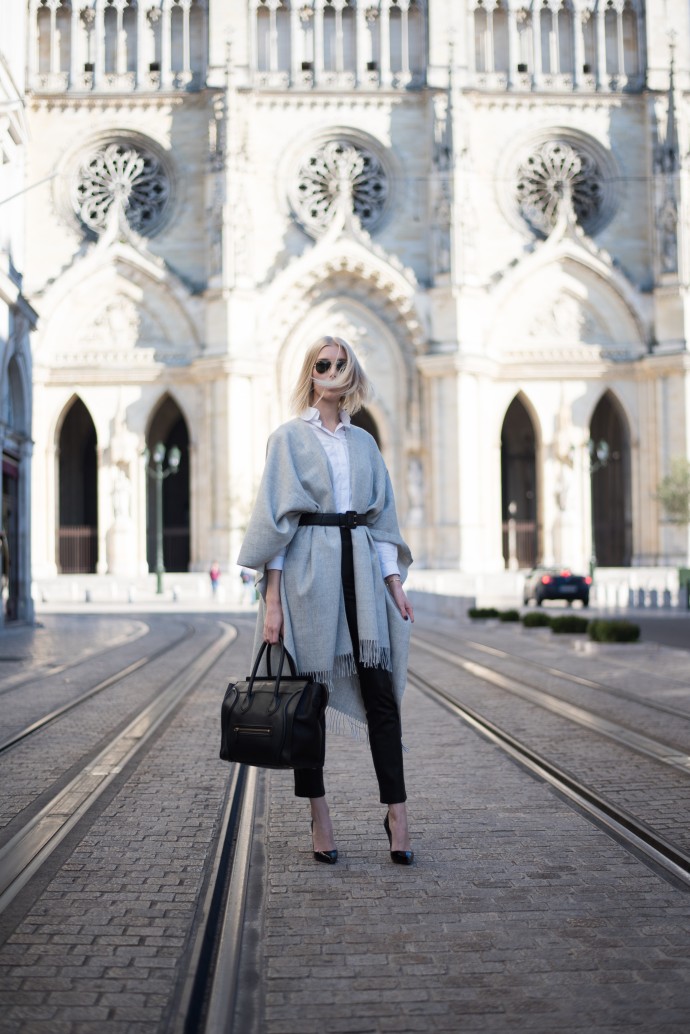 Tämä viitta päällä on kyllä varsinainen Superwoman-fiilis. Tuntuu, että voisin lähteä lentoon hetkenä minä hyvänsä. Tämän viikon todellinen supernainen taitaa kyllä olla nuori aussinainen Essena O'Neill, joka sai tarpeekseen sosiaalisen median paineista ja ainaisesta kameran kautta "täydellisenä" elämisestä. Toivon, että hän saa monet heräämään siihen, että sosiaalisen median kanssa on aivan pakko olla varuillaan ja ymmärtää se, että kuvat eivät todellakaan kerro koko totuutta.
Olen itse hieman vieraantunut sosiaalisesta mediasta ja aktiivisesti käytän enää Instagramia (sitäkään en enää päivittäin). Itselleni tuli vain totaalinen ähky siihen, että koko elämä ja sen jokainen sekunti pitäisi tallentaa muiden nähtäväksi. Snapchat-tilini voisin periaatteessa sulkea, sillä se ei ole minua varten. En halua olla kuvaamassa ja puhumassa itsekseni puhelimeni edessä, jos voin käyttää sen ajan vaikka kyselläkseni läheisteni kuulumisia. Se on itselleni tärkeämpää.
Näin ihanaa ystävääni viime viikolla ollessani Suomessa ja puhuimme siitä miten kumpikin on siinä pisteessä, että haluaa karsia kaiken turhan pois elämästään ja tehdä asioista yksinkertaisempaa. Olla läsnä enemmän ja oikeasti nauttia elämästä ilman, että koko ajan miettii, että mitä seuraavaksi (onko mitään kuluttavampaa kuin stressata asioista mihin ei voi vaikuttaa?).
Pyhitänkin tämän marraskuun sille, että vietän vähemmän aikaa koneella (työni toki hoidan), mutta kaikki turha netissä ja sosiaalisessa mediassa roikkuminen saa jäädä. Tilasin juuri Essenan suosittelemana Practising the Power of Now – kirjan, joten luppohetkinä tulen tarttumaan siihen läppärini/puhelimeni sijaan.
This cape makes me feel like a superwoman. Ever time I wear it, I'm just waiting for the moment when I'm going to take off Clark Kent style. But, I think the real superwoman of this week is without a doubt Essena O'Neill. I'm sure she needs no explaining. Super inspirational and she's reminding us all to be critical on social media. My blogger colleague Sofia Ruutu wrote a great text about the issue (I completely agree with everything she said), so instead of me going any further, you should read her post.
I have to say that I've started using social media less and less in the past weeks. I actively use Instagram and even there I don't post everyday. Being on social media is part of my job, but I have to draw the line somewhere. I gave Snapchat a chance, but it's not for me. I don't want to share every second of my life with the whole world. There are many moments that are better left just for me and my loved ones.
I also discussed the issue of "simplifying" life with my close friend, while in Finland, and we both have this urge to get rid of all the things that don't matter. Life is so colorful and complex without unnecessary things stressing us out.  So this month, I'm going to take it easy and be more present in the real life (and less on social media).
Cape / Balmuir*
Shirt / Stella McCartney
Leather pants / H&M
Heels / Christian Louboutin
Bag / Céline
Belt / & Other Stories
*Gifted.