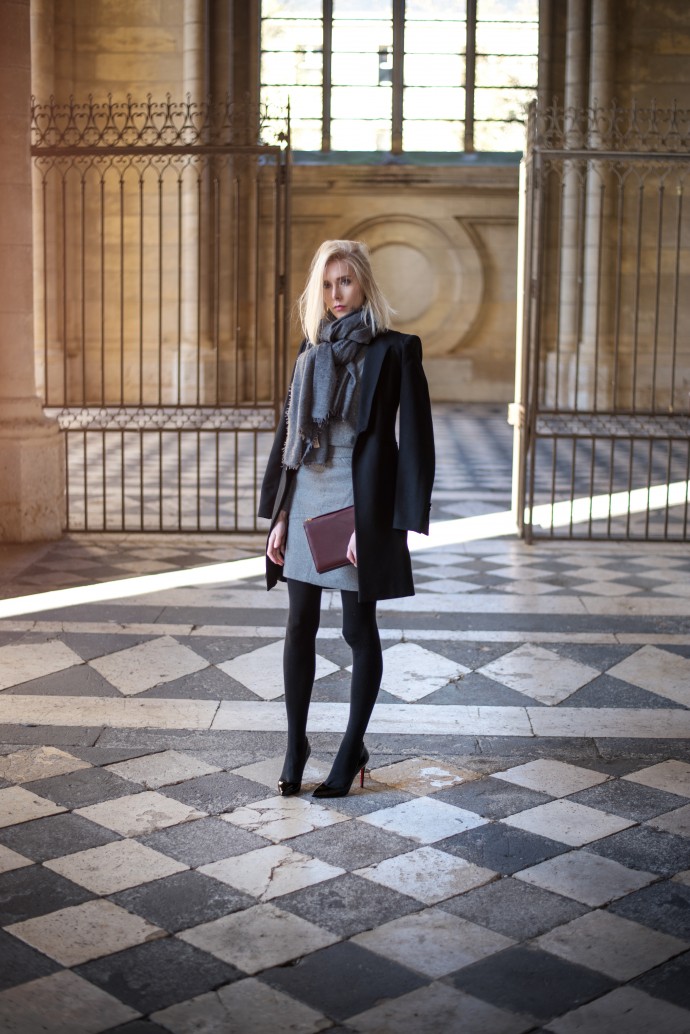 Kuorrutin itseni kashmirilla ja vaikka korkeissa koroissa tepastelu ei nyt välttämättä ole mitään mukavinta, niin muuten asu oli erittäin mukava päällä. Kashmir tuntuu ihoa vasten ihanalta ja sen takia se kuuluukin lempimateriaaleihini. Jos vaatteissa on hyvä olla, se fiilis kyllä paistaa ulospäin. Jos taas ei, niin sekin valitettavasti näkyy. Jos esimerkiksi liian lyhyet helmat tai paljaat käsivarret tuntuvat ahdistavilta, niin suosittelen unohtamaan sen kaapin pikkumustan ja valitsemaan päälleen jotain aivan muuta. Pääasia, että itsellä on hyvä olo siinä valitsemassaan asussa!
Nämä kuvat on otettu Orléansin katedraalin edustalla ja olen halunnut kuvata siellä jo pitkään. Nyt valo onneksi osui juuri hyvästä kulmasta, jolloin muuten niin pimeä tila muuttui valoisaksi. Tuo shakkikuvioinen lattia on se mihin ensimmäiseksi ihastuin! Tuo tila on muutenkin arkkitehtuurisesti todella vaikuttava. Aina ihmettelen tällaisten rakennusten kohdalla, että miten ihmeessä silloin kauan sitten osattiin tehdä ja rakentaa jotain näin kaunista ja vaikuttavaa. Orléansissa on arkkitehtuurisesti todella mielenkiintoisia rakennuksia ja etenkin vanhankaupungin keskiaikaiset rakennukset ovat osa kaupungin charmia. Ehkä nekin rakennukset toimisivat asukuvien taustana? Tai sitten pitää tehdä oma postaus Orléansin vanhasta kaupungista, niin, että en ole pilaamassa kuvia heh. Se voisi olla parempi.
Hyvää keskiviikkoa kaikille!
I decided to wear cashmere all over, as this material is without a doubt the most comfortable. High heels might not be the ideal choice for my feet, but at least I compensated with soft materials (my skin was at least thanking me). If you're comfortable in what you're wearing, it shows. And if not, it shows as well. Now that the holiday season is kicking off, I suggest everyone to leave anything they are not 100% comfortable in the closet. Even if it is the most "festive" item in there. Wear something that you truly feel confident in and the rest will follow. I think a confident woman in jeans and a knit is a hundred times more beautiful, than a woman in a fancy dress that she doesn't feel comfortable in. So choose whatever makes you happy and comfortable, as your good feeling will show!

Enjoy your Wednesday everyone!
Coat / Zara
Cashmere knit / H&M
Skirt / T by Alexander Wang
Cashmere tights / Wolford
Cashmere scarf / Balmuir (gifted)
Heels / Christian Louboutin
Bag / Céline
Bracelets / Saint Laurent and & Other Stories