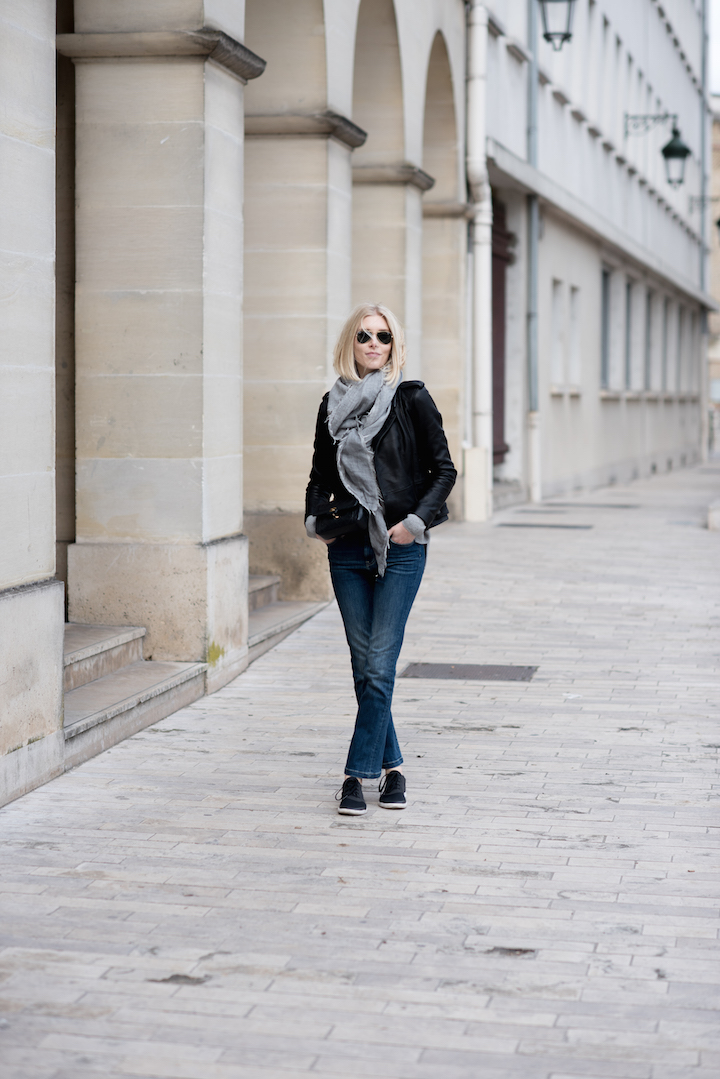 Eilinen oli kyllä ilmojen puolesta aivan upea päivä! Päätin ajaa landelle tarkastamaan vierastalon tilanteen ja vaikka ihan loppumetreillä ollaan, niin talossa on silti vielä viimeisteltävää. Tämä on se ärsyttävin vaihe kun haluisi vain saada asunnon valmiiksi ja alkaa sisustamaan! Onneksi loppu häämöttää jo…
Olen muuten aina Suomi reissujeni yhteydessä huomioinut miten ihania ihmisiä täältä löytyykään. Ihmiset ovat ystävällisiä, hymyyn vastataan hymyllä ja palvelu pelaa. Tiedän, että katselen meininkiä ehkä vaaleanpunaisten linssien takaa, mutta olen kyllä aidosti sitä mieltä, että suomalaisissa on niin paljon hyvää. Nykyään kun seuraa uutisia niin meistä saa ehkä hieman negatiivisen kuvan, mutta onneksi se ei ole (tietenkään) koko totuus.
Te tiedätte, että Balmuirin huivit ovat suosikkejani ja täytyy nyt sanoa, että tästä Avignonista on tullut uusi suosikkini. Tässä on jotain ihanaa rentoutta, joka kolahtaa meikäläiseen. Plussaa vielä siitä, että huivit tehdään Italiassa. Tämä hieman tummempi uutuusväri on myös aivan upea ja aina ihmettelen miten Balmuir onnistuu tekemään niin upeita sävyjä. Tämä harmaahiirulainen ainakin innostuu kun yhdestä väristä on saatavilla useampaa sävyä.
Yritän ehtiä tekemään huomiselle postauksen vierastalosta (pahoittelut jo ennakkoon puhelinkuvista) ja kaipailenkin teidän neuvoanne yhden asian kanssa. Huomiseen siis ja hyvää maanantaita kaikille!
Yesterday was such a beautiful day in Helsinki. The sun was shining and it was quite warm (for Finnish standards). I decided to drive down to the summerhouse and check the situation with the guesthouse. It's almost ready, but there are still a few finishes to be made, which means we can't decorate it just yet. Now I'm hoping it's completed soon, so I can start making it ready for summer!
I'm not sure how much you (my foreign readers) know about Finland or Finnish, but I think we talk very negatively about ourselves in general. But I have to say that every time I visit, I'm just amazed by peoples kindness and the good service. A smile is returned with a smile and people can be trusted. The times here are very difficult at the moment, but I do have to say that Finns in general are great people (okay, I might be prejudiced, but still).
As you know, I'm the biggest fan of Balmuir and especially their scarfs. This one (called Avignon) has become my favorite, as I love the relaxed feel of it. The Avignon scarfs are also made in Italy, which is a plus! Now I've fallen for this new grey tone, which is amazing as well…
I'll try to make a post for tomorrow about the guesthouse (I already apologize for the terrible phone pics), so you can get an idea of how it is. I also need your advice on one thing, so stay tunes. Enjoy your Monday everyone!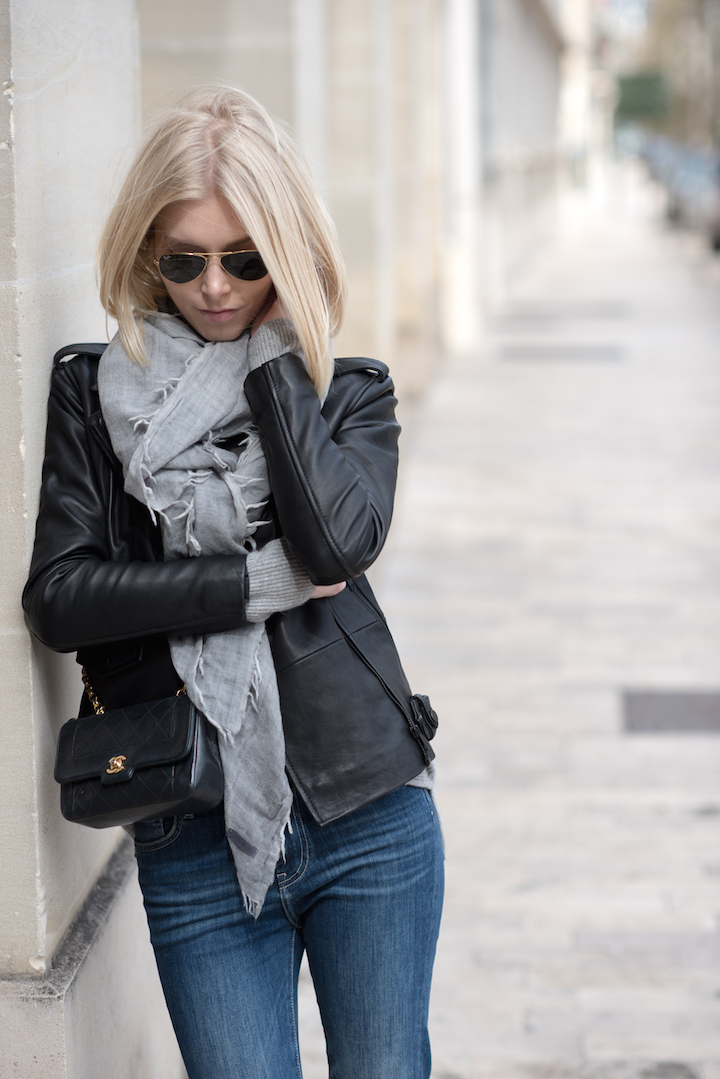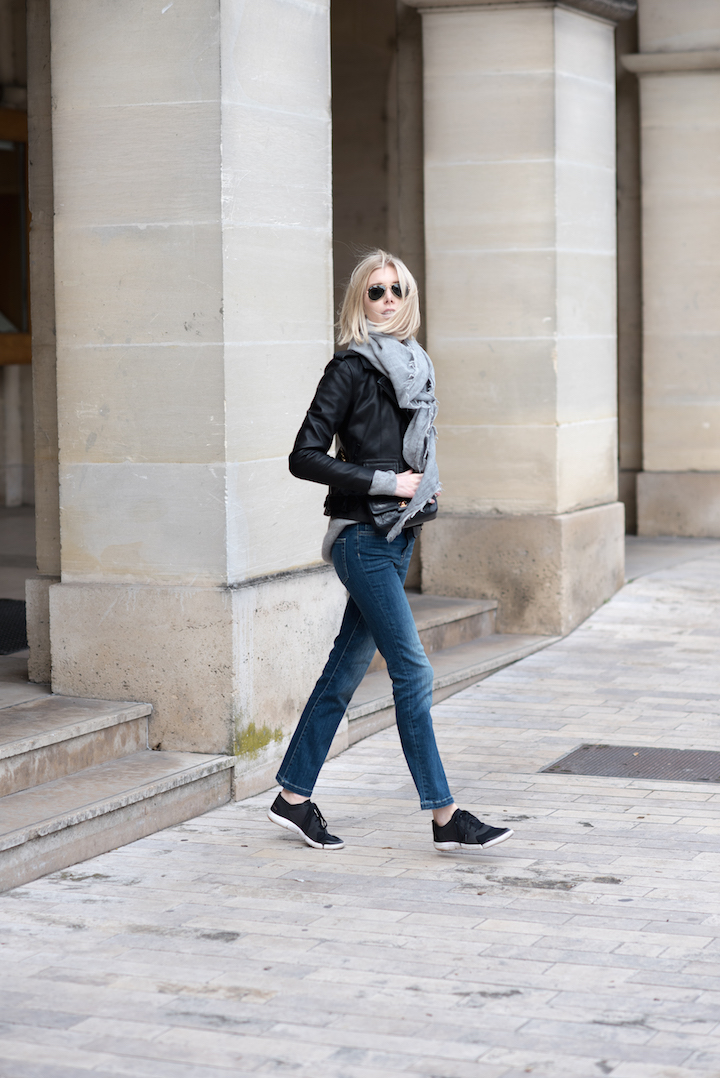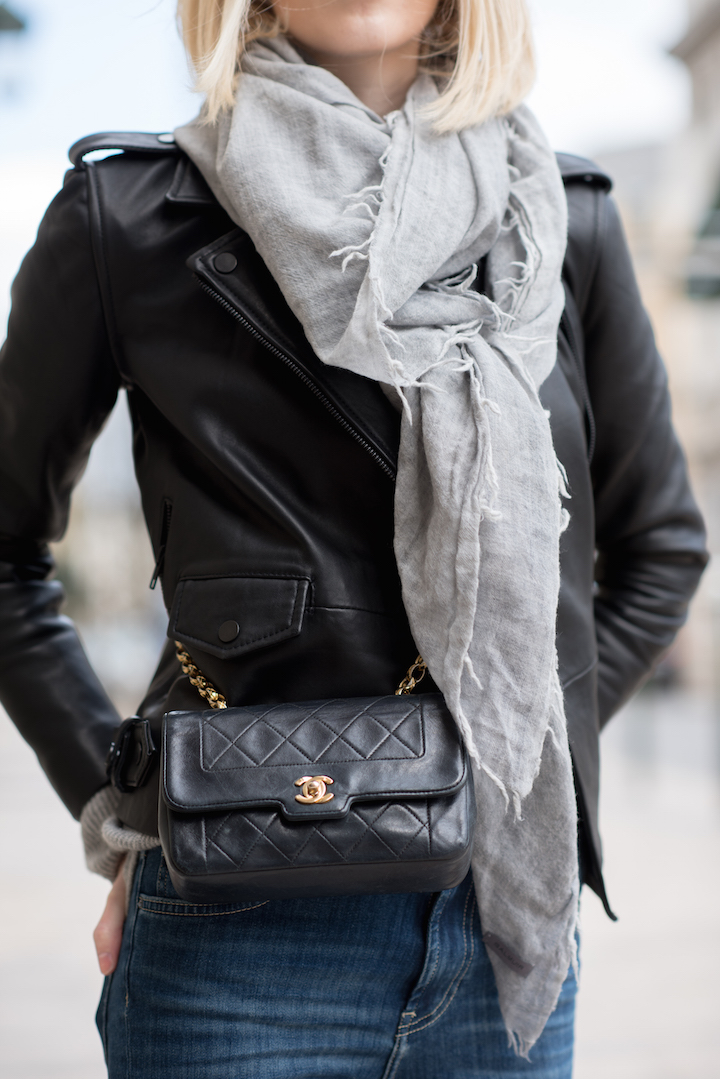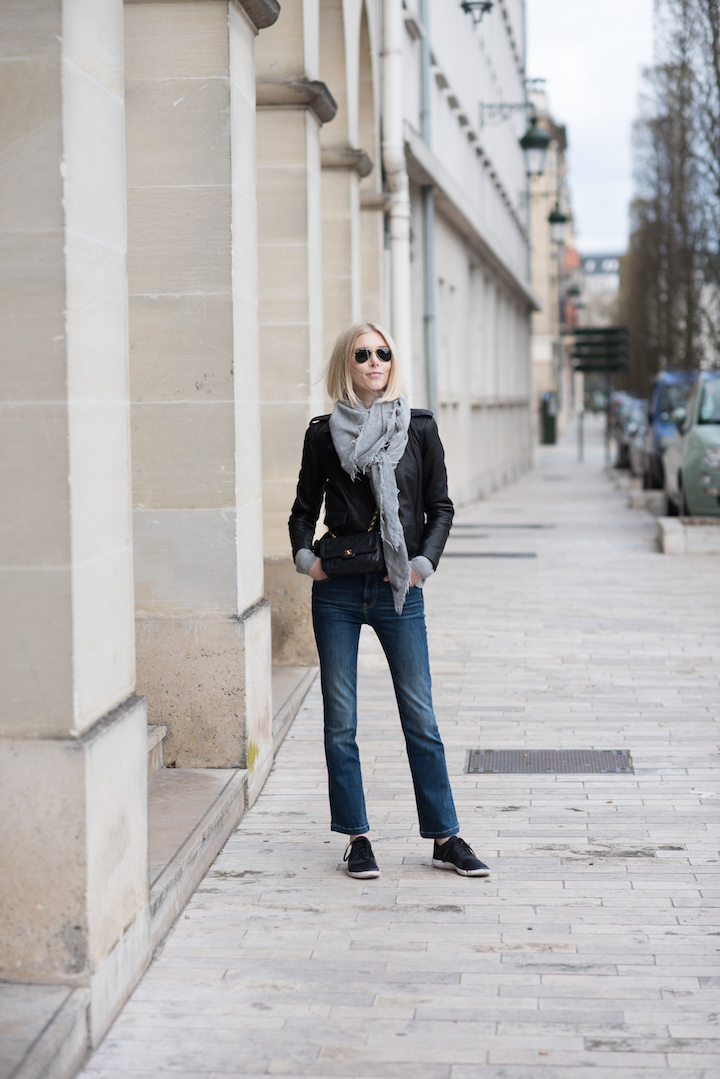 Leather jacket / Selected Femme (here*)
Jeans / Zara (similar here*)
Knit / Cashmere Polo Club (similar here*)
Scarf / Balmuir*
Sneakers / Adidas by Stella McCartney
Bag / Chanel
Sunnies / Ray Ban
*Commercial links/Gifted.