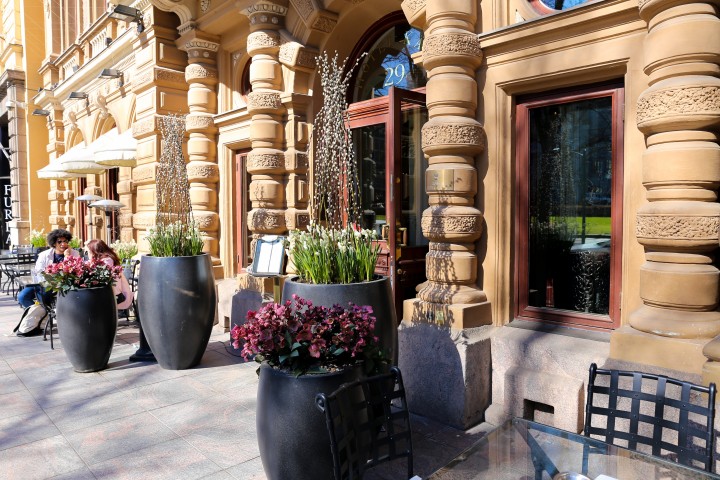 Eilen oli niin kaunis päivä ja Espalla kävellessäni tuntui kuin olisin ollut jossain Keski-Euroopan kaupungissa. Ihana fiilis, ihmiset olivat iloisia ja katukahvilat täynnä. Helsinki todella näytti parastaan! Eilen oli kyllä muutenkin onnistunut päivä, sillä kävin muutamassa työtapaamisessa ja illan kruunasi dinneri rakkaan ystäväni kanssa ravintola OX:issa. Todella hurmaava paikka ja ruoka on erinomaista. Loung3 ja OX ovat niitä ravintoloita mihin täytyy viedä poikaystäväni kun hän tulee seuraavan kerran Suomeen. Loistavia molemmat!
Tänään vuorossa on sitten yhdet kuvaukset ja huomenna stailaan toisen henkilön elämäni ensimmäistä kertaa (fingers crossed!). Viikonloppu on sitten pyhitetty perheelleni ja jo ensi viikolla Ranska taas kutsuu. Mutta nyt liikkeelle ja toivotan kaikille hyvää torstaita!
P.S. Terveisiä Hennalle ja kiitos kun huikkasit kaupungilla. Oli ihana tavata kasvotusten!
Yesterday was such a warm and sunny day here in Helsinki! Such a nice vibe and people were clearly enjoying themselves. These are the days I just fall more in love with this city. Yesterday was great in many ways, as I also had a few work meetings and then finished the day by having a great dinner with my friend. If you're ever in Helsinki, you should try restaurant OX! Really good food and such a cosy place.
Today I have a shoot coming up and then tomorrow I'm going to style someone else for the first time in my life. I know my own style and what works for me, but it's surprisingly difficult to style someone else. Let's hope it goes well…
Enjoy your day everyone!