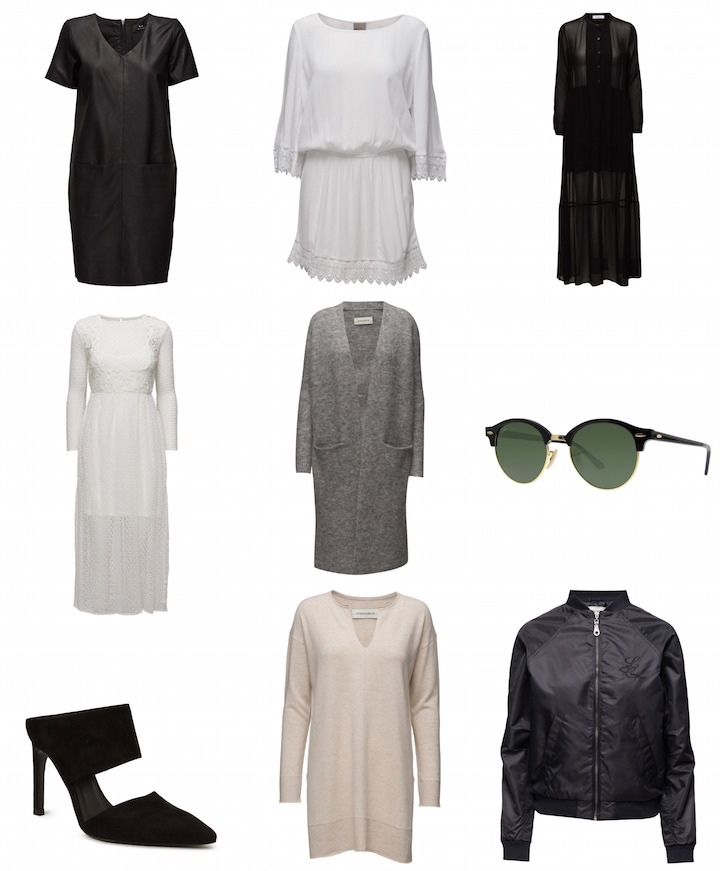 Leather dress / Modström   Dress / Vero Moda   Dress / Samsoe & Samsoe
Dress / Vero Moda   Knit / By Malene Birger   Sunnies / Ray Ban
Heels / Pavement   Knit / By Malene Birger   Bomber / Lexington
Ray Banilta on tullut Clubmaster-mallista pyöreämpi versio nimeltään Clubround*, joka näyttää melko täydelliseltä. Itselläni oli se klassinen malli, mutta jostain syystä se ei sitten napannutkaan. Tuntuu, että kaikki soikean ja pyöreämmän muotoiset lasit ovat tällä hetkellä kovasti mieleeni, joten arvatkaa vaan jos himoittaisi laittaa nämä tilaukseen…
Toukokuu on Ranskassa rento kuukausi sen takia, että muutama pyhäpäivä osuu viikolle ja täällä on esimerkiksi ensi maanantai vapaa. Pidennetty viikonloppu kelpaa kyllä kaikille ja onhan se kiva päästä viettämään poikaystävän kanssa yksi ekstra lomapäivä. Suunnitelmissa on varmaan tehdä joku pieni roadtrip lähialueelle ja etsiä joku ihana ravintola missä voi nauttia pidemmän kaavan mukaan. Yksi asia mitä rakastan Ranskassa on nimenomaan se, että ruoasta nautitaan ja pyödässä voidaan istua tunteja, ilman, että on kiire yhtään mihinkään. Sopii minulle!
P.S. Booztilla* on menossa tänä viikonloppuna iso osta 4, maksa 3-kampanja, eli kun ostat neljä tuotetta saat edullisemman kaupan päälle. Koko valikoiman ja enemmän tietoa kyseistä kamppiksestä löydätte täältä!
I love this new Clubround* model from Ray Ban, as the Round model is my current favorite. I bought the classic Clubmasters last year, but they just didn't feel good, so I passed them onward. This model seems pretty perfect, so I'm seriously contemplating on getting them…
May in France is a good month, as there are a few national holidays during the week meaning that people have extra holidays. Next Monday is one of these days and I'm happy to spend some quality time with my love! We are planning to do a short road trip not too far from here and find a cute restaurant to sit in for hours. Not a bad plan if you ask me. Have a great Saturday everyone!
*Commercial links/Mainoslinkkejä.