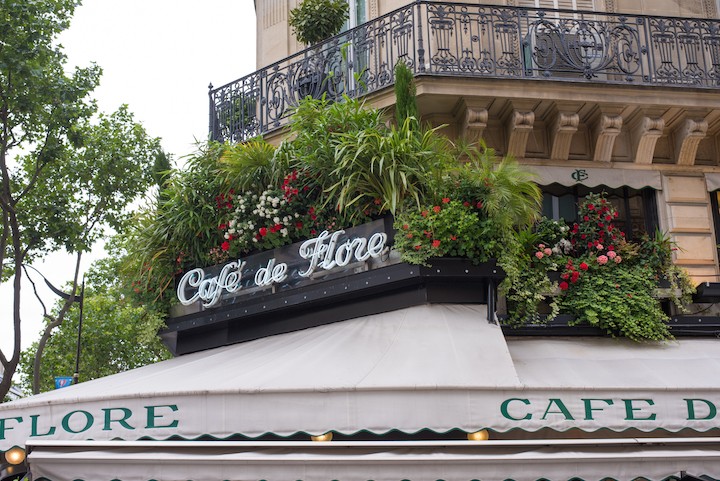 On kyllä niin luksusta, että Pariisi sijaitsee vain tunnin junamatkan päässä kotoani ja voin mennä sinne päiväksi pyörimään ja tapaamaan ystäviäni. Täytyy kyllä myöntää, että vaikka sinne on ihana mennä, niin kotiin on myös ihana palata. En tiedä johtuuko se siitä, että itselläni on kahden vuoden kokemus Pariisissa asumisesta, vai mistä, mutta tuntuu, että tuo kaupunki vie aina kaikki mehut. Ehkä itselläni on muistissa vielä niin hyvin se aika kun asuimme siellä ja arki oli todella kaukana siitä, että olisi shoppailtu ja nautittu rauhallisia lounaita upeissa paikoissa joka päivä.
Pariisiin on kuitenkin ihana palata aina silloin tällöin (poikaystäväni ei tosin ole kanssani samaa mieltä – hän inhoaa Pariisia nykyään) ja tiistaina oli ihana lounastaa vanhan opiskelutoverini kanssa pitkän kaavan mukaan. Mikäs siinä oli istuskellessa upealla sisäpihalla ja kilistellessä vanhoille muistoille.
Ja tänään kilistelyt sen kuin jatkuvat, mutta tällä kertaa viikonlopun kunniaksi. Santé et bon week-end à tous!
I love having Paris so close to us (it's only one hour by train), but I also love coming back home after a day spent there. It's probably because I remember so well living in this beautiful city (and I don't miss that part at all), that I'm kind of relieved to be able to return to a calmer place. I mean life in Paris sounds very glamorous, but in my case it wasn't shopping at eating fancy lunches everyday, heh. Métro-boulot-dodo (metro, work, sleep) was more my rhythm. However, I consider myself to be very lucky to have this city so close that I can go there whenever I want. That's a real luxury.
This week I went there to see my friend and we had lunch at Ralph's. The terrace is so beautiful and I could honestly spend an entire afternoon there. Definitely worth visiting if you already haven't!

Have a great weekend everyone!