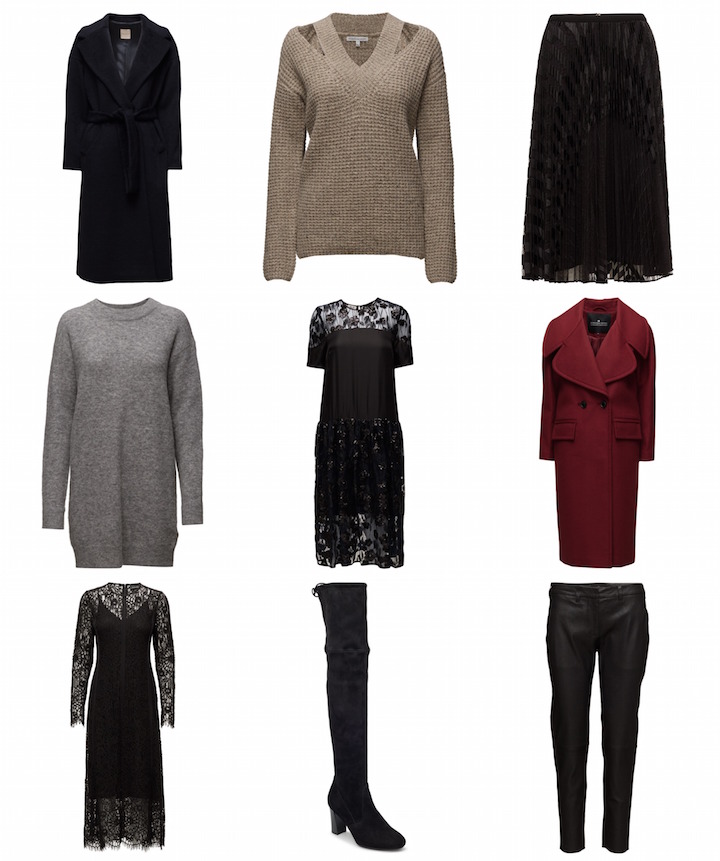 Mohair coat / Penny Black   Knit / Rebecca Minkoff   Skirt / Max & Co.
Knit dress / Samsoe & Samsoe   Dress / Baum und Pferdgarten   Coat / Designers Remix
Dress / By Malene Birger   Boots / Peter Kaisler   Leather pants / Fiveunits
Viimeistään nyt tämän Andiata-viikon myötä ajatukseni ovat siirtyneet syksyyn ja vaikka tänä viikonloppuna ilmat ovat olleet ihanan aurinkoisia, niin syksyn tuntua on jo vahvasti ilmassa. Huomaa, että illat hämärtyvät jo paljon aikaisemmin ja ilmassa on pientä viileyttä auringosta huolimatta. Itse otan syksyn avosylin vastaan ja nyt aletaan päästä jo asiaan, eli syksyn pukeutumiseen.
Kuten tiedätte, Andiatan mallisto on enemmän kuin mieleeni, mutta muilta merkeiltä en ole vielä löytänyt mitään "pakko saada"-juttuja. Tai oikeastaan H&M:n premium quality-mallisto on ketjumyymälöistä eniten mieleeni, mutta Zara (joka normaalisti ei petä) on ollut pienoinen pettymys. Tosin nythän syksyn tuotteita vasta saapuu myymälöihin, mutta saa nähdä jos mallisto tuosta paranee.
Metsästän etenkin nilkkureita ja korolliset ylipolvensaappaat ovat myös  hakusessa. Tykkään näistä Peter Kaislerin saappaista, sillä korko näyttä sen verran tukevalta, että niillä jaksaisi kävellä pidempiäkin matkoja. Olen oppinut vihdoin sen, että kaappiin ei kannata osta yhtään mitään jos ei ole käytöstä aivan varma. Käytännöllisyys kunniaan!
After this Andiata week, I'm so ready for Fall! Even if the days are still sunny, the evenings get dark quite early and there is a certain coolness in the air. My favorite month is September, so I'm super excited for the next few weeks! And now we are finally getting to my favorite topic; Fall fashion.
Obviously my favorite collection is from the Finnish Andiata, but from other brands I haven't found any "must-haves". If I would have to pick one brand, I quite like H&M's premium quality collection. Then again, Zara's new collection has been a bit of a disappointment (up to now at least).  They usually never fail…
I'm searching mainly for ankle boots this season and these over the knee boots from Peter Kaisler are to die for. What are you looking for this Fall?
*Commercial links/Mainoslinkkejä.