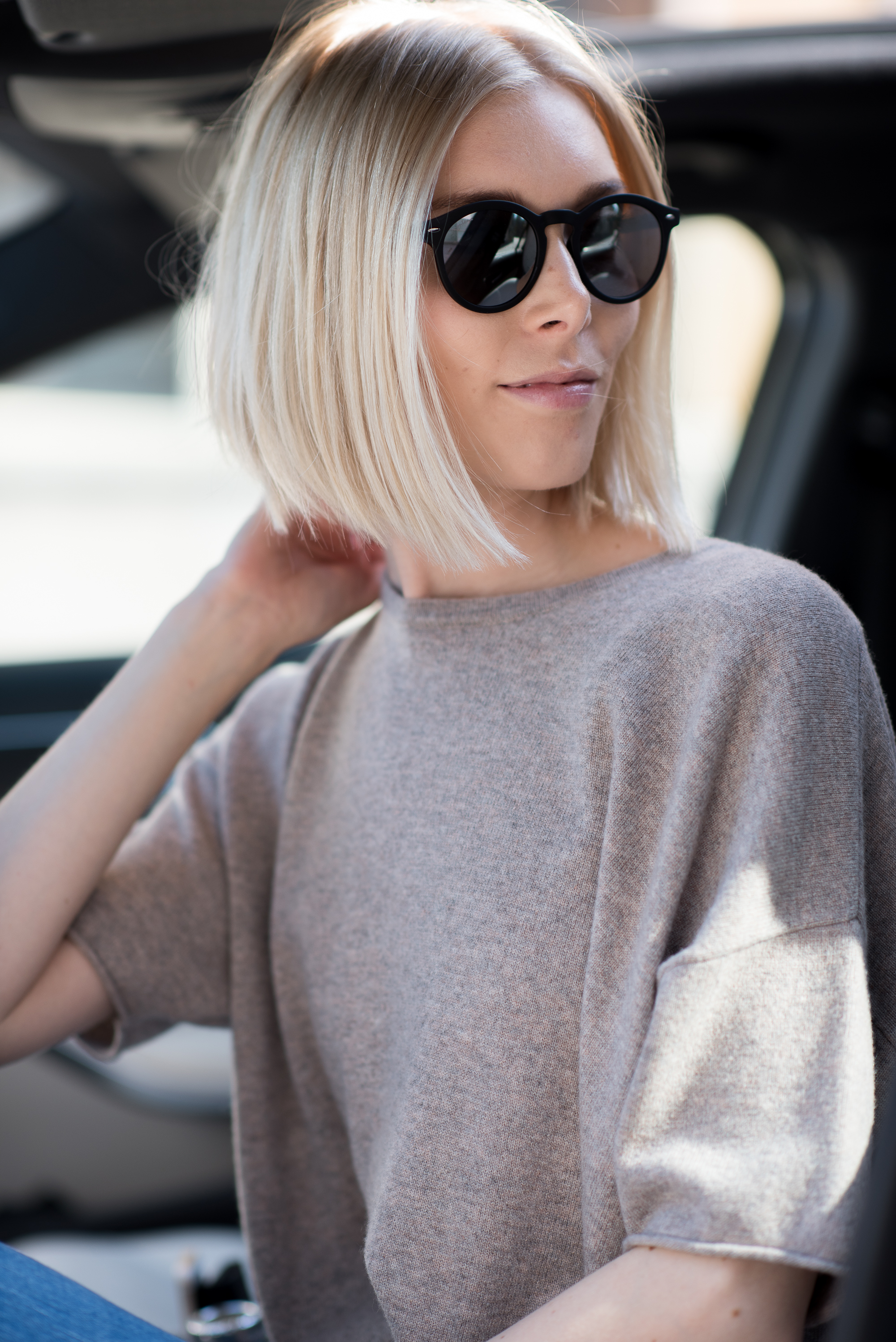 Pahoitteluni tähän alkuun eilisestä hiljaisuudesta! Meidän vieraamme lähtivät keskiviikkona ja kun olin heittänyt heidät kentälle, niin kurvasin siitä suoraan kampaajalle. Q Hairista sitten kotiin ruokakaupan kautta ja sen jälkeen iski niin paha väsymys, että hyvä kun jaksoin pestä meikit pois ja vetäistä päiväpeiton sängystä sivuun. Uni tuli siis aikaisin ja eilen hoidimme vielä muutamia asioita ennen kuin ajoimme landelle. Meillä oli aivan mahtavat neljä päivää ystäviemme kanssa, mutta nyt muutaman päivän lepohetki tulee kyllä tarpeeseen. Pientä rauhoittumista vielä ennen kotiinpaluuta!
Syyskuu on lempikuukauteni ja siihen liittyy aina vahvasti tunne uudesta alusta. Mielestäni vielä enemmän niin kuin esimerkiksi uutena vuotena. Syksy tuntuu raikkaalta kesän jälkeen ja aina tähän aikaan vuodesta käyn Sedinillä laittamassa hiukseni kuntoon. Viime kerrasta olikin taas aikaa ja se näkyi hiusteni pituudessa – ne olivat kasvaneet hurjasti. Olen todennut polkan olevan se toimivin malli itselleni, joten laitoin samanmoisen tilaukseen. Olen todella tyytyväinen lopputulokseen ja aina sama virsi, mutta pakko taas todeta, että Sedin on kyllä alansa huippu.
Mutta nyt kohti aurinkoista viikonloppua, nautitaan!
Our guests left on Wednesday and after driving them to the airport, I went to the hairdresser. After getting back home in the evening, I was so tired that even removing my make-up seemed to be an impossible task. Needless to say, I fell asleep quite fast. We had the best four days with our friends, but now a relaxed weekend sounds better than ever.
I can't believe September is finally here and I welcome it with open arms. I think Fall always has this feel of new beginnings and fresh starts. This is when I usually always cut my hair, as it gives me a great boost for Fall. I wanted the usual short bob, because it just works so well for me. It really is the dream cut for a lazy person, because it looks good without doing anything to it.
So now with my new haircut, I'm wishing you all a great weekend! It's our last one in Finland, until we fly back to France, so we are planning to enjoy it to the fullest. Hope you will too!