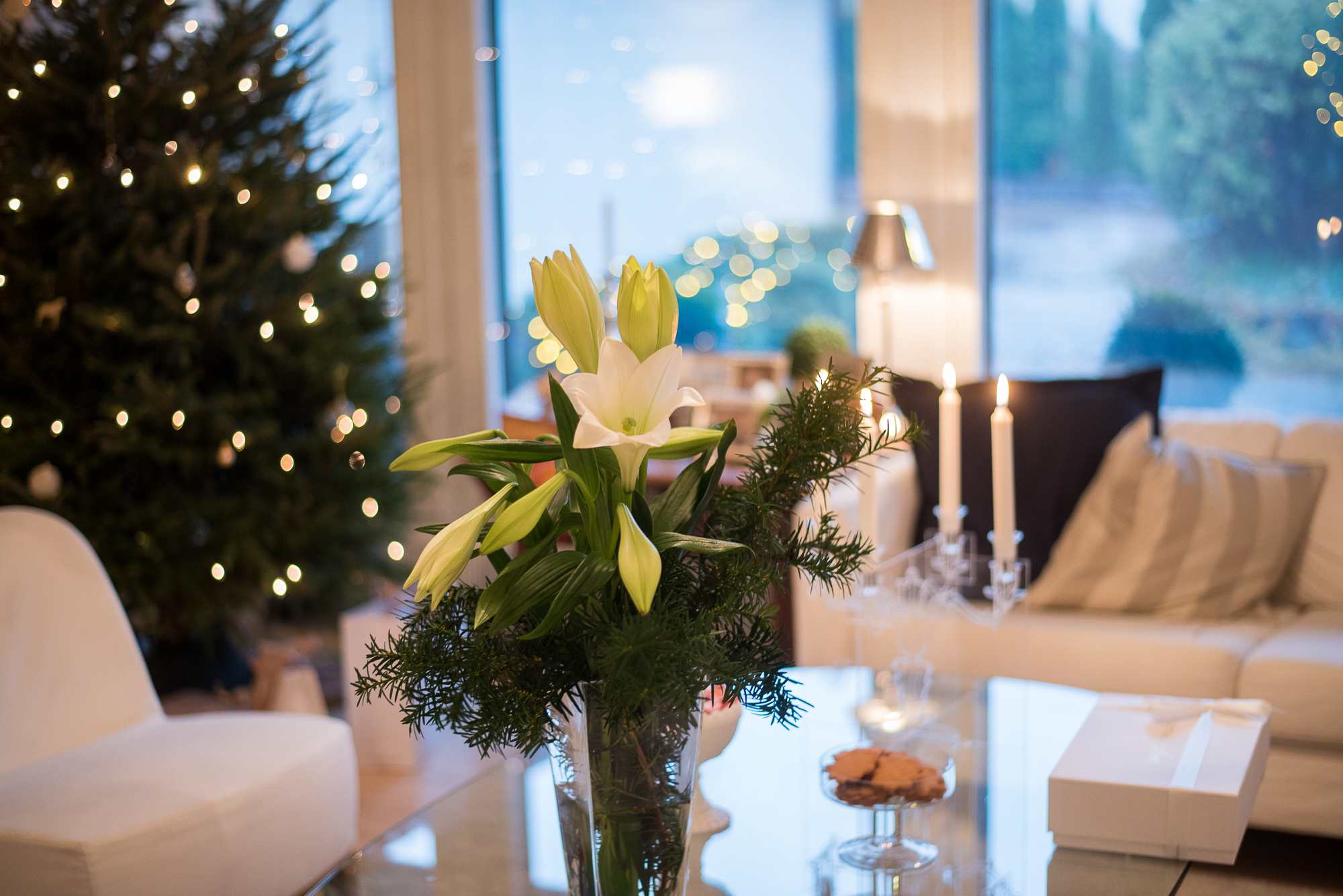 Meillä oli ihana joulu kotona perheeni kanssa. Jouluaatto meni tutulla kaavalla ja kävimme jopa uhmaamassa myrskytuulia pienellä kävelylenkillä. Sen jälkeen sauna maistui erityisen hyvältä ja iltapäivästä saimme sitten vastaanottaa isovanhemmat ja veljeni tänne vanhempieni luokse. Joulupäivänä saimme serkkuni miehensä kanssa kylään ja heidän suloisimman muutaman kuukauden ikäisen poikavauvansa. Eilen kävimme sitten kaupoilla ja illalla rentouduimme Bates Motel-sarjan parissa. Takana siis erittäin rentouttava ja ihana joulu! Toivottavasti teillä myös?
Nyt täällä yritetään taas saada rytmistä kiinni (=herätä vähän aikaisemmin) ja pakata taas matkalaukkuja, sillä perjantaina lennämme Puolaan uudenvuoden viettoon. Ajamme Krakovan kentältä pari tuntia vuorille, mutta ilmeisesti lumitilanne on siellä aika heikko. Saa nähdä pääsemmekö ollenkaan laskettelemaan vai pitääkö keksiä muuta ajanvietettä. Meillä on ainakin hyvä porukka kasassa, joten eiköhän siitä hyvää tule!
Blogissa jatkan taas tuttuun malliin ja tänään olisi suunnitelmissa käydä vähän kuvailemassa. Saa nähdä riittääkö valoa vai pitääkö jättää kuvaukset toiseen päivään. Huomenna luvassa ainakin alevinkkejä, joten palataan!
We had a great Christmas at my parents place. On Christmas Eve we took a walk outside despite the rain and storm winds, but after after that the sauna felt better than ever. In the afternoon my grandparents and brothers arrived and we had a long dinner before opening the presents. The next day my cousin came over with her three month old baby boy (he is the cutest thing ever), so we had great holidays with family. Hope you had too?
Now we are trying to get back to a normal rhythm (=wake up earlier) and then we also need to pack our bags. We are traveling to Poland for NY and we are excited about this. It's going to be my first time ever in Poland! Today I'm going to work on a post for tomorrow (sales tips) and then we'll try to shoot some looks…if there's enough time. I'm wishing you all a great last week of 2016!