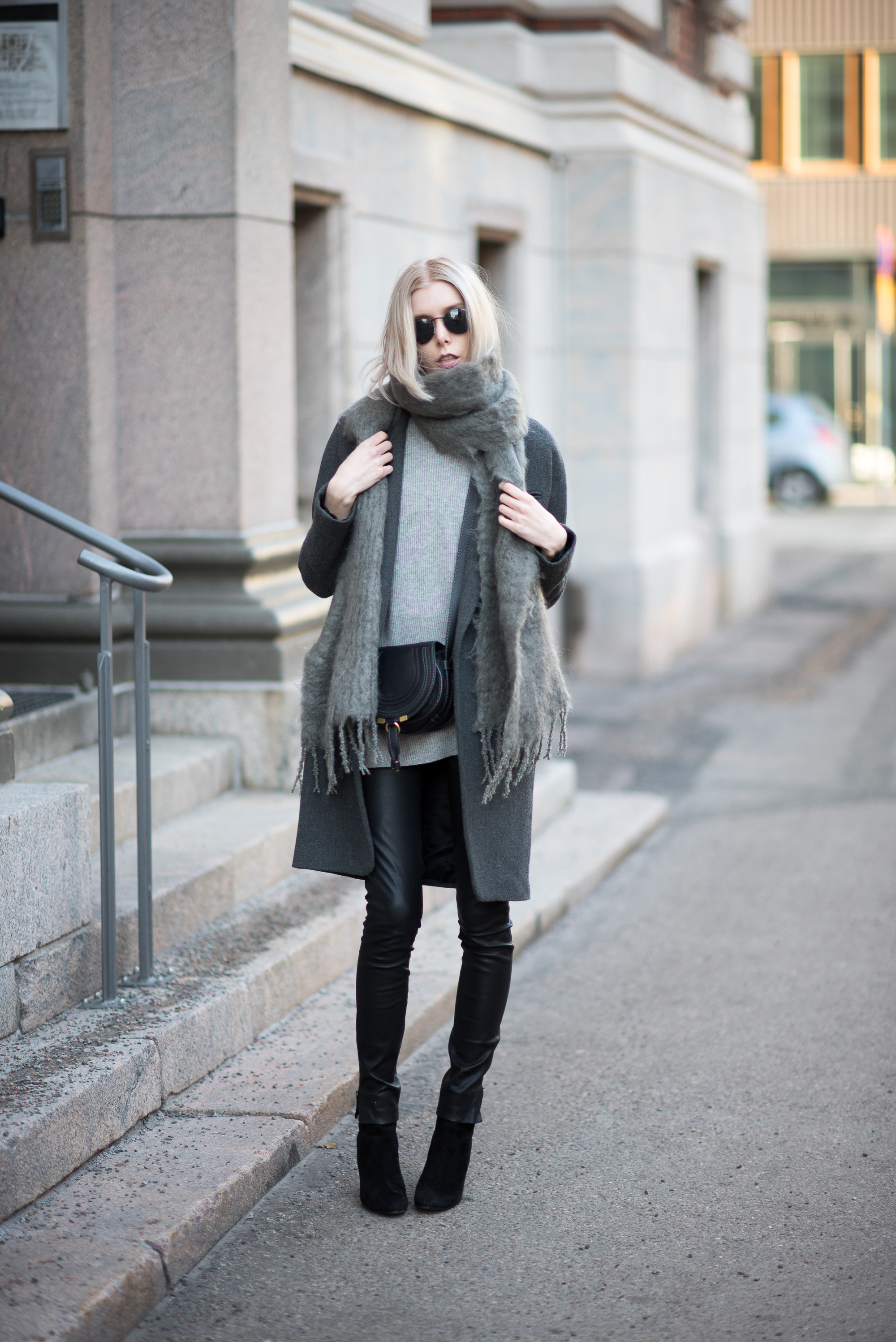 Miten upeista aurinkoisista päivistä olemmekaan saaneet nauttia nämä viimeiset päivät. Aurinkoa riittää vielä silloinkin, kun ajan töistä kotiin ja tammikuun alkuun nähden muutos on valtava. Silloin neljän jälkeen oli jo ihan pilkkopimeää, mutta nyt kahtena päivänä olisin tarvinnut aurinkolasitkin, kun oli niin kirkasta. Ihanaa! En tiedä teistä, mutta itselläni on ainakin sellainen fiilis, että olo muuttuu kevyemmäksi jokaisena päivänä, kun valon määrä lisääntyy. Niin kipeästi sitä kevättä odotellaan. Olen myös innoissani siitä, että pääsen taas kokemaan sen totaalisen muutoksen, kun luonto herää henkiin. Se vasta maagista onkin, kun luonto herää kuolleesta täyteen kukoistukseen. Voisi jopa sanoa, että tämä pitkä ja pimeä talvi on sen hetken arvoista…
Tässä asussa ovat kaikki vaatekaappini kulmakivet ja näitä palasia käytän todella usein (joko yhdessä tai erikseen). Nahkahousuissa viihtyisin joka päivä ja kashmirneuleisiin en kyllästy koskaan. Jalassa luottonilkkurini ja kaulaa lämmittämässä tämä mohairhuivi tässä vihertävässä sävyssä. Ihastelen edelleen tätä Chloén laukkua ja joka kerta kun kaivan sen kaapistani, niin ihmettelen sen tilavuutta. Ajattomia hankintoja, joita voin kuvitella käyttäväni vielä vuosienkin päästä.
Energistä keskiviikkoa kaikille!
We've had amazing weather for the past two days and these sun filled days have done miracles for my mood. When I started working in January, it was already pitch black when I left the office, but now six weeks later I can drive home in sunshine. Amazing! I notice a huge change in myself as the amount of light increases and my energy levels are completely different. I also can't wait to witness the miracle of nature waking up in a few months. That's something special! The long and dark winters are almost worth that moment alone…
In this outfit I'm wearing some of my wardrobe essentials. I could live in leather pants, I never get bored of cashmere knits and Balmuir's luxurious scarfs are my favorite accessories. These suede boots not only look good, but they feel good and this Chloé bag is one of the best purchases of last year. Timeless items, which I can see myself wearing for years to come.
Have a great day everyone!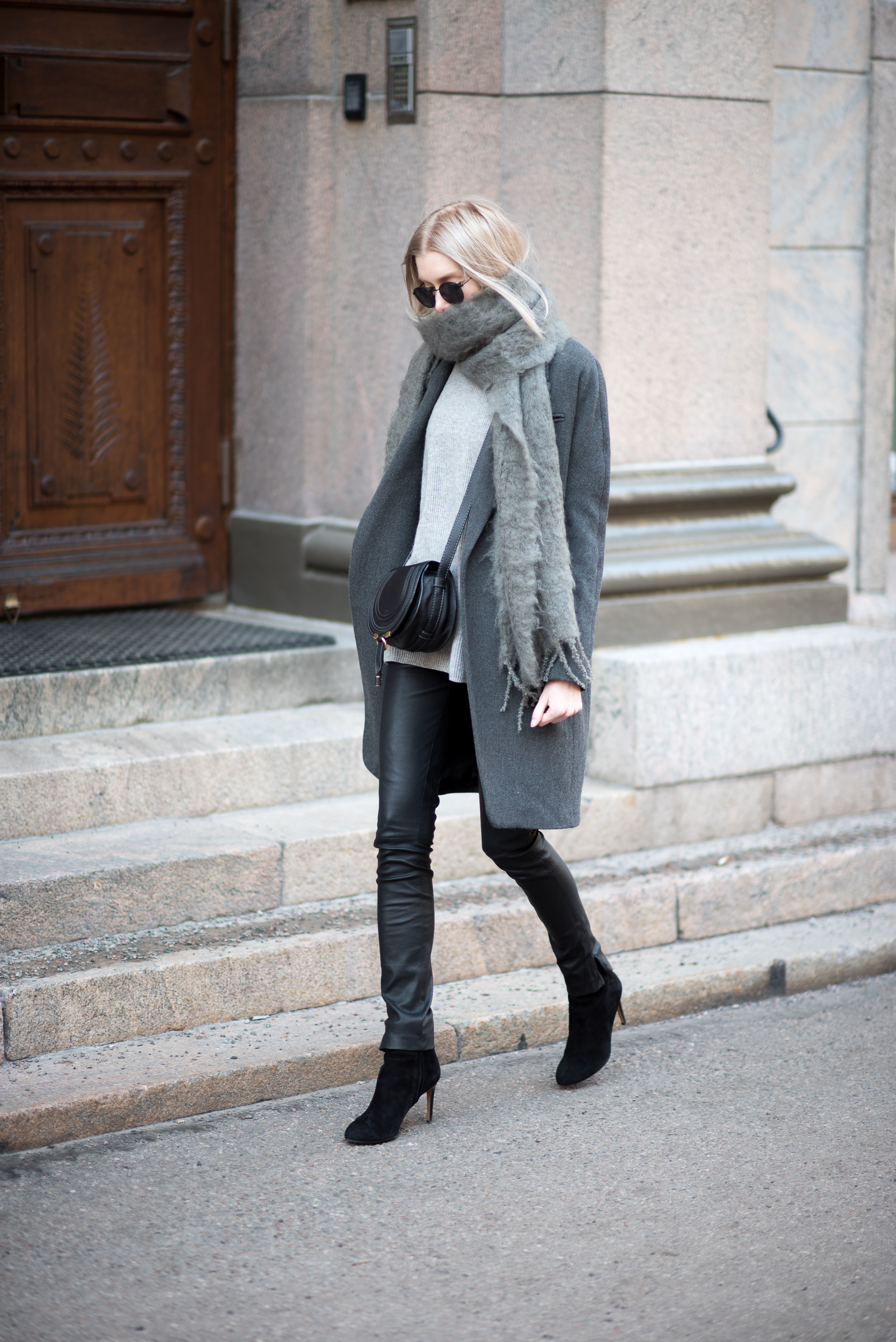 Coat / Zara
Knit / Cashmere Polo Club
Leather pants / Andiata*
Scarf / Balmuir*
Boots / & Other Stories
Bag / Céline
*Gifted.
Save
Save
Save
Save
Save
Save
Save
Save
Save
Save
Save
Save
Save