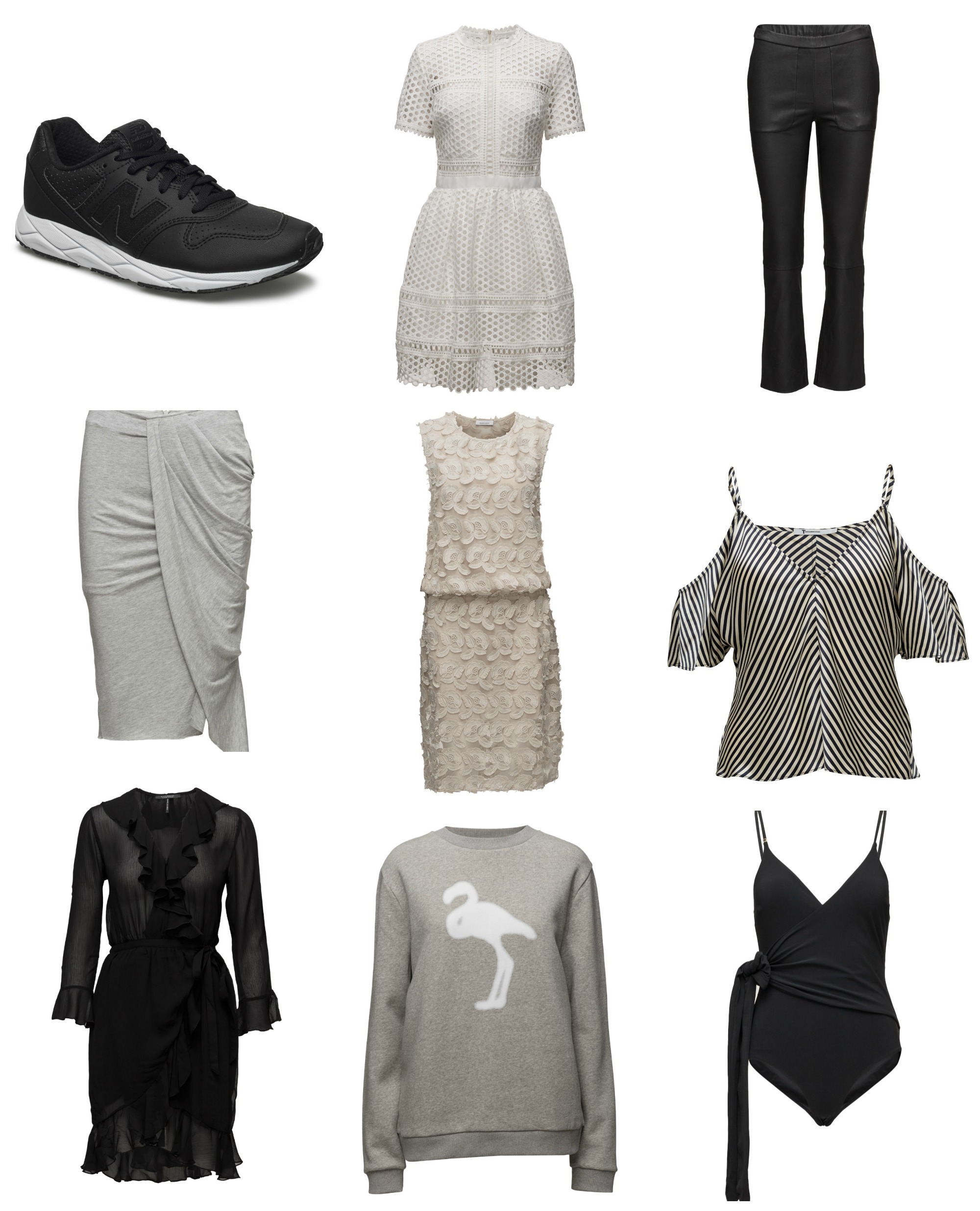 Sneakers / New Balance   Dress / By Malina   Leather pants / Day Birger et Mikkelsen
Skirt / Hunkydory   Dress / Samsoe & Samsoe   Silk top / T by Alexander Wang
Dress / Scotch & Soda   Sweatshirt / Back   Swimsuit / Stella McCartney
Onneksi tämä viikko on jo melkein ohi. Omat sairasteluni tuntuvat hyvin mitättömiltä Tukholman uutisten jälkeen ja vaikka Ranskassa näihin uutisiin ehti jo lähes tottua, niin tuntuu silti pahalta, että nyt näistä ihan samoista aiheista joutuu lukemaan myös täällä pohjolassakin. Paljon terveisiä kaikille ystävilleni ja lukijoille sinne Tukholmaan!
Jos jotain hyvää niin saimme muuttoa eteenpäin ja eilen nukuimme ensimmäisen yön uudessa asunnossa. Eihän täällä muuta vielä ole, kuin sohva ja sänky, mutta hiljalleen eteenpäin. Näillä päästiin sentään alkuun, joten täällä voi hyvin asua. Olen kyllä sellainen, että haluan saada kaikki valmiiksi mahdollisimman nopeasti, joten fiilis on vähän malttamaton. Ehkä tämä kuitenkin tästä…
Rentouttavaa sunnuntaita kaikille!
I'm glad this week is almost done, since it wasn't the best one. First me getting sick on Monday and then reading about the sad news from Stockholm. I almost got used to these type of news in France, but it's still a shock and makes me sad to think about the families whose lives were changed forever because of this. I hope all of my readers from Stockholm are okay!

Yesterday we decided to sleep in our new apartment for the first time and even if we just have our beds and a couch, we managed just fine. I can't wait to get this place fully decorated, so it will start feeling more like a home. Slowly, but surely right…
Enjoy your Sunday everyone!
*Commercial links/Mainoslinkkejä.
Save
Save
Save
Save
Save
Save