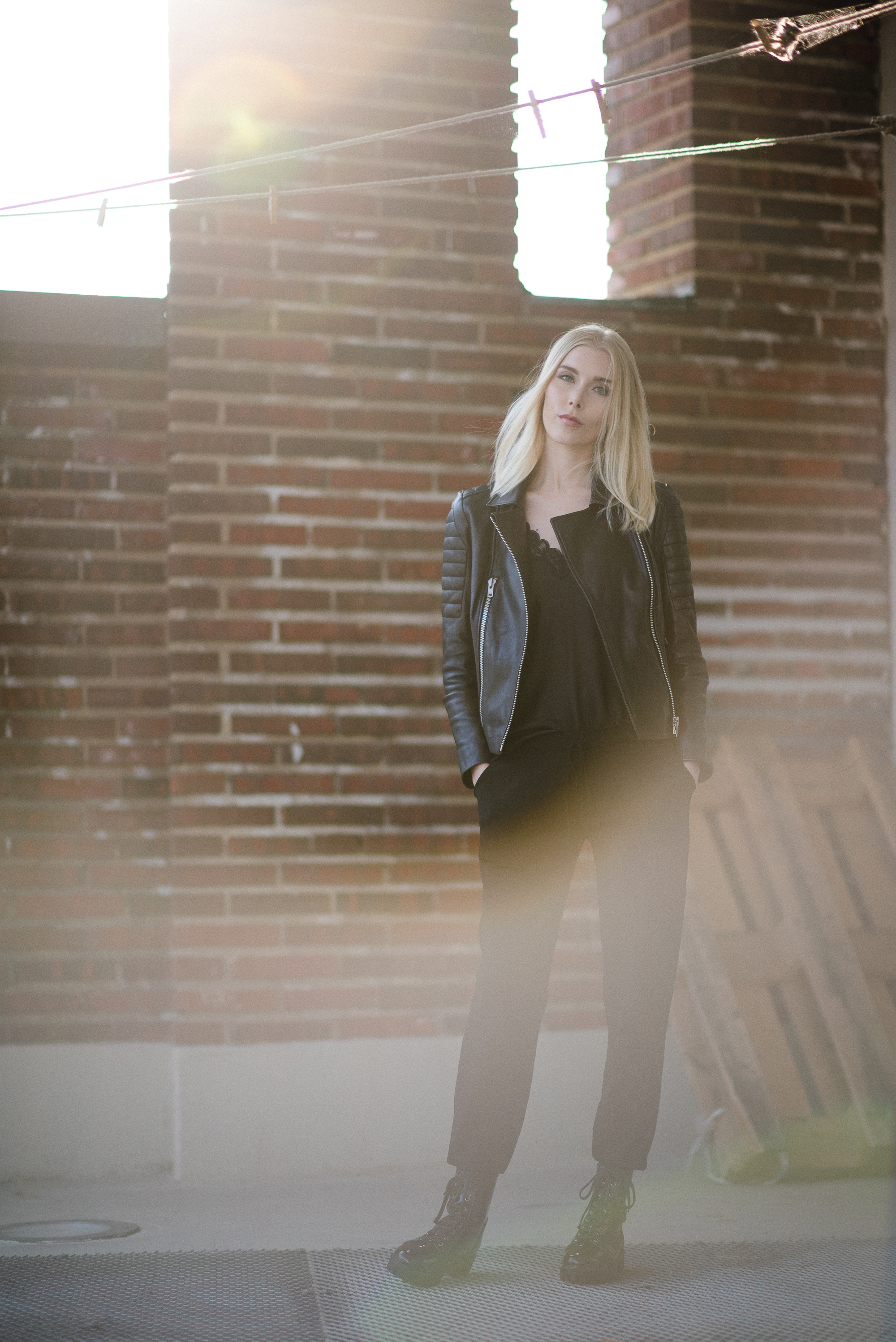 Olen niin mukavuudenhaluinen pukeutuja, että tällaiset rennommat oloasut uppoavat meikäläiseen ja kovaa. Tässä setissä voi hyvin liikkua ihmisten ilmoilla ja ihana silkkitoppi nahkatakin alla tuo pientä luksusta tähän asuun. Tätä silkkitoppia on saatavana myös valkoisena sekä tummansinisenä ja tämä on yksi vaatekappale, johon kannattaa satsata tänä syksynä. Toppi näyttää myös aivan ihanalta bleiserin tai muhkean neuletakin alla. Kuten huomata saattaa, nämä omat suosikkini ovat hyvinkin tummanpuhuvia, mutta Andiatan syysmallistossa on myös sinistä, oranssia, kamelia ja valkoista. Monesta tuotteesta on useita värejä, eli kannattaa käydä myymälässä niin näkee kaikki vaihtoehdot. Esimerkiksi nämä olohousut on saatavilla myös sähkösinisenä sekä punaisena. Kuvien nahkatakki on vanha, mutta tähän kauteen on tulossa sama malli kullanvärisillä vetoketjuilla. Se taitaakin tulla jo ensi viikolla varastoon!
Eilen sain nauttia ystäväni Leenin sekä hänen yksivuotiaan tyttärensä seurasta. Rakastan lapsia ja tuollaisen pienen taaperon menoa on melkein maagista seurata. Vielä kun sai hymyn irti pienestä, niin sydänhän siinä suli. Aivan ihanat kaksi ihmistä – äiti & tytär.
My style is all about comfort, which is why it's not a surprise I fell for these relaxed pieces. This "lounge wear" set looks good enough to be worn outside the house and the Harriet silk top underneath gives the outfit a luxury feel. The top comes also in white and blue and it's a piece worth investing in this season. It also looks gorgeous under a blazer or a chunky cardigan. This leather jacket is from the past collection, but it's coming back this year with gold colored zippers. It's also definitely a piece worth investing in.
Today I'm jumping into the unknown and starting yoga for the very first time. Wish me luck, heh!
*Postaus yhteistyössä Andiatan kanssa.
Leather jacket / Coming soon
Silk top / here
Joggers / here
Save
Save
Save
Save
Save
Save
Save
Save
Save
Save