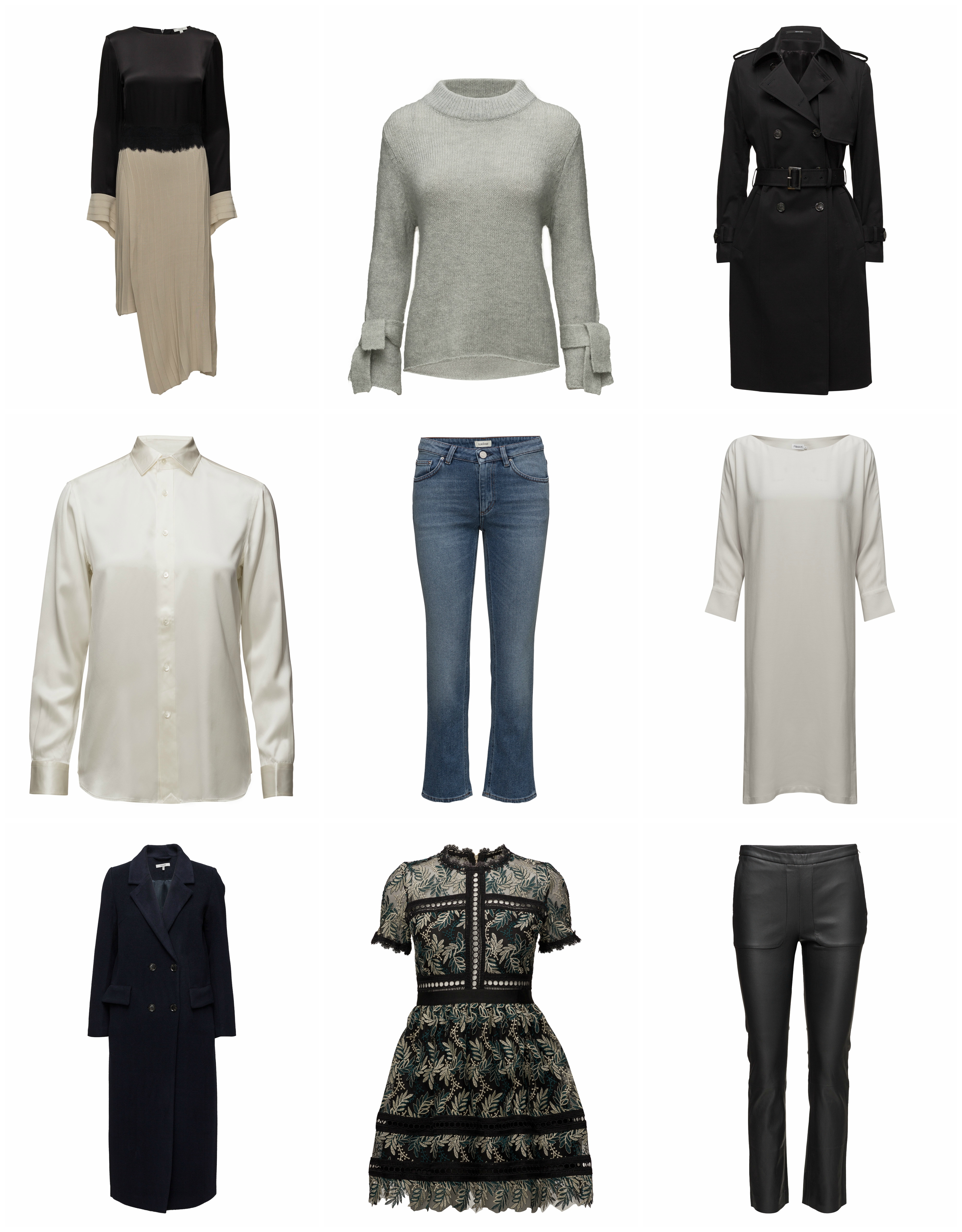 Dress / Dagmar   Knit / Coster Copenhagen   Trench coat / Tiger of Sweden
Silk shirt / Ralph Lauren   Jeans / Toteme   Dress / Filippa K
Coat / Ganni   Dress / By Malina   Leather trousers / Day Birger et Mikkelsen
Ihanat ilmat näyttävät hellivän meitä ainakin täällä etelässä koko ensi viikon! Aurinkoa onkin tullut kaivattua tämän pimeän viikon aikana, joten ihanaa, että saamme kunnon annoksen valoa. Ihan huikeeta ja ensi kuussa valoisuuden määrä lisääntyy jo huomattavasti! Meidän maaliskuun matka Dubaihin tuntuu vielä toistaiseksi kaukaiselta, mutta uskon, että ennen kun ehditään tajuta, niin onkin jo laukkujen pakkaamisen paikka. Tapasimme eilen ystäväämme, johon tutustuimme Pariisissa ja joka nykyään asuu Dubaissa. On siis ihanaa, että tapaamme siellä pian uudestaan! Aina kun tapaa ulkomailla asuvia ystäviä niin ymmärtää miten nopeasti aika menee eteenpäin. Tuntui nimittäin, että oltiin vasta hiljattain nähty, mutta todellisuudessa siitä oli ehtinyt vierähtää jo tovi.  2018 toivon pitäväni entistä paremmin yhteyttä ystäviini – asuivat he sitten lähellä tai kaukana!
Hyvää sunnuntaita kaikille!
The darkness is over and we can see some sun today and rest of the week – finally! Winter in Finland is truly something and you really start appreciating sunlight after experiencing it. Luckily our Dubai trip is coming up in March, so even if there's not so much sun we can hold on until then. We met yesterday our friend who is living there, so it's nice we get to have a reunion so quickly again! Sass Cafe Dubai, we are coming for you, heh. And one thing I promised myself this year, is that I'll stay in contact with my friends more (I'm very bad in keeping touch) – no matter if they're far or close.
Have a relaxing Sunday everyone!
*Commercial links/Mainoslinkkejä.