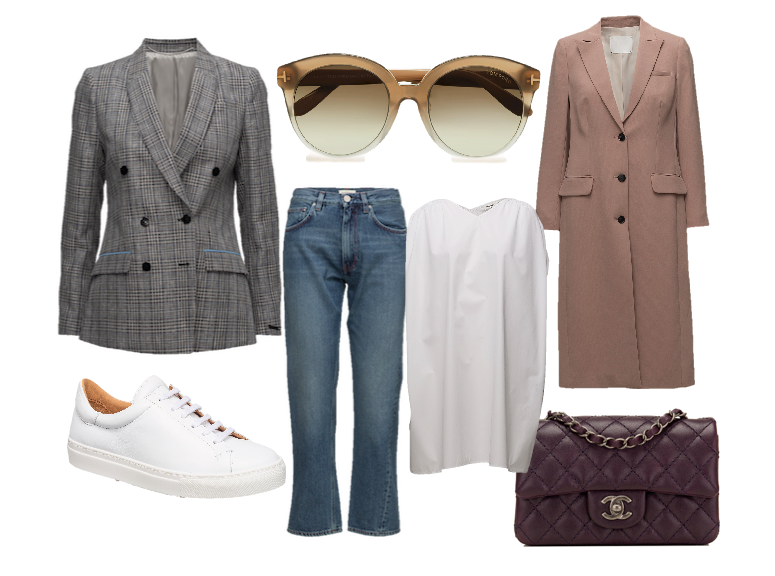 Blazer / Tiger of Sweden   Sunnies / Tom Ford   Coat / Day Birger et Mikkelsen
Sneakers / By Malene Birger   Jeans / Totême   Top / Totême   Bag / Chanel
Miten raikkaalta valkoiset tennarit ja vaaleat farkut näyttävätkään? Se päivä, kun voi pukea tennarit vajaamittaisten farkkujen kanssa (niin, että paljaat nilkat näkyvät) on kyllä juhlan paikka! Olen muuten ihastunut tuollaiseen luumun-sävyyn, joka tässä kollaasin Chanelissa on. Sointuu kauniisti harmaan ja mustan kanssa ja niitähän värejä on kaappini täynnä! Olisi myös ihana kamelin (siis sen värin, heh) parina. Väri, jota olen taas monen vuoden jälkeen alkanut fiilistelemään. Kameli on jotenkin niin ylellinen väri ja paras lopputulos tulee jos on pukeutunut päästä varpaisiin kyseiseen sävymaailmaan.
Ihanaa sunnuntaita!
How fresh would white sneakers and light jeans look right now? The day when I can actually wear a look like this, is a day I'm going to pop the champagne. It means that winter will be behind us! I just read on the news that next week there is more ice cold air coming from Siberia to Helsinki, so no champagne popping just yet, heh. I also fell in love with the plum colored Chanel and this color would be perfect with grey and black – two colors that are dominating my closet.
Have a great Sunday!
*Commercial links/Mainoslinkkejä.