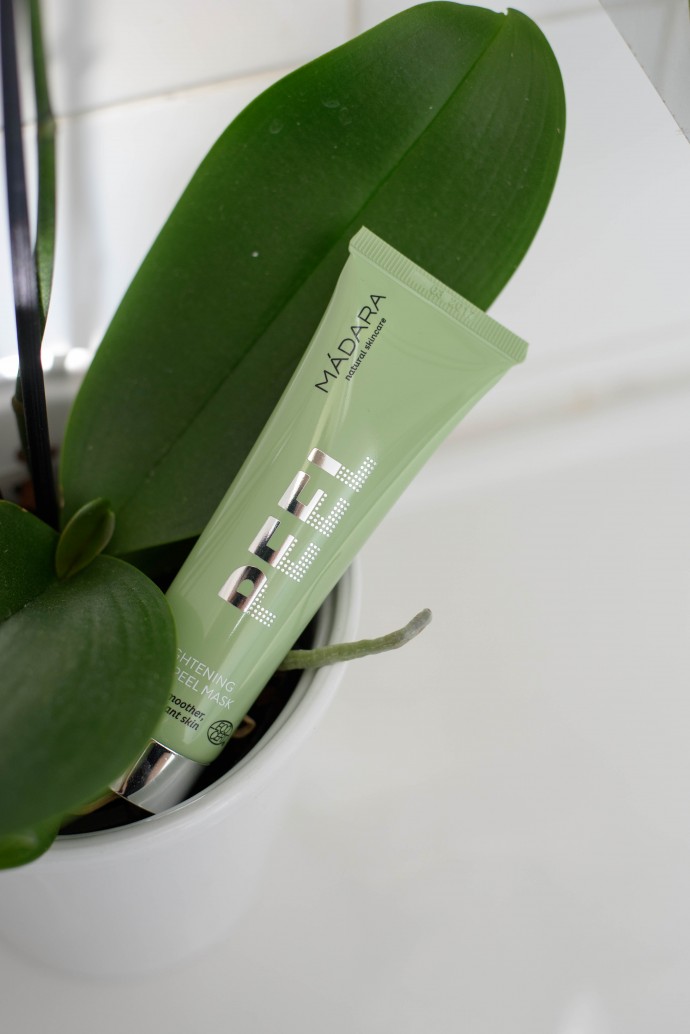 [dropcap custom_class="normal"]Kirjoitin tästä Madaran kirkastavasta AHA-kuorintavoiteesta jo aikaisemmin tämän  yhteistyöpostauksen tiimoilta, mutta nyt pidempään sitä käyttäneenä oli ihan pakko palata tähän tuotteeseen. Se on nimittäin aivan super hyvä! Kuorintavoide on koostumukseltaan hieman geelimäinen ja se levitetään puhtaalle kasvoille/kaulalle. Vaikutusaika riippuu ihotyypistä, eli mitä herkempi iho niin sitä vähemmän sen annetaan vaikuttaa. Itse pidän sitä normaalisti noin viisi minuuttia ja se riittää iholleni.[/dropcap]
Tuote kuorii ihon hedelmähappojen avulla, eli naamio ei sisällä mitään rakeita mitkä voisivat pahimmassa tapauksessa vaurioittaa ihoa. Tuote pestään vedellä pois ja sen jälkeen iho on tasaisempi ja kirkkaampi. Tuote on hellävarainen (kunhan ei pidä siitä liian kauan) ja iho näyttää ja tuntuu kyllä huomattavasti paremmalta.
Olen täysin koukussa tähän tuotteeseen!
I did a collaboration post with Madara a while back and mentioned this great peeling mask, but now that I have used it even more I had to come back and tell you more about it. It is the best peeling mask I have ever used! The texture is creamy and you put the mask on your clean skin and leave it for around 3-10 minutes (depending on your skin type). After you just wash it off with water and voila! Your skin looks much brighter, feels softer and just looks way better.
This product is definitely a keeper!