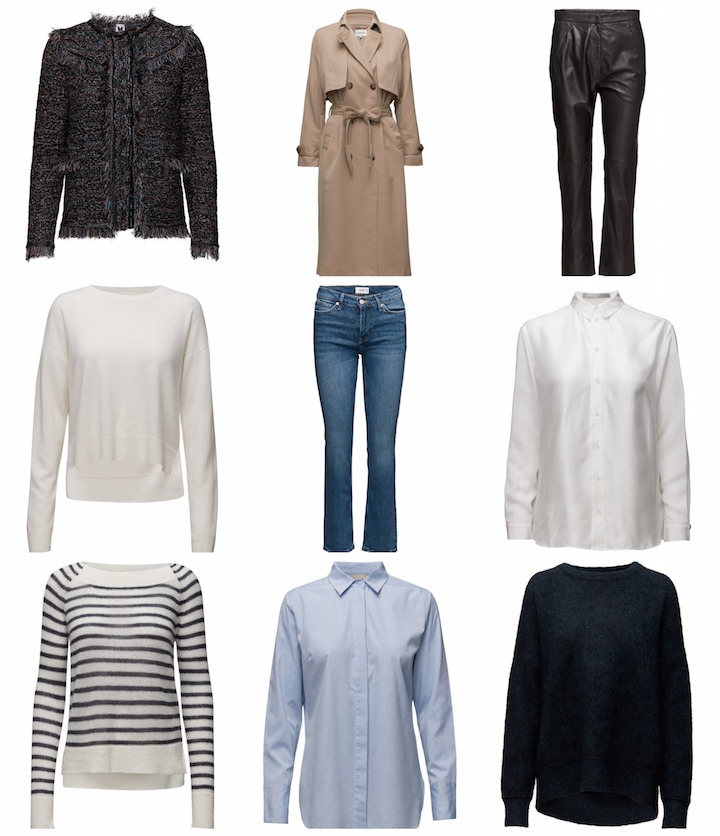 Blazer / Missoni   Trench / Ganni   Leather pants / Day Birger et Mikkelsen
Cashmere knit / 2NDDAY   Jeans / Mango   Silk shirt / Tiger of Sweden
Knit / Hunkydory   Shirt / By Malene Birger   Mohair knit / By Malene Birger
Olen edelleen sitä mieltä, että alennusmyynneistä kannattaa ostaa laatua ja hyödyntää sitä, että ajattomia vaatekappaleita saa tähän aikaan vuodesta huomattavasti edullisemmin. Kashmir neuleet ja päällystakit ovat sellaisia mitä voi käyttää vuodesta toiseen, kunhan löytää laadukkaan yksilön. Itse yritän kiertää kaupat kaukaa ihan sen takia, etteivät houkutukset käy liian suuriksi, mutta yhdet farkut ajattelin laittaa tilaukseen. Itse asiassa kaapistani löytyy jo sama pari, mutta malli on vain niin täydellinen, että hankin toisen varastoon (nämä*). Korkea hintahan ei aina tarkoita parempaa laatua ja sen olen etenkin farkuissa saanut todeta. Ketjuliikkeiden versiot ovat aivan yhtä hyviä kuin kalliimpien merkkien sadan euron farkut. Etenkin Mangosta olen löytänyt itselleni sopivia malleja ja kun hinnat ovat niin lompakkoystävällisiä, olen päättänyt suosiolla unohtaa J Brandit ja muut kalliit merkit. Kaapissani on myös Zaran farkkuja neljän vuoden takaa ja ne ovat edelleen hyvässä kunnossa. Se eettisyys (mistä puhuin täällä) on kyllä näistä ostoksista kaukana, mutta yritän korvata sitä sitten muilla valinnoillani.
Vaikka viikonloppu on ollut sateinen, niin olen nauttinut siitä, että voi ottaa rennosti kotona, nukkua paljon, lukea hyvää kirjaa ja kokkailla. Ensi viikko näyttää jo sään puolesta paremmalta, joten otetaan ilo irti tästä sateisesta sunnuntaista (tässäkin on oma ihana fiiliksensä)!
I think that sales are the best time to make timeless purchases, which you can keep for years. Cashmere knits and classic coats are something that you should look out for during sales or then of course something that you've been eyeing for a longer time. I'll try to keep myself out from the stores as much as I can, to avoid buying anything unnecessary, but I did already make some purchases. For example I bought those Mango jeans in the collage two weeks ago and now I bought a second pair, as the cut is perfect. I actually think Mango makes great jeans and I've decided to keep buying them as they fit my body the best and the price is so affordable. They also last long, so why would I pay 200€ for designer jeans? As we know, price doesn't always mean quality.
The weather in Helsinki has been rainy all weekend, but I kind of like it. Perfect excuse to stay indoors, relax, read books and eat well. Next week is looking brighter again, so I'll enjoy this rainy weather while it lasts!
*Postaus sisältää mainoslinkkejä/Commercial links.