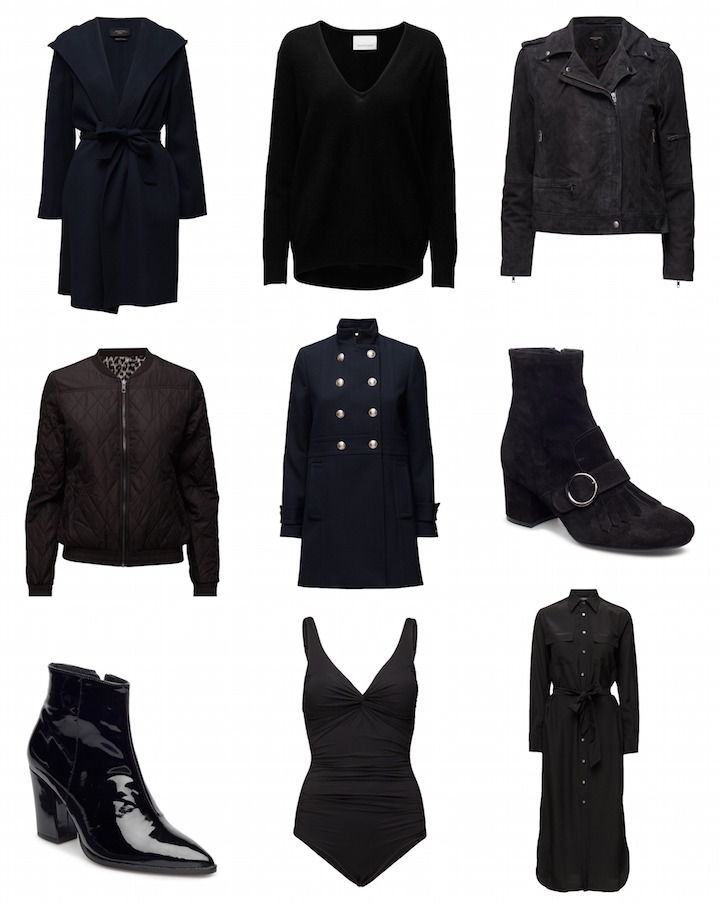 Coat / Weekend Max Mara   Cashmere knit / Samsoe & Samsoe   Jacket / Selected Femme
Bomber / Only   Coat / Tommy Hilfiger   Boots / Billi Bi
Boots / Carvela Kurt Geiger   Swimsuit / Panos Emporio   Silk dress / Polo Ralph Lauren
Kunnon kesä saapui vihdoin tänne Keski-Ranskaan ja lämpötilat ovat kohonneet viikonloppuna +30 asteeseen. Olen erittäin iloinen siitä, että kaapistani löytyy nykyään (jopa) kaksi hellemekkoa, jotta viime kesän kulutetuinta farkut+pellavapaita-komboa ei tarvitse käyttää ihan päivittäin. Täällä blogissa en ole tainnutkaan vielä esitellä sitä valkoista hellemekkoa, mutta pian näette senkin!
Hassua, että täällä kuljetaan kesävaatteissa, mutta silti etsin inspiraatiota syksyä varten ja tummat värit puhuttelevat huomattavasti enemmän kuin mitkään pastellit (mitkä tosin ovat kauniita tähän aikaan vuodesta). Sisäinen goottini nostaa taas päätänsä helteestä huolimatta, heh.
Täällä valmistaudutaan jalkapallon täyteiseen iltaan, siellä myös? Rentouttavaa sunnuntaita kaikille!
Real summer weather finally arrived to Orléans this weekend and the temperatures have been close to +30 degrees. I'm happy that I decided to purchase two summer dresses, so I don't have to wear my last years summer uniform (jeans and linen shirt) daily again. You've already seen the black maxi dress and I'll show you the white one next week!
Even if I'm now dressed in summer gear, I'm still getting inspired by Fall's newcomers and darker tones. The inner Gothic in me is waking up again, heh.
Have a relaxing Sunday!