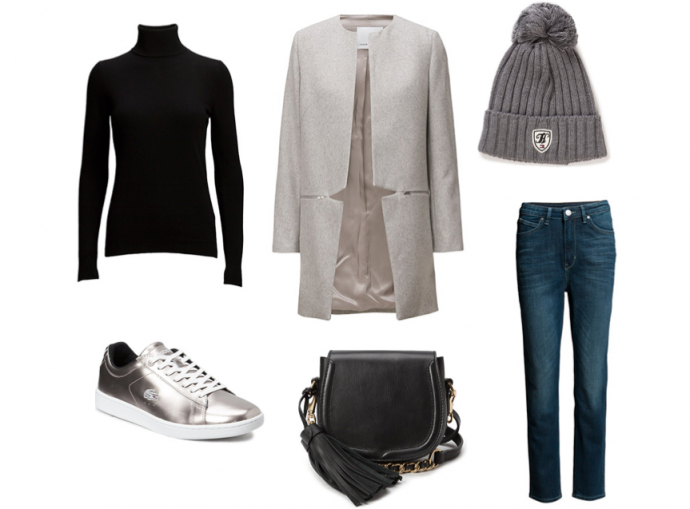 Wool knit / Benetton     Coat / Samsoe & Samsoe     Beanie / Tommy Hilfiger
Sneakers / Lacoste     Bag / Polo Ralph Lauren     Jeans / 2nd Day
Huomasin, että Booztin valikoimasta löytyy nykyään myös Benettonin tuotteita. Merkki vie itseni muistoissa takaisin lapsuuteeni, sillä muistan, että silloin Benetton oli kova sana. Huomasin myös, että ainakin nuo pooloneuleet ovat 100% villaa (eivätkä ne ole hinnalla pilatut), joten mietin jos laittaisin sellaisen tilaukseen. Pooloneuleet kun toimivat parhaiten juuri tähän aikaan vuodesta.
Pooloneuleet kuuluvat omiin suosikkeihini, mutta tunnen monta naista ketkä pitävät liian tiukkoja kauluksia ahdistavina (terveiset äidille, heh). Ymmärrän senkin, mutta talvella pidän siitä, että kaulus on tiukasti ihossa kiinni. Noin ehkä muuten, suosin hieman löysempää poolokaulusta. Huomaan, että miten kylmempi ilma niin sitä tiukempi kaulus saa olla. Ei tietenkään mikään kuristava, mutta ymmärsitte varmasti pointtini, heh. Löytyykö teidänkin kaapista pooloneuleita?
P.S. Pooloneuleista puheen ollen, tänään on viimeinen päivä osallistua Andiatan neuleen arvontaan (täällä)! Voittajan julkistan tiistain postauksessa.
I noticed that Benetton is now represented at Boozt.com. In my childhood this brand was very popular and I had many knits from them. I checked their latest collection and fell for this black (and grey) knit. It's made of 100% wool and it's definitely not ruined by the price, so I might order it. This time of the year is the best for turtlenecks. I'm a big fan of them in general, but I know many people who can't stand them. They feel suffocated when wearing one. I can also understand this, but luckily there are also knits with looser turtlenecks (something my mother prefers for example).

Are you into turtleneck knits?
*Commercial links/Mainoslinkkejä.