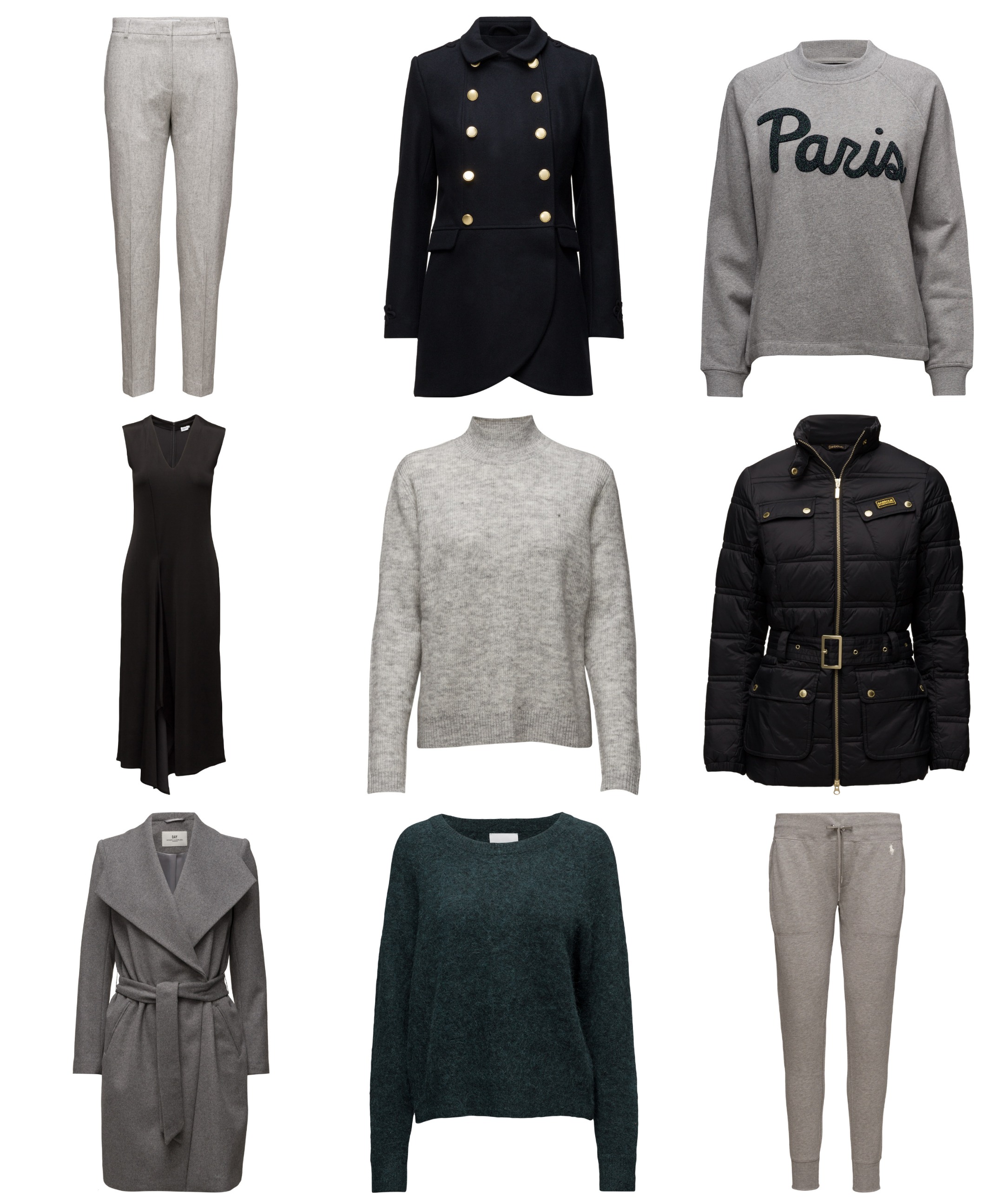 Pants / Samsoe & Samsoe   Coat / Day Birget et Mikkelsen   Sweatshirt / Samsoe & Samsoe
Dress / Filippa K   Knit / Samsoe & Samsoe   Jacket / Barbour
Coat / Day Birger et Mikkelsen   Knit / Samsoe & Samsoe   Pants / Ralph Lauren
Saatte tänään Booztin valikoimasta 20% alennusta koodilla MSS20 (ei muutamia merkkejä). Olen odottanut alennuskoodia, jotta pääsisin vihdoin tilaamaan tämän Twist & Tangon takin, jota olen täälläkin monta kertaa kuolannut. Nyt vain sormet ristiin, että takki olisi livenä yhtä upea, kuin kuvissa ja tuntuisi hyvältä päällä. Tekisi myös mieli laittaa tilaukseen nämä Biancon kauniit nilkkurit, mutta luulen, että sovitan niitä ensin Helsingissä ja sitten vasta tilaukseen, jos ne ovat hyvät jalassa. Kaapissani kun on vain yhdet matalakorkoiset nilkkurit ja ne ovat ne niitilliset (Zaran versiot Chloén Susanna – bootseista), joten tilaa olisi yhdelle hieman maltillisemmalle parille.
Täällä viikonloppu on mennyt lähinnä kotona taistellessa pientä flunssaa vastaan. Ensi viikolla olen tosiaan tulossa Suomeen ja aikataulu on sen verran kiireinen, että sairastelulle ei olisi kyllä yhtään aikaan. Nyt ei siis muuta, kuin teetä naamaan ja lepoa. Hyvää sunnuntain jatkoa sinne ruudun toiselle puolelle!
Today you'll get a 20% discount from Boozt's selection with the code MSS20. I've been waiting for a sales code, so I can finally order this Twist & Tango coat, which I've been drooling over forever now. Fingers crossed it fits me well! I would also like to order these boots from Bianco, but maybe I'll wait for my Helsinki trip and try them on in the store first.
I've taken this weekend easy, as I've felt a flu coming. This is not the right time to get ill, as I'm heading to Helsinki next week. My schedule is so packed, that I definitely don't have time to rest there. So now it's tons of tea for me and sleep. Enjoy your Sunday everyone!
Commercial links/Mainoslinkkejä.
Save
Save
Save
Save
Save