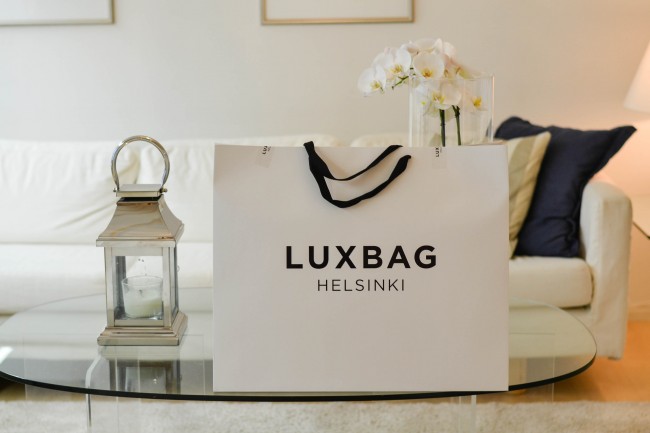 Kerroin tässä vanhemmassa postauksessa, että seuraava laukkuhankintani olisi luultavasti Saint Laurentin Emmanuelle Bucket Bag. Ihastuin sen malliin ja hieman rokahtavaan tyyliin. Lontoossa ollessani kävin Saint Laurentin liikkeessä mallailemassa laukkua ja heti ensi näkemällä fiilikset siitä laskivat aika roimasti. Se näytti suoraan sanottuna todella muoviselta ja halvalta livenä ja on mun mielestä tuhat kertaa paremman näköinen kuvissa. Tuli siis heti selväksi, että kyseinen laukku ei olisi hintansa arvoinen.
Hyvä niin, sillä satuin yksi päivä kulkemaan Luxbagin ohi ja menin sisälle ihan vaan ihastelemaan ja katsomaan uutuuksia. Näin heti edellisessä postauksessa vilahtaneen Célinen Belt Bagin ja se kolahti ihan samantien. Jännä juttu on se, että olen nähnyt sen kuvissa ja pitänyt sitä kauniina, mutta en sen kiinnostavampana. Livenä se oli kaikkea muuta kuin epäkiinnostava. Laukku on itsessään kevyt, laadukas ja tarpeeksi hillitty ollakseen ajaton. Sitä voi myös kantaa olalla mikä aina helpottaa etenkin jos mukana on useampi kantamus. Kaiken kaikkiaan tämä on itselleni ihan unelma laukku!
Toivonkin nyt salaa, että tämä ei saavuttaisi samanlaista supersuosiota kuin siskonsa Mini Luggage…
I told you guys that in this older post that my next bag purchase might be Saint Laurent's Emmanuelle Bucket Bag. When I was in London a few months back I went to see it in the store, but immediately was dissapointed. It looked cheap and as if it was made of plastic rather than leather. Needless to say I was put off and decided that it was not worth the money.
That was actually a good thing, because in Helsinki I visited Luxbag, which is a multi-brand store carrying many luxury brands (Céline, Balenciaga, Fendi, Givenchy etc.) and saw Céline's Belt Bag, which you already saw in the previous post. I immediately noticed it and afterwards I was gone…It just felt like the perfect bag for me. It's light yet sturdy, the leather is perfect, the details are minimal and the size is great for everyday use.  The perfect bag in every way possible!
I am now secretly hoping that it won't become as popular as its sister Mini Luggage…