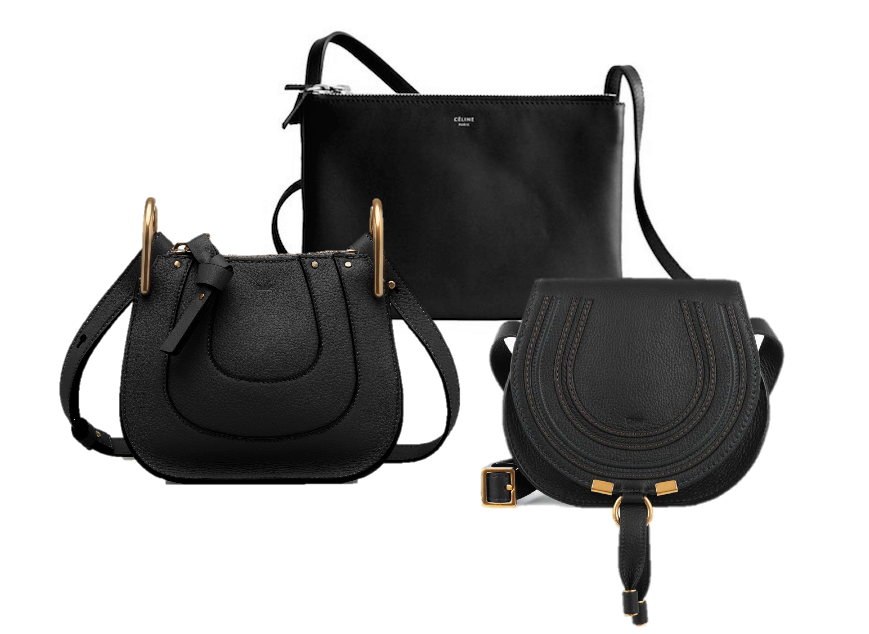 Juttua taas laukuista! Kuten moni teistä jo tietää, olen pitkään harkinnut pienen mustan arkilaukun hankkimista ja yksi tärkein kriteeri laukulle on se, että sen saa vedettyä olan yli ja on tarpeeksi kompaktin kokoinen. Ykkösenä on Célinen Trio (jota olenkin jo käynyt mallailemassa myymälässä) ja toisiksi vaihtoehdoiksi ovat nousseet Chloén Marcie, sekä Hayley-laukut. Näitä jälkimmäisiä en ole vielä käynyt sovittamassa, joten voi olla, että ne eivät livenä enää iskekään ja siinä silloin Trio on selkeä voittaja. Mikä Triossa ihastuttaa on tuo yksinkertaisuus ja monikäyttöisyys (sitä voi ilmeisesti käyttää myös clutchina), kun taas näissä Célinen kahdessa ihastuin malliin, sekä siihen, että laukuissa on kuitenkin jotain ekstraa.
Yksi asia mikä tuossa Triossa epäilyttää on tuo pehmeä lampaannahka (näkyykö siinä kaikki naarmut heti?). Huomasin, että Célinellä oli tässä syysmallistossa Trio grained lambskin -versiona, eli siinä ei näkyisi naarmut ja jäljet samalla tavalla, kuin tässä sileäpintaisessa versiossa. Laitoin mailia Célinelle ja sieltä tuli kahden minuutin sisällä vastaus, että tämä grained lambskin-versio on loppuunmyyty jokaisesta Célinen putiikista ympäri maailmaa. Nyt yritän selvitellä, että onko sitä mahdollisesti tulossa lisää vai oliko sen vain tämän kauden juttu.
Nyt täytyy siis hieman selvitellä ajatuksia, ennen kuin ostan yhtään mitään ja miettiä, mikä näistä olisi omiin tarpeisiini se paras. Eiköhän sekin selviä ajallaan!
Let's talk about…bags! As you know, I'm searching for a simple small sized everyday bag and I have now narrowed down the options to three bags; Céline Trio, Chloé Marcie and Chloé Hayley. I still need to try them all on, but I think my number one option is still the Trio. It just seems so simple (impossible to get bored of), compact and then of course versatile (you can also use it as a clutch). What I love about the Chloé options are the shape and structure.
My only concern with the Trio is the soft lambskin, which might get scratched very fast. Small scratches here and there don't bother me, but I'm not looking for a "high maintenance bag". I want something I can just pick up and take with me without having to worry about the bag getting ruined after wearing it too much. I know Céline offered the Trio in grained lambskin, which is more durable and would be my choice, but of course this version is sold out worldwide and apparently they are not continuing it (or so I heard?).
In any case, I'll think about these three options (and try them out in the store) and hopefully after I'll be able to make my decision. Luckily we are just talking about bags (nothing more serious then that), so I don't think I can make a wrong one no matter what I choose, heh!
Save
Save
Save
Save
Save
Save
Save
Save