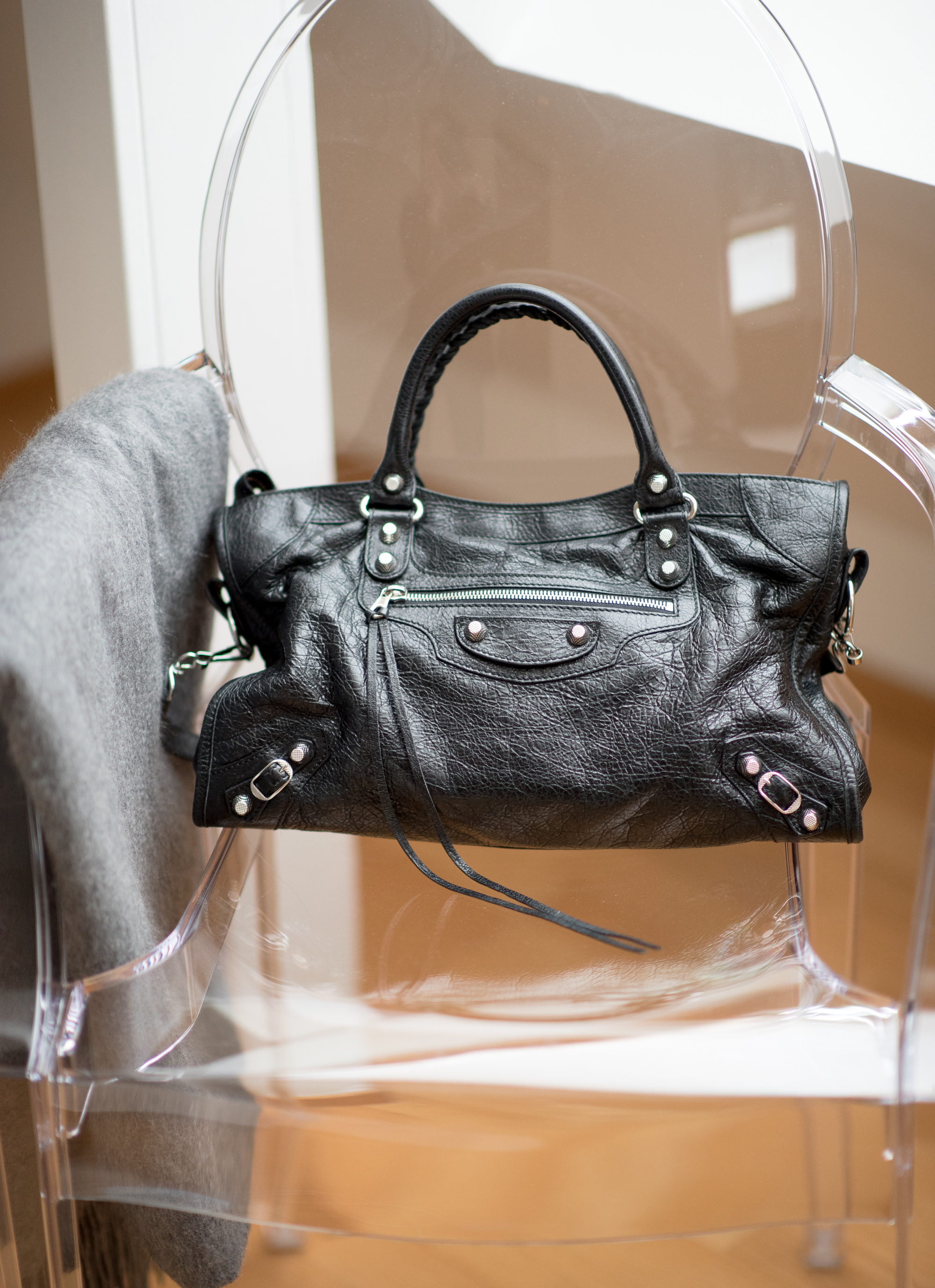 Famous last words: "nyt ei todellakaan ole oikea aika ostaa uutta laukkua". Niinpä niin…Heti kun olin tehnyt postauksen seuraavista laukkuhaaveistani, niin törmäsin tähän mustaan Cityyn, joka oli myynnissä käytettynä ja hyvään hintaan. Mietin alkuun, että seuraava laukku olisi harmaa, mutta tylsä mikä tylsä ja päädyin taas mustaan. Musta on vaan siitä niin hyvä, että se ei ikinä riitele muun värin kanssa, eikä siihen ikinä kyllästy. Etenkin näiden arvokkaampien laukkujen kohdalla on pakko miettiä käytännöllisyyttä ja sitä, että se on helppo kaivaa kaapista ja yhdistää mihin tahansa asuun.
Tämä City-laukku on ollut omistuksessani nyt muutaman viikon ja tästä on tullut ihan suosikkini! Tämä on juuri sopivan rento, särmikäs ja kooltaan täydellinen. Sinne mahtuu 13″ läppäri, mutta se näyttää hyvältä vaikka sinne ei olisikaan änkenyt koko omaisuuttaan. Laukku on siis todella helppo ja vaivaton. Siinä on myös olkahihna, mikä oli yksi työlaukkuni tärkeimmistä kriteereistä. Olenkin käyttänyt tätä laukkua jo työmatkoilla, enkä keksi siitä mitää huonoa sanottavaa. Päinvastoin, ihmettelen miksi Balenciagat eivät ole aikaisemmin kolahtaneet. Tämä tuo juuri sopivaa vastapainoa laukkukokoelmaani, sillä tämä on ehdottomasti rennoin kaikista omistamistani. Huomenna näette miltä tämä näyttää asun parina!
P.S. Eilen blogissa oli jotain häikkää ja edellistä postausta ei pystynyt kommentoida ollenkaan. Sen lisäksi osa kuvista katosi johonkin, mutta sain lisättyä ne uudestaan illalla ja kommentointikin saatiin kuntoon…
Famous last words: "now is not the time to buy a new bag". Yeah sure…As soon as I said those words, the perfect City bag came on sale. Isn't that how it always goes? I found this second hand for a great price, so I decided to go for it. I was planning to get it in grey, but then again black is always a safe bet. It goes with everything and you never get bored of a black bag. I tend to use some reason when purchasing these more expensive items (although my boyfriend might disagree) and that's why I always for for the black color.
I've had this bag for a few weeks now and I've been using it daily. It has really become a favorite of mine! I love the relaxed feel and it's edgier than any of my other bags. It also fits my laptop and everything else, so it's the perfect work bag. I actually can't think of anything negative about it…Now I'm just wondering how come I haven't bought a Balenciaga before this, heh? Tomorrow I'll show you how it looks in action!
P.S. Yesterday something weird was happening on my blog and you couldn't even comment on my previous post. Also half of the english text vanished and some pictures too. Hopefully today is a better day…
Save
Save
Save
Save
Save
Save