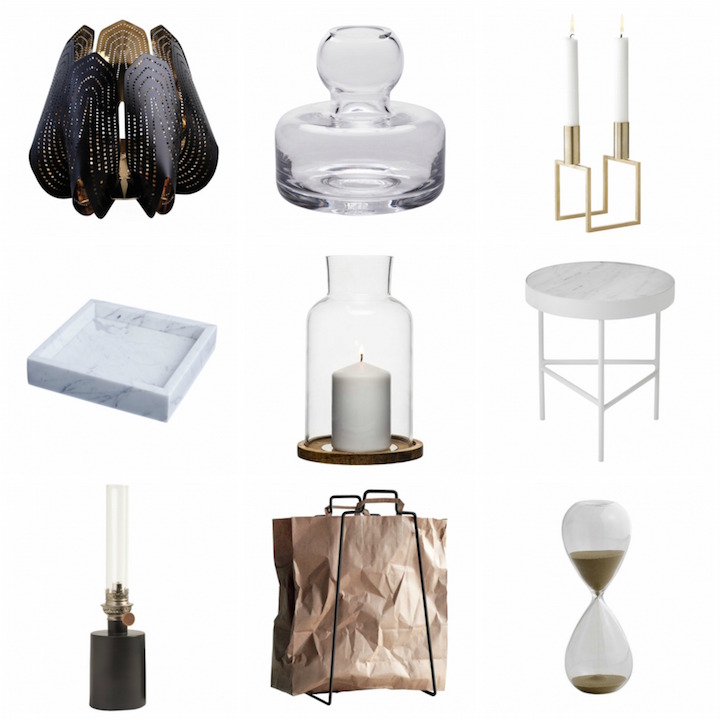 Be&liv  /  Marimekko  /  By Lassen
Hay  /  Sagaform  /  Ferm Living
 Klong  /  Everyday Design  /  Hay
Viime viikolla postailin muutamia inspiraatiokuvia siitä, minkälainen tunnelma sopisi vastavalmistuneeseen vierastaloomme landella. Kuten sanoin, ne pienet elementit tekevät kodista kodin ja löysinkin ihania juttua netistä! En ole edes tajunnut aikaisemmin, että Finnish Design Shop* lähettää tuotteitaan myös Ranskaan, joten arvatkaa vaan innostuinko koluamaan koko verkkokaupan puhki, heh. Mitä ihanuuksia sieltä löytyykään! Tuo Line kynttilänjalka on pakko saada tänne Ranskan kotiin…
Kollaasia tehdessäni taisin hieman ajautua siitä lähtötilanteesta, että etsin landelle sisustuselementtejä, en omaan kotiini Ranskaan, mutta näillä mennään. Kollaasissa on siis hieman molempiin osoitteisiin himoitsemiani juttuja! Landelle haluan ehdottomasti tuon mustan Klongin öljykynttilän (tuo ripauksen sitä kaipaamani mustaa väriä), mutta tuo puinen Sagaformin kynttilänpidike on upea sekin. Se toisi tilaan taas ripauksen puuta…
Luulen, että jätän nämä ihanuudet hautomaan ja sitten ensi viikolla paikan päällä pystyn järjestelemään ajatukseni paremmin. Mitään turhaa kun ei sinnekään halua jalkoihin pyörimään, niin täytyy miettiä jokaista hankintaa tarkkaan!
Last week I posted some interior inspiration pictures of the style I would like to decorate our guesthouse in. As I said, the smaller details are the ones that make a home, which is why I did some window shopping online. Finnish Design Shop is one of my favorite online sites for interior and I have actually never realized they also ship to France…Now that I know, it's going to be quite dangerous for my bank account. This Line candle holder is something I need in our apartment! It's beautiful.
So above you can find some of my favorites for our home here in France, as well as for the new guesthouse in Finland. I think I need to take this wish list with me when I go to the summerhouse and really think, which items would work there the best. The idea is not to fill the entire space with furniture and small objects, so I need to carefully select few things.
*Commercial links/Mainoslinkkejä.