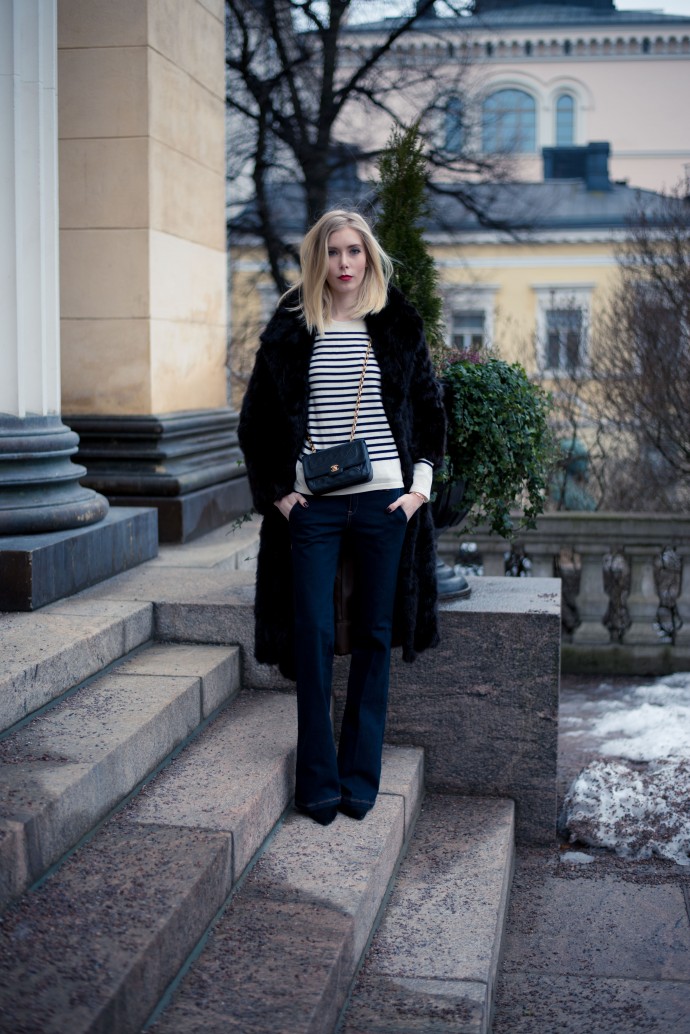 Aito turkis on aika kiistelty aihe ja ajattelin huomiselle kirjoittaa postauksen omista ajatuksista asian suhteen. Täytyy kyllä sanoa, että olen monesti miettinyt sen kirjoittamista, mutta vähän mietityttää kannattaako asiaan ottaa julkisesti kantaa ollenkaan. Kaikilla kun on vahvat omat mielipiteet tähän aiheeseen ja keskustelu ei aina pysy täysin asiallisena. No, mietin asiaa vielä tämän päivän jos kuitenkin sen julkaisisin…
Tämä kuvissa näkyvä turkistakki on isoisoäitini vanha. Ikää sillä on yli 40-vuotta ja se on kulkenut suvussa eteenpäin. Tuntuu oikeastaan aika hullulta, että päällä on jotan niin vanhaa, joka on kuitenkin kunnoltaan kuin uusi. Isoisoäitini kuoli vasta yli 100-vuotiaana ja hänen järkensä toimi loppuun asti ihmeen hyvin. Sen ikäisen juttuja kuuntelikin korvat höröllä. Ei voi edes kuvitella millaisen muutoksen ja kehityksen hän pääsi kokemaan sen sadan vuoden aikana. Aika paljon Suomi (ja maailma) muuttui sinä aikana.
Turkiksesta voi olla montaa eri mieltä, mutta sitä ei voi kukaan kiistää etteikö se olisi laadukas ja kestävä valinta. Tänä kuvauspäivänä oli kylmä, mutta ihme ja kumma meinasin hikoilla tuo takki päällä. Minä, joka aina palelen. Takki on aivan älyttömän lämmin, joten voin kuvitella, että niille on ollut tarvetta vielä silloin kuin muita yhtä lämpimiä vaihtoehtoja ei ollut. Nykyään tilanne on tietenkin toisin.
No mutta, huomenna lisää juttua turkiksesta! Ellen siis satu muuttamaan mieltäni yön aikana, heh.
This vintage fur coat belonged to my great-grandmother. It's nearly 40 years old. How crazy is that? Especially since it looks like new! No matter what your personal opinion is on fur, it's undeniable how long-lasting a quality piece is. I will pass this on to my children one day so it will move in the family. I can't think of many things that last time so well except watches and jewellery of course.
My great-grandmother was over 100-years old when she passed away and her mind was healthy until the very end. It meant that I paid close attention to whatever she told me, because I mean she had a lot of life experience behind her. I can't even imagine the change she saw during her lifetime. The world changed quite a lot. Finland in particular developed very fast during these last 100 years.
There is something special wearing a very old piece that has been in the family for a while. It becomes more than just a "coat" and something you want to treasure.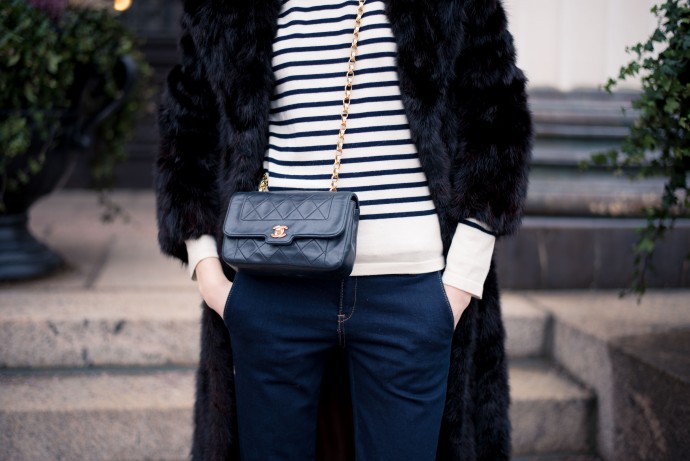 Coat / Vintage
Jeans / Mango
Knit / Filippa K
Heels / Zara
Bag / Chanel
Ring / Cartier