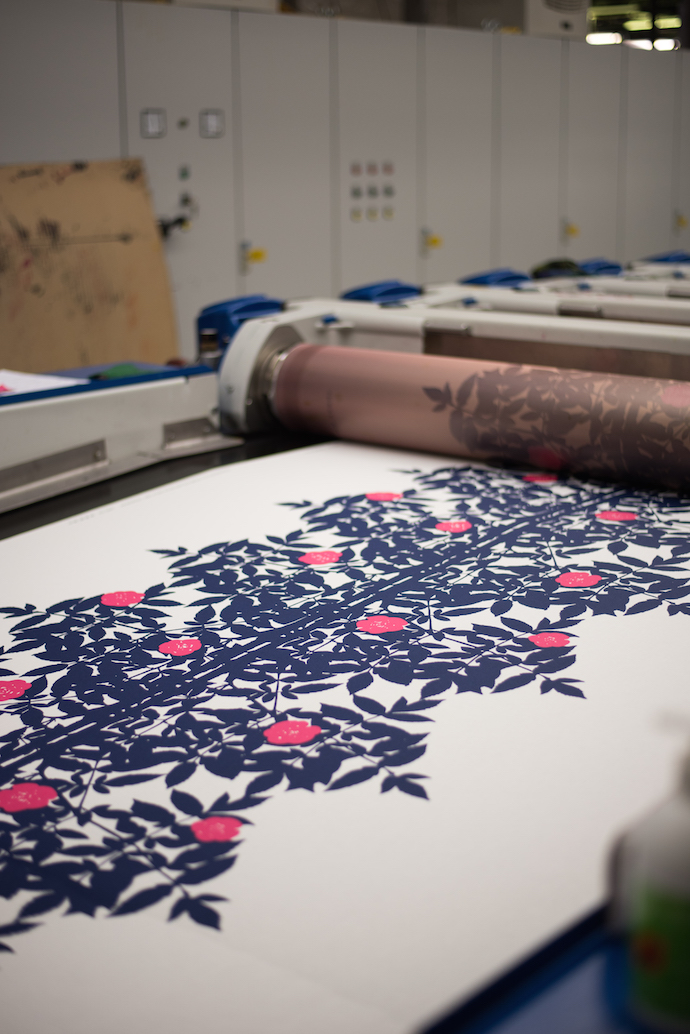 Suomessa ollessani sain kutsun tutustua Marimekon kangaspainoon, joka sijaitsee yrityksen pääkonttorin yhteydessä Herttoniemessä. Marimekko on merkkinä itselleni hyvinkin tuttu, sillä nuorena sain paljon Marimekon tuotteita lahjoiksi ja ensimmäinen rakas penaalinkin oli merkiltä. Muutamia vuosia sitten etsimme vanhempieni kanssa uutta joululiinaa kotiin ja löysimme täydellisen valkokultaisen pöytäliinan juuri Marimekolta. Pieniä kohtaamisia siellä sun täällä, mutta merkin muotimallistoa en ole ikinä kokenut omakseni. Sekin asia muuttui vierailuni aikana kun pääsin näkemään reilun viikon kuluttua Pariisin muotiviikoilla esiteltävän syysmalliston…Vihdoin voin sanoa, että mallistosta löytyi muutama "pakko saada"-tuote. Ja löytyyhän sieltä tämän hetkisestäkin mallistosta aarteita. Mitä sanotte esimerkiksi tästä upeasta raidallisesta Katrin – silkkipaidasta?
Malliston katsastamisen jälkeen siirryimme kangaspainoon ja kävimme läpi koko paino-prosessin. Täytyy sanoa, että en ollut varma mitä odottaa tältä vierailulta, mutta se olikin paljon mielenkiintoisempi kuin mitä kuvittelin. Heti kun sain enemmän tietoa siitä miten tyhjä kangas saa värinsä ja miten se sen jälkeen käsitellään, niin Marimekon kankaat saivat aivan uuden merkityksen! Kuvitelkaa, että koko prosessi vie vain noin kaksi päivää kun valmis kangas voidaan toimittaa jo eteenpäin. Monien vaiheiden läpi (värin painaminen, kankaan kuumentaminen, pesu, kuivaus, suoristaminen ja vielä sen tarkistaminen kauttaaltaan työntekijän toimesta – meniköhän nyt oikein?) asiakas saa upean kankaan ja laadukkaan printin, joka kestää kulutusta ja aikaa. Aika hienoa miettiä, että se meidänkin joululiina on painettu vain kivenheiton päästä vanhempieni kotoa!
Marimekko on aina edustanut itselleni vahvoja suomalaisia naisia ja merkin arvot ovat sellaiset, joiden takana voin kuluttajana seistä. Heti kun astuin Herttoniemen pääkonttoriin niin tuli hyvin tervetullut ja lämmin olo, mikä kiteyttää mielestäni Marimekon ytimen. Vaikka kaikki merkin tuotteet eivät minuun kolahdakaan, niin se ei tarkoita sitä, ettenkö voisi liputtaa merkin puolesta. Nyt odotan entistä enemmän heidän maaliskuista muotinäytöstä Pariisissa kun sain kokea kaiken tämän. Iso kiitos siis vielä Marimekon porukalle kutsusta ja mielenkiintoisesta vierailusta!
Hyvää viikonloppua kaikille!
While I was in Helsinki last week, I got an invite from Marimekko to visit their textile printing factory, which is located next to their headquarters in Herttoniemi. Marimekko has been present in my life since childhood and their prints are very familiar, but I have never been too drawn to colors and prints, which is why I have kept myself quite distant from the brand. Just recently I started being more interested, as Anna Teurnell became the creative director. I also think that me living abroad has made me appreciate Finnish brands so much more. I'm very proud of all the big and small Finnish companies, who have great values and offer high quality. Marimekko is definitely one of these companies. I'm also starting to be more drawn to the fashion collections thanks to Teurnell and for example this silk blouse is gorgeous. I also found a few amazing pieces from the upcoming FW16 collection, which will be presented in Paris next month. This one coat was just perfection…
So last week I got a private tour around the textile printing factory and I was really amazed by all the steps it takes to get the empty canvas printed and then to the stores. There's the printing, then there's the heating of the canvas, then the washing, the drying, straightening and finally someone checks every inch of the canvas with their bear eyes for any errors. Afterwards the canvas's are ready to be shipped. Can you imagine that this process takes only about two days? I'm now happier than ever that our Christmas tablecloth is from Marimekko, as it's printed nearby where I'm from in Finland.
For me Marimekko also stands for strong and intelligent women (you might want to read about the companies insteresting history) and this brand really has great values, which I can support as a consumer. When I walked into this meeting, I felt immediately very welcomed and I got a good vibe, which I think is the core of this brand. So thank you again Marimekko for such an interesting visit and I can wait to see your show next month!