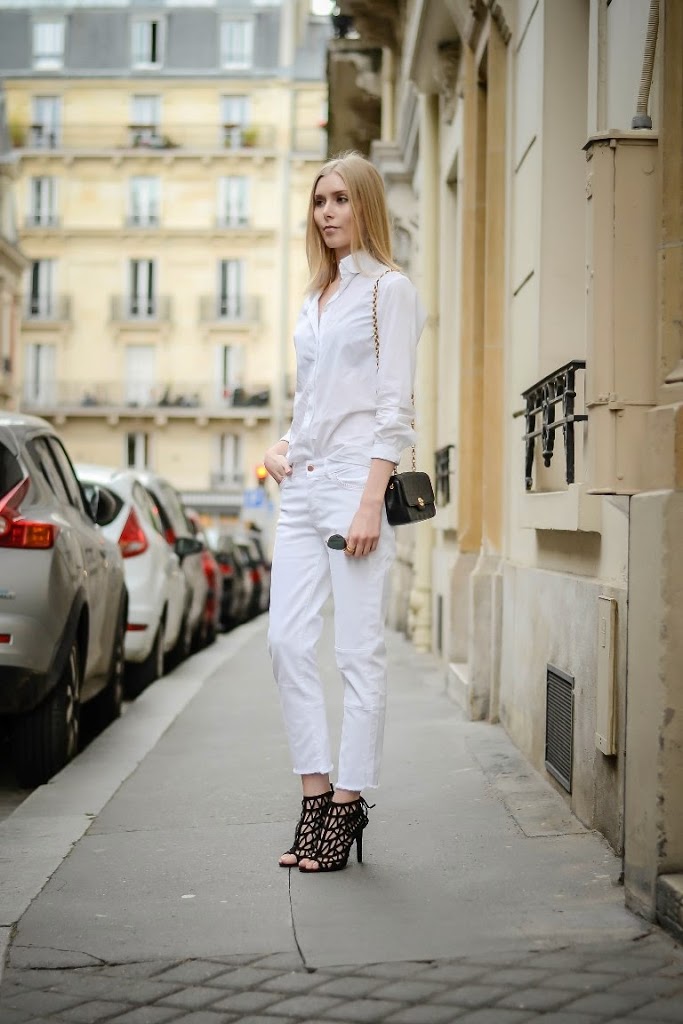 [dropcap custom_class="normal"]Näin kevään edetessä valkoinen väri tuntuu entistä raikkaammalta. Tämä kokovalkoinen asu on viime vuodelta (miten kaipaankaan vanhaa kotikatuani asukuvien taustana), mutta onneksi kaikki asun palaset löytyvät vielä kaapistani. Voin siis pukeutua siihen tänäkin vuonna. Olen muuten huomannut, että asukriisin iskiessä käyn usein tarkistamassa blogini "look-bookista" vanhoja asuyhdistelmiäni. Monesti käy niin, että sieltä saan sen tarvittavan inspiraation, heh. Kätevää, eikö? Samoja asuja tulee siis kierätettyä ihan urakalla.[/dropcap]
Hyvää keskiviikko-iltaa kaikille sateesta huolimatta!
As we are soon approaching Summer, I can't help but dream of all white outfits. This one is from last year (I miss my old home street in Paris as a backdrop for my outfit pictures) and luckily I still have all of these items in my closet. This means I'm going to wear this exact look this year as well. If I have a dilemma of what to wear, I usually check my blogs "look-book"-section and find inspiration from there. Clever no, heh? This means I rotate the same looks often, but I don't think it's the worst fashion crime.
Enjoy your evening everyone!
Shirt / Stella McCartney
Jeans / Zara
Heels / Zara
Bag / Chanel