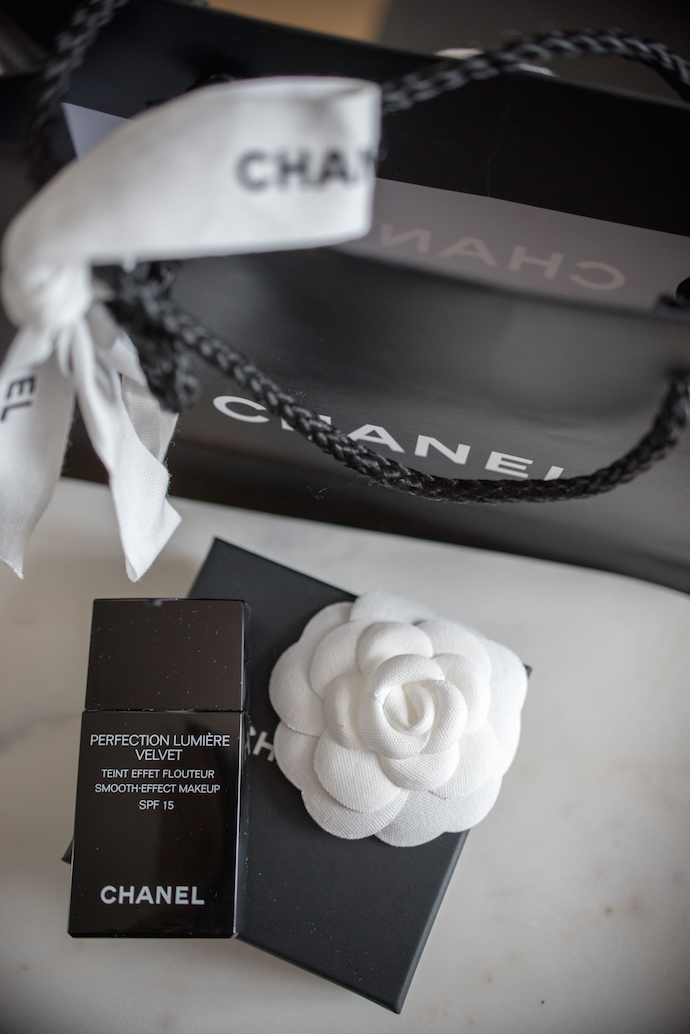 Arkena tykkään käyttää todella kevyitä meikkivoiteita ja kaappini viimeisin tulokas on Chanelin Perfection Lumière Velvet. Se on kevyt koostumukseltaan, mutta iholla muuttuu lähes samettiseksi. Usein sekoitan sitä ja Lumenen CC-voidetta keskenään ja se on ollut itselleni toimiva kombo. Lumenen meikkivoide tuo hehkua ja Chanelin meikkivoide tuo aavistuksen mattaisemman lopputuloksen, kuin mitä Lumenen voide yksinään. Nämä kaksi siis tasapainottavat toisiaan ja siksi ne sopivatkin niin hyvin yhteen!
Tämä Chanelin meikkivoide on hyvin juoksevaa, eli pakkausta kannattaa ravistella hyvin ennen käyttöä. Muuten tykkään sen pienestä ja kevyestä pakkauksesta, joka ei vie tilaa meikkipussissa juuri ollenkaan ja joka on kuitenkin riittoisa. Voin suositella tätä voidetta etenkin niille, jotka toivovat meikiltään luonnollista ja mattaista lopputulosta. Tämä ei siis ole kovinkaan peittävä, mutta tasoittaa ihon sävyä ja luo kauniin pinnan. Aurinkosuojakerroin saisi olla korkeampi, mutta kesällä alle kannattaa laittaa korkeammalla suojakertoimella varustettu voide, jotta kasvojen iho pysyy hyvin suojattuna auringolta.
Itselläni on vielä hakusessa se täydellinen peittävämpi meikkivoide, joka sopisi etenkin iltatapahtumiin ja miksi ei arkeenkin silloin kuin kaipaa hieman peittävämpää lopputulosta. Nykyään markkinat tuntuvat olevan tuotteita niin pullollaan, että sieltä purkki-viidakosta tuntuu olevan mahdotonta löytää sitä parasta vaihtoehtoa itselleen. En edes tiedä mistä aloittaisin. Siksi kysynkin teiltä, että mikä meikkivoide on teidän ehdoton suosikkinne?
During the day, I like to keep my make-up very natural looking, so I prefer very light foundations. The newest item in my make-up bag is Chanel's Perfection Lumière Velvet foundation. It's super light and transforms the skin by giving it a  matte finish and an almost velvet-like look. I actually like to mix it with another light foundation of mine, as I think the combination works best for me. The other one brings glow and this one tones it down just the right amount.

This foundation is very liquid, so I advice you to shake the bottle well before using it. I do love the light packaging, as it doesn't take too much space and is light to carry. I wish it had a higher SPF, but it's definitely a great product for someone who is looking for a very natural result.
I'm still searching for the perfect foundation with higher coverage for evening use, but it seems to be an impossible task. Nowadays the offer is so wide, that I don't know even where to start looking. Any ideas? What is your favorite foundation?