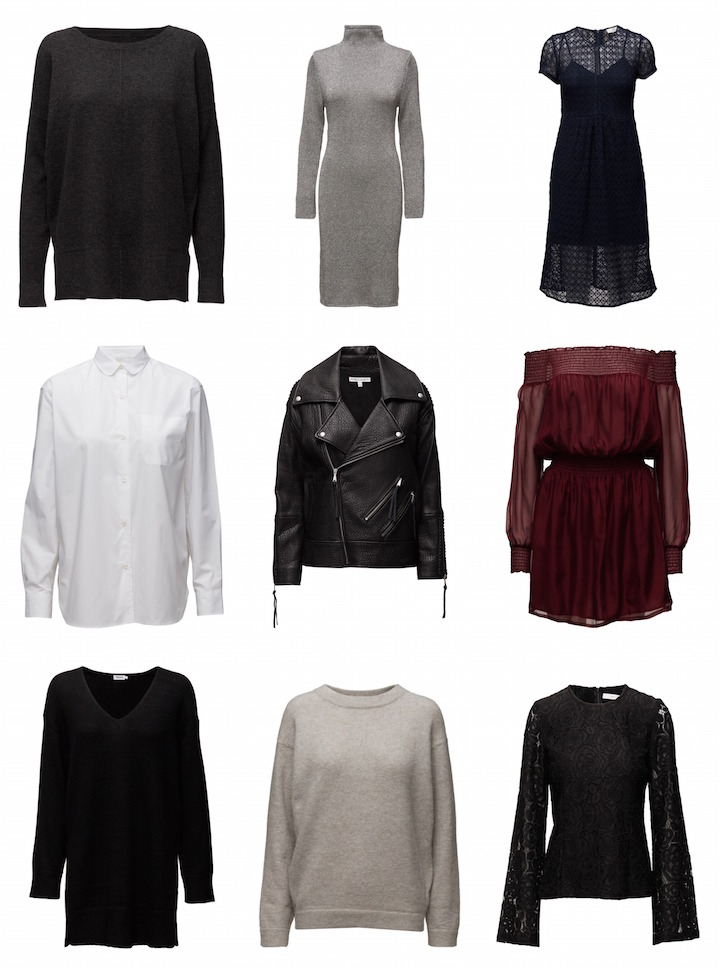 Knit / By Malene Birger   Dress / Cheap Monday  Dress / Day Birger et Mikkelsen
Shirt / Wood Wood   Leather jacket / Rebecca Minkoff   Silk dress / Designer's Remix
Knit / Filippa K   Knit / Filippa K   Lace shirt / Gestuz
Heinäkuuta on enää viikko jäljellä ja sitten alkaa kesän lempikuukauteni, eli elokuu. En ymmärrä mihin tämä kesä on taas mennyt, mutta onneksi se ei ole vielä kokonaan ohi. Ranskassa elokuu on vielä kunnon kesäkuukausi ja monella alkaa silloin vasta lomat (kuten poikaystävälläni). Monet ravintolat ovat myös kiinni koko elokuun, eli tämä kannattaa ottaa huomioon jos joku teistä on esimerkiksi menossa Pariisiin.
Suurin osa meidän kesän suunnitelmista on tehty nimenomaan elokuulle, joten innolla odotan tulevia viikkoja. Yksi niistä monista asioista mikä tekee elokuusta ihanan on se, että syksyn mallistot alkavat silloin olemaan jo kaupoissa. Ja kuten tiedätte, tämä kausi iskee minuun parhaiten. Miten raikkaalta tuntuukaan kesän jälkeen pukeutua nahkahousuihin ja paksuun neuleeseen. Ah, can't wait! Onneksi voin virtuaalisesti jo fiilistellä syksyn pukeutumista ja tässä taas suosikkini Booztin uutuuksista. Syksyllä haluan pukeutua kashmiriin, nahkaan ja pitsiin. Väreissä suosin tuttua mustaa, harmaata, valkoista, hiekkaa ja siihen vielä ripaus viininpunaista.
Rentouttavaa sunnuntaita kaikille!
We only have one week left of July and then it's time for August – my favorite summer month. I can't believe how fast this summer has gone so far, but the best is yet to come. In France, August is still a big summer month and many people have their vacations then. So does my boyfriend, so all our summer plans are tied to the last weeks of August. There's Flow Festival, Pärnu, Stockholm, Helsinki and then relaxing at our summerhouse. We are also hosting our friends in Finland, which we are super excited about.
August is also great fashion wise, as new collections are in stores. As you know, I'm all about Fall fashion and I can't wait to wear leather pants and cozy knits again. This collage shows well how I want to dress in the next few months. Cashmere, leather, lace…yes, please!
Have a relaxing Sunday everyone!
*Commercial links/Mainoslinkkejä.