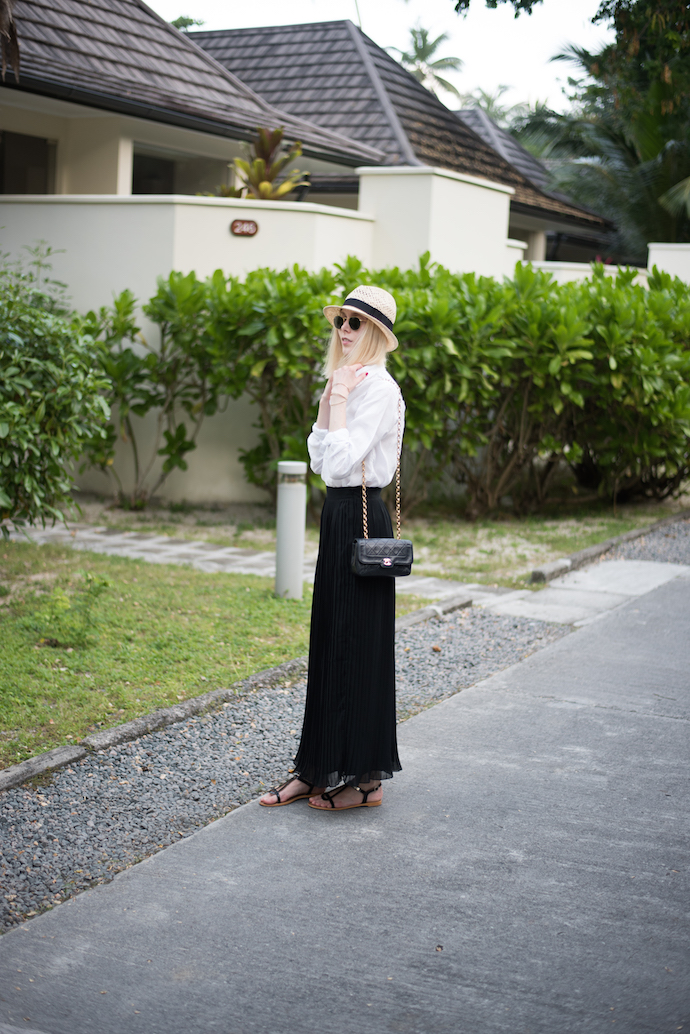 Matkalaukussani on vain mustia ja valkoisia vaatteita ja olen huomannut, että se on helpoin tapa varmistaa, että kaikki vaatteet toimivat keskenään. Mustavalkoisessa, kokomustassa tai kokovalkoisessa asussa kun voi harvoin mennä pieleen. Helpottaa huomattavasti lomailua kun ei tarvitse pohdiskella vaatevalintoja ja vain muutamalla vaatekappaleella saa monia eri kokonaisuuksia aikaan helposti. Lasken yleensä montako yötä olen yhdessä kohteessa/hotellissa ja vaatteita pakkaan sitten sen mukaan. Seuraavassa kohteessa sitten pesulan kautta likaiset vaatteet puhtaaksi ja samat setit taas käyttöön. Tällä taktiikka saisin varmasti vaatteeni mahtumaan viikonloppulaukkuun, mutta kengät ja kosmetiikka on sitten niitä tilaa vieviä juttuja, joten matkalaukku on kuitenkin pakollinen lähes kahden viikon reissulle.
Pellava on muuten lempimateriaalini aina kesäisin ja se toimii loistavasti kuumassa ilmastossa. Tykkään käyttää pitkähihaisia ja tämä pellavapaita on aivan mahtava vaate helteisiin. Uniqlon pellavapaidoissa on muuten loistava hinta-laatusuhde, eli ainakin niitä voin suositella lämmöllä!
Täällä aletaan hiljalleen valmistautua jo ensi viikon Helsinki reissuun ja tarkoitus on käydä muutamassa blogitilaisuudessa ja tapaamisessa, sekä tietenkin nähdä ystäviä ja perhettä. Molemmat kummitytöistäni täyttivät myös vuosia (toinen vuoden) tällä viikolla, joten heidän syntymäpäiviä täytyy juhlistaa sitten Suomessa paremmin. Kun nuorin kummityttöni syntyi vuosi sitten olin silloinkin Seychelleillä ja muistan kun ystäväni laittoi kuvan vastasyntyneestä nyytistä. Siinä tulikin sitten halu pakata kamat ja lentää saman tien takaisin Suomeen, heh.
Hyvää viikonloppua kaikille!
I only packed white and black clothing with me, as I'm a lazy dresser on holidays. No matter what two pieces I pull out, they'll match for sure. I also always pack according to how many days I'm staying in one location/hotel and then when changing the place, I just pay for the laundry service, so that I can wear the same looks all over again. This means I can take a very minimal amount of clothes with me. If I didn't have a few pairs of shoes and my cosmetics bag, I could have done this almost two week holiday with a weekend bag, heh.
Linen is one of my favorite materials for summer and it works well in these humid conditions. I prefer to wear  always long-sleeved shirts, so this one is great for holidays like this. I can highly recommend the linen shirts from Uniqlo (great price-quality)!
I'm slowly starting to get my mind ready for the departure and I'm planning my week in Helsinki. I have some business meetings, some events and then of course I want to see my friends and family before heading back to France. I'm sure it's going to be a busy, but a good week again (despite the horrible weather, which has apparently taking Helsinki over…).
Enjoy your weekend everyone!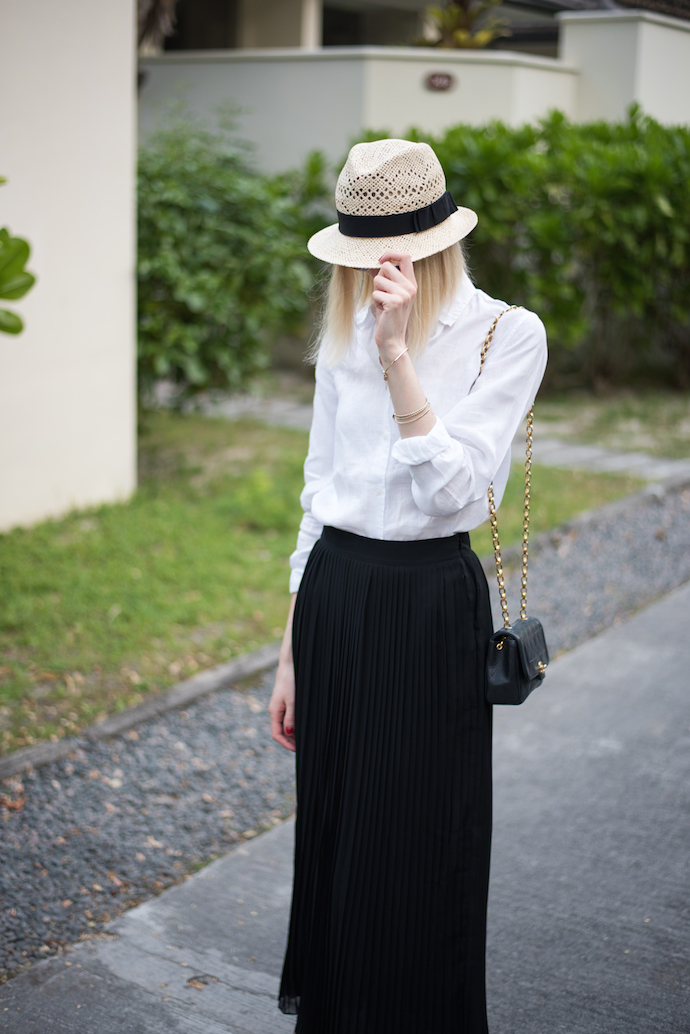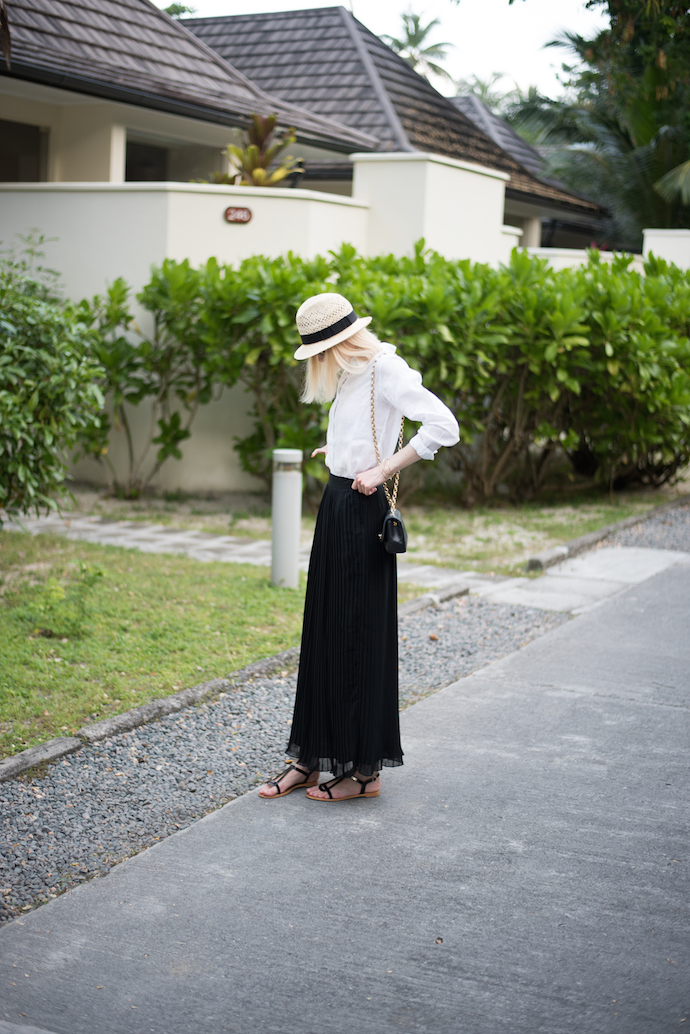 Shirt / Uniqlo (similar here*)

Skirt / Gina Tricot (similar here*)

Hat / H&M
Sandals / Les Tropeziennes
Bag / Chanel
Bracelets / & Other Stories
*Mainoslinkkejä.