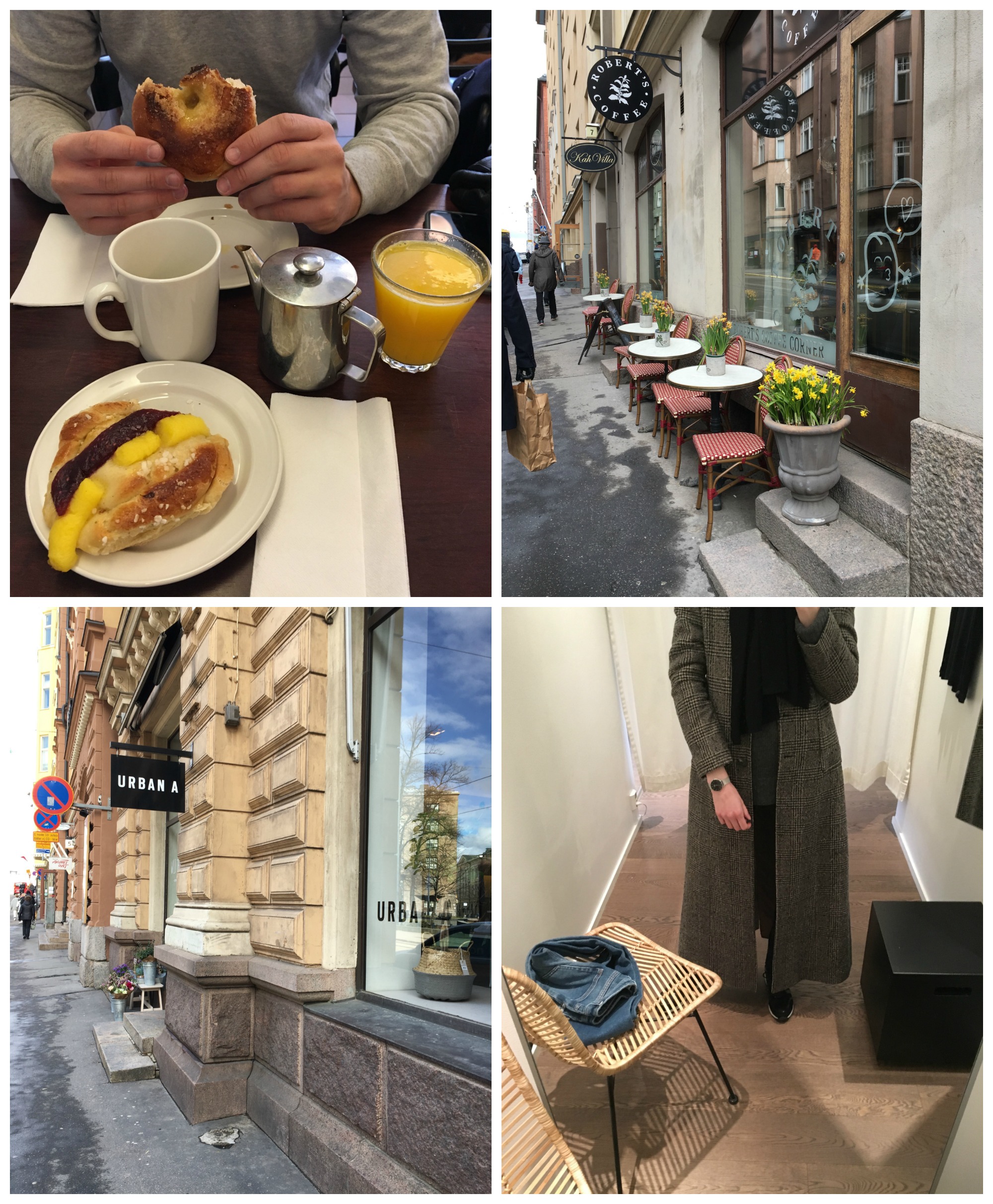 Eilen oli mitä ihanin lauantai ja sen kunniaksi tein perinteisen "through my phone" kuvapostauksen. Suurta (ja hemmetin painavaa) järkkäriä, kun ei aina jaksa kantaa mukanaan, joten puhelimella tallentaa paljon enemmän näitä arkisia hetkiä. Oli ihanaa, kun oli ensimmäinen täysin avoin viikonloppu omassa kodissa ja sen kunniaksi päätimmekin vain haahuilla ilman kunnon päämäärää. Aamu alkoi kahvilan aamiaisella (jep, mistään trendikkäästä avokadoleivästä ei ollut kyse heh) ja sen jälkeen kävelimme pitkin keskustaa ja tutustuimme lähialueisiin. Kävimme monessa uudessa myymälässä, sekä tsekkaamassa tuttujen putiikkien valikoiman. Ilmat olivat taas mitä olivat, mutta tällä kevyemmällä takilla pärjäsi hyvin, kun alla oli kaksi kashmirneuletta ja Helsinki-huivi lämmittämässä. Jalkaani valitsin nahkahousut, sekä mustat tennarit.
Yesterday we had such a perfect day, so I thought I'd share some of it with you through my camera pics. Through my phone I shoot so much more of the daily things, but they rarely get shown on the blog. Carrying the heavy camera around isn't always ideal, so a phone is a much more convenient way to save these moments. This was the first weekend in our new home when we didn't have any plans, so we just wanted to discover the neighborhood and go with the flow. Our morning started with a breakfast at a nearby coffee place and then we walked around and visited many stores. The weather was cold once again, but I managed with a lighter coat, as I put two cashmere knits underneath. I also wore my favorite leather pants and black sneakers.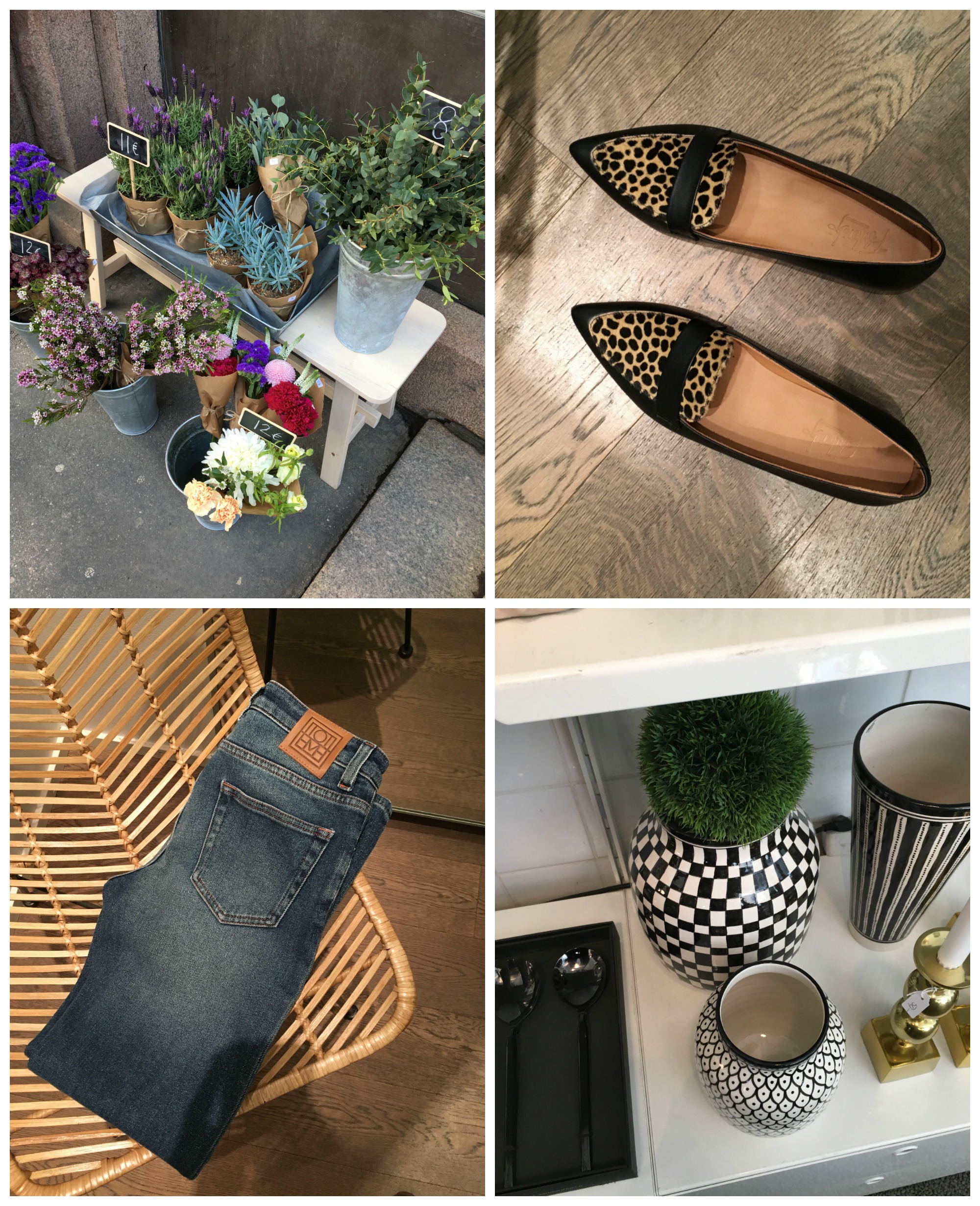 Kiitos teidän vinkkien osasin suunnistaa Urban A:han ja kävin siellä sovittamassa Totêmen vaatteita. Merkki oli kuulemma uusi heillä ja se oli lähtenyt hyvin myymään. Itse rakastuin näihin farkkuihin (kannattaa käydä sovittamassa, sillä istuvuus on perfecto), sekä mustaan t-paitaan. Näitä farkkuja on saatavilla kahdella eri pituudella ja itse olisin halunnut sovittaa vielä sitä 24/34 kokoa. Farkut on kyllä tarkoitettu nilkkapituiseksi, mutta mielestäni se 24/32 jäi juuri hitusen liian lyhyeksi itselleni. Urban A:han sitä kokoa ei ole tulossa, joten katsotaan jos laittaisin nämä tilaukseen merkin oman nettikaupan kautta. Voi myös olla, että sen mustan t-paidan joudun käydä nappaamassa…Urban A:sta löytyy myös Flattered merkin kenkiä ja nämä loaferit ovat kyllä yhdet suosikeistani (ja tuntuivat jalassa todella hyviltä)! Urban A:sta matka jatkui Zarroon moikkaamaan Alexaa ja siellä tuli kuolattua koko putiikin valikoimaa. Nämä upeat ruukut jäivät mieleen ja tämä shakkiruutuinen olisi täydellinen meidän keittiön pöydällä. Se meni siis mietintään!
I told you last week how much I love Totêmes collections, so now I finally got to try some of the products. A local multi-brand store called Urban A sells Totême and I fell in love with two pieces – these blue jeans and a black t-shirt. The jeans come in two different lengths and I'm a bit hesitant of which ones I should get. Urban A only had the shorter length and I'm just not sure if it was slightly too short. I would like to try the longer one as well, so maybe I'll order it too see the difference.The cut and color is perfect though, so if you're looking for blue jeans try these ones. Urban A also sells Flattered shoes and these loafers have been on my wish list forever.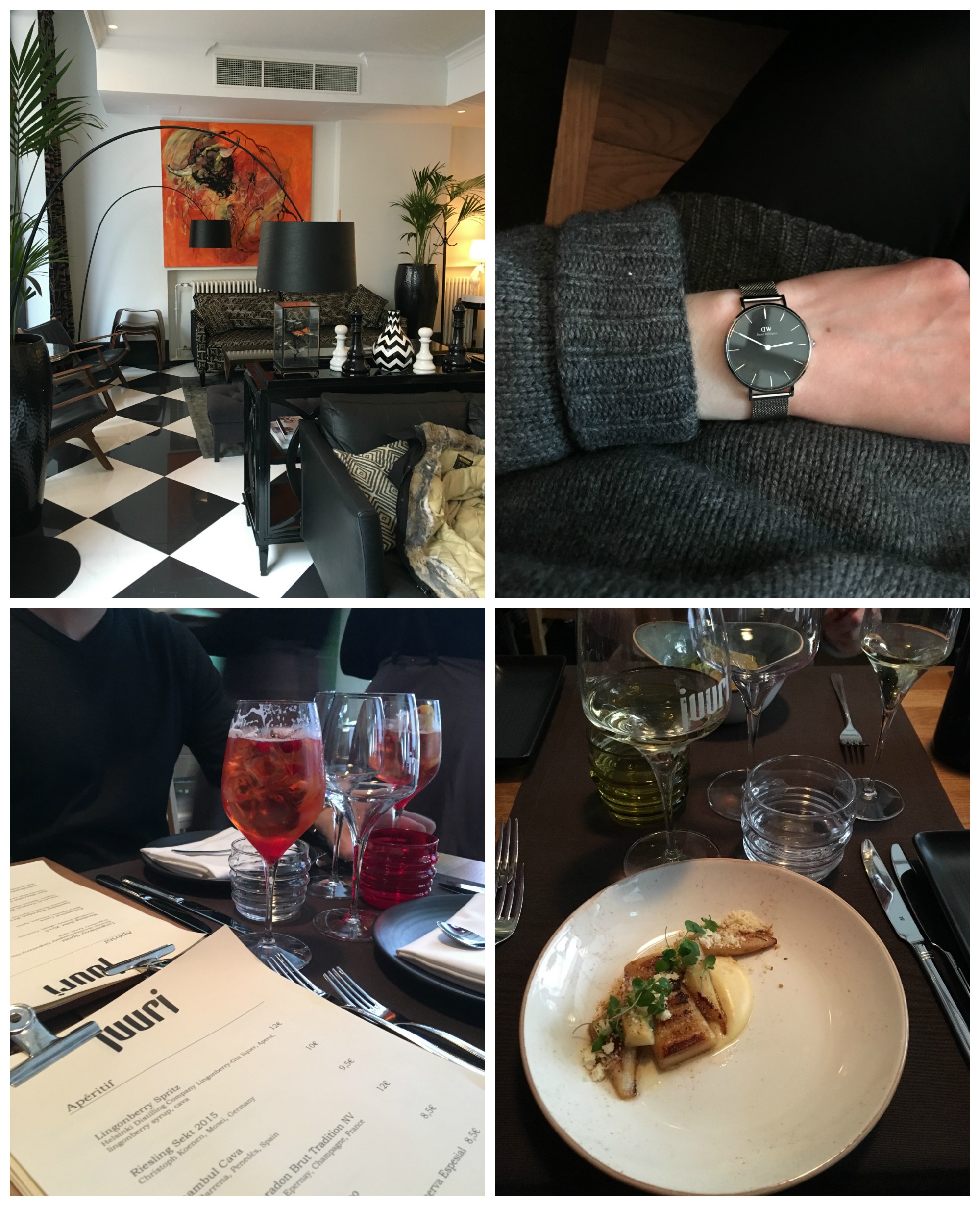 Lounasaikaan saimme viestiä vanhemmiltani, että he olivat keskustassa, joten järjestimme ex tempore treffit hotelli Lilla Robertsiin. Rakastan tämän hotellin aulaa ja olenkin käynyt siellä muutamaan otteeseen drinkeillä ystävieni kanssa. Aamiainen on ilmeisesti myös hyvä, joten sitä voisi joskus kokeilla. Drinkkien jälkeen kävimme vielä myöhäisellä lounaalla ravintola Juuressa. Se on kiva paikka ja palvelu on aina hyvää. Tällä kertaa alkupalat eivät olleet niin hyviä, kun aikaisemmin, mutta pääruoka ja jälkkärit korvasivat sen. Etenkin tilaamani karitsa annos oli erinomainen! Vaikka lauantaina ei tarvinnut ajankulusta piitata, niin ranteessa kulki Daniel Wellingtonin Classic Petite (saatu blogin kautta). Tuo hopea-musta yhdistelmä sopii asuihini kuin nakutettu ja kellotaulu on juuri sopivan kokoinen kapeaan ranteeseeni. Muistutuksena vielä, että koodilla STYLE-PLAZA saatte 15% alennusta koko merkin valikoimasta!
Tällainen oli siis meidän eilinen ja lounaan jälkeiset päikkärit vielä kruunasivat täydellisen rennon päivän. Tänään suunnitelmissa olisi käydä vähän ulkoilemassa ja tehdä blogihommia valmiiksi ensi viikkoa varten. Rauhallista sunnuntaita kaikille!
Around lunch time my parents called us and they were actually in the center. We then organized a date at a nearby hotel for drinks and from there continued to have a late lunch in Juuri. This restaurant is specialized in food made of local Finnish ingredients and I really love the concept. The service is always good and so is the food. I ordered veal for main course and it was delicious. My dessert was chocolate with potato flavored ice cream (sounds so weird I know), but it was surprisingly good! The best thing about our day was that we didn't have to keep track of the time, but nevertheless I was carrying the new Classic Petite from Daniel Wellington on my wrist. The black deal and silver mesh bracelet go so well with all my outfits and the size is perfect for my narrow wrist. Remember that you can get -15% of all Daniel Wellington orders with the code STYLE-PLAZA!
So this is how our yesterday looked and after our lunch I even took a nap, so we can definitely say it was a perfect Saturday. Today our plan is to enjoy the fresh air and get some work done for next week. Enjoy your Sunday everyone!
Save
Save
Save
Save
Save
Save
Save
Save
Save
Save