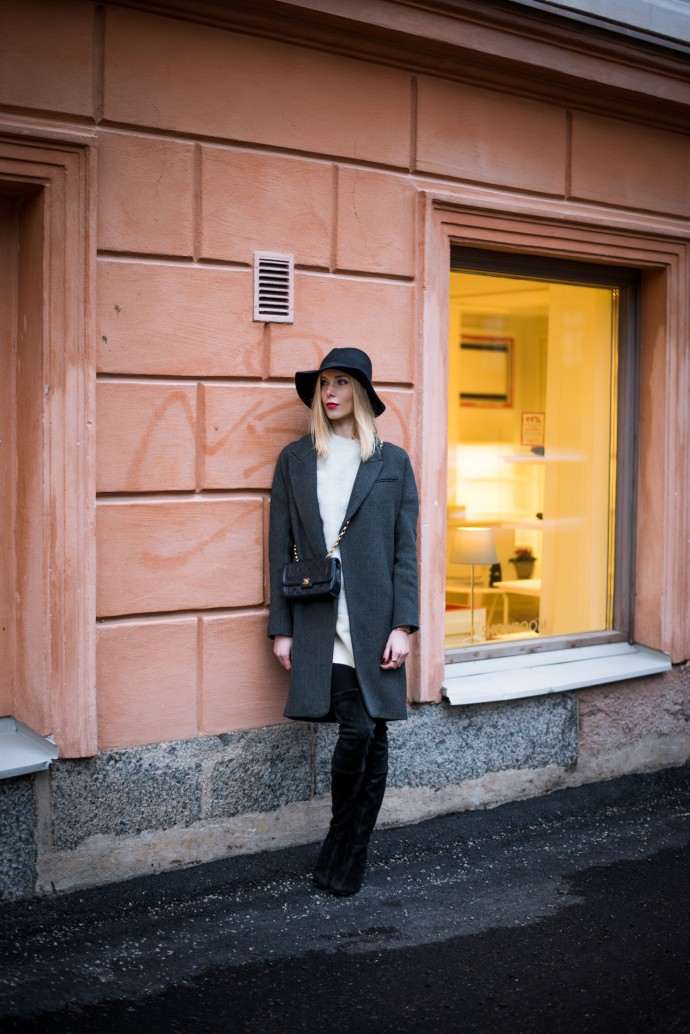 Tämä vanha Samujin mekko on sellainen mitä käytän harvoin, mutta mistä en luopuisi. Jotain niin ihanaa tässä on. Käyttäisin itseasiassa mielelläni enemmänkin suomalaisten suunnittelijoiden vaatteita, mutta en ole jotenkin löytänyt sellaista merkkiä jonka vaatteet kokisin omakseni. En tiedä, mutta mun mielestä osan suomalaisten suunnittelijoiden vaatteiden malleista on vähän outoja? Samujilla on esimerkiksi ihania neuleita ja takkeja, mutta ne koot ja leikkaukset on jotenkin erikoisia ja mun makuuni turhan laatikkomaisia jos näin voi sanoa. Ehkä ne ei vaan sovi mun kropalle niin hyvin, mutta harmi, sillä haluisin tukea suomalaisia suunnittelijoita paljon enemmän!
Onneksi sentään tämä aarre on löytänyt tiensä mun vaatekaappiin ja ulkomailla voin ylpeänä vastata kyselijöille, että kyseessä on suomalainen suunnittelija. Tämä taitaakin sitten olla ainut suomalaisen merkin vaate mikä kaapissani roikkuu…
Mitä suomalaisia vaatemerkkejä te fanitatte?
P.S. Tästä vanhasta postauksesta näette miten stailasin saman mekon kaksi vuotta sitten.
This dress is an old purchase from a Finnish fashion designer called Samuji. The lower part is reindeer leather and it always reminds me of Finland! Abroad I'm so proud to say I'm wearing a Finnish designer. That said, this is actually the only piece by a Finnish designer in my closet. I'm ashamed to admit that, because I would love to support local talent more, but in all honesty, I just haven't found a Finnish clothing brand that fits my style well.
I hope at some point a Finnish talent will come forward whose style would be more me, so that I could proudly wear Finnish design. Until then, I'll always have this beautiful dress in my closet.
P.S. In this old post you'll see how I styled the same dress two years ago.
Coat / Zara
Dress / Samuji
Suede boots / Zara
Hat / Pimkie
Bag / Chanel
Ring / Cartier
Save