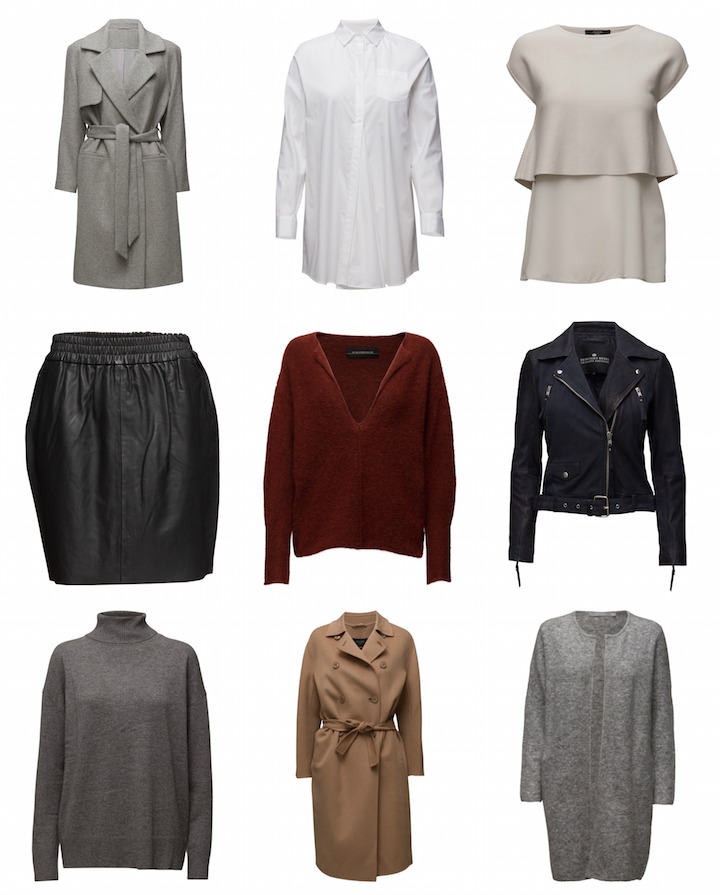 Coat / 2NDDAY   Shirt / Weekend Max Mara   Top / Weekend Max Mara
Leather skirt / Day Birger et Mikkelsen   Knit / By Malene Birger   Leather jacket / Designers Remix
Knit / 2NDDAY    Coat / Weekend Max Mara   Knit / Tiger of Sweden
Sanoin täällä juuri viime viikonloppuna, että kierrän kaupat kaukaa, koska en halua ostaa enää mitään alennusmyynnistä (yksi mekko ja farkut tuli jo ostettua). No mitenhän siinä sitten kävi? Huomasin netistä, että lapsuudenmaisemissani (jossa edelleen pyörin päivittäin) on muotiin erikoistunut liike ja mietin miten ihmeessä en ole kuullut tai nähnyt sitä aikaisemmin.  Mrs. Jones niminen liike sijaitsee Haukilahden ostarilla ja kävin siellä pikaisesti piipahtamassa ihan mielenkiinnosta. Noh, ei taas mennyt ihan suunnitelmien mukaan…Ale-rekistä löytyi nimittäin niin täydellinen musta maksimekko, että ilman sitä en voinut lähteä kotiin. Yritän saada asukuvia teille ensi viikon aikana! Putiikki oli myös aivan ihana, eli jos joku teistä asuu Haukilahden suunnalla, niin suosittelen käymään. No mutta, nyt aleostokseni on hankittu ja seuraavaksi keskityn syksyyn.
On ehkä huono idea esitellä syksyn uutuuksia näin heti juhannuksen jälkeen, mutta huomasin, että lempiverkkokauppani valikoimaan on tullut niin upeita juttuja, että en malttanut odottaa. Ilokseni huomasin myös, että Weekend Max Maraa saa nykyään myös Booztin valikoimasta. Ihania juttuja, eikö?
Toivottavasti kaikilla oli onnistunut juhannus? Itse pakkailen hiljalleen kamojani, sillä huomenna suuntaan takaisin Ranskaan. Kiva mennä hetkeksi omaan kotiin ja onhan sitä miestäkin ollut jo ikävä. Annoin herralle yhden toivomuksen (että hän vaihtaisi sänkyyn puhtaat lakanat – parhautta) ja hän sanoi, että pyykit on jo haettu pesulasta. Seitsemän vuoden jälkeen hän taitaa tietää toivomukseni jo ennen kuin edes esitän niitä, heh. Rauhallista sunnuntaita kaikille!
This is probably the worst time to talk about fall fashion, as we just celebrated Midsummer, but I just couldn't resist. Look at all these coats, knits and leather goodies! I'm probably crazy for saying this, but I can't wait to wear turtleneck knits and wool coats again. But luckily I found two dresses (one black and one white), which will save me during this time of the year, and thanks to those new pieces, I think I'm better equipped to handle the increasing temperatures. I'm leaving back to France tomorrow and one year ago I just remember us having +40 degree temperatures, which was horrible. Now I'm just hoping the rain will stop, but other than that, I don't even mind if it's not too warm. Next week is looking quite promising, so maybe I'm bringing the good weather from Finland to France, heh? Have a relaxing Sunday everyone! 
*Commercial links/Mainoslinkkejä.