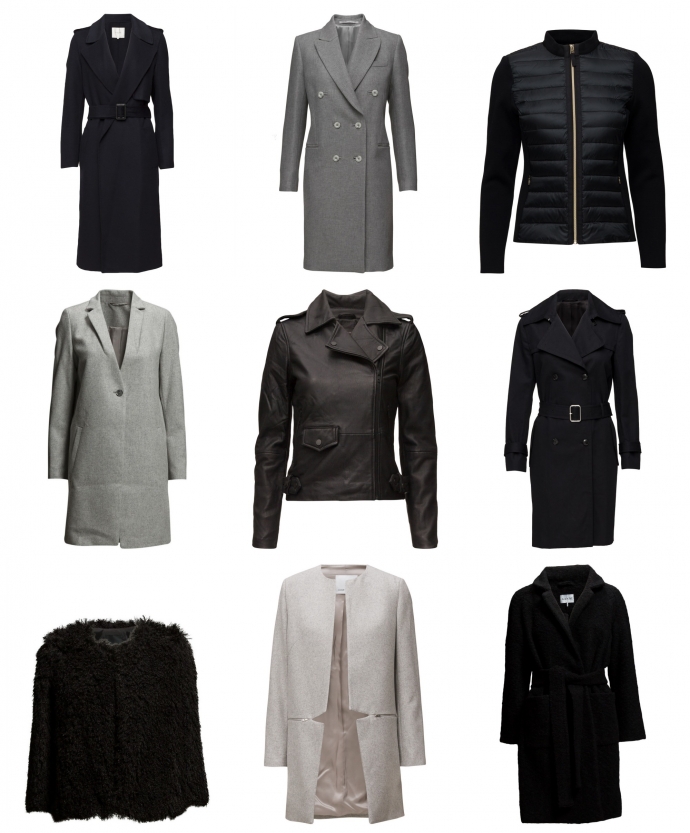 Selected Femme  /  Tiger of Sweden  /  Esprit
Samsoe & Samsoe  /  Selected Femme  /  Filippa K
J. Lindeberg  /  Samsoe & Samsoe  /  Ganni
Postailin eilen vaatekaappini uusimmasta tulokkaasta, sekä jaoin alennuskoodin Booztin verkkokauppaan. Vielä tänään saatte -20% alennusta verkkokaupan uusista takeista (koodilla Styleplaza20), joten tarkistin vielä koko valikoiman ja keräsin lempparini tähän.
Näistä kuitenkin ehdoton suosikkini on tuo Selected Femmen tummansininen villatrenssi (jos jätän tuon nahkatakin pois laskuista). Olen alkanut lämpenemään hiljalleen tummansiniselle ja koska trenssit ovat lähellä sydäntäni, niin ei ole ihme, että ihastuin tähän takkiin. Juuri nahkatakin hankkineena järki (ja lompakko) kieltävät sen ostamisen, mutta toivottavasti joku teistä onnistuu nappaamaan sen.
Itselläni ei ole perjantaisin tunteja, joten tänään ehdin tekemään töitä, viimeistelemään kouluhommia ja suunnittelemaan tulevaa reissua. Tuntuu hullulta, että palasin juuri joululomalta ja ensi viikolla lähden jo talvilomalle. Aikamoista lomailua, vaikkakin työt seuraavat aina perässä! Tänään meille on myös tulossa ystäväpariskunta raclette-dinnerille ja huomenna illallistetaan poikaystäväni perheen kanssa. Sen lisäksi haluisin ottaa asukuvia varastoon, jotta blogiin riittäisi materiaalia loman ajaksi, mutta saa nähdä miten aika riittää kaikkeen.
Mutta ihanaa ja rauhallista viikonloppua kaikille!
Yesterday I posted about my new leather jacket and today I picked all my other favorite coats in one post. However, my first pick would be the midnight blue wool trench coat from Selected Femme (I'm loving their new collection)! The color blue is growing on me slowly, but surely, so now wonder I fell for this one…besides the color, I'm also a fan of trench coats, so no wonder I have my eyes on it!
I'm so happy that on Friday's I don't have classes, as I really need this time to work, study and plan my next weeks trip. It seems crazy that I just returned back here from the Christmas holiday and now I'm leaving again for another one…Lucky us (students), but actually for me work follows everywhere so it's not only about relaxing on the beach (well a bit of that as well). This weekend we have two dinners set up and I also hope we have time to shoot again. Let's see…
Enjoy your weekend everyone!
*Commercial links/Mainoslinkkejä.