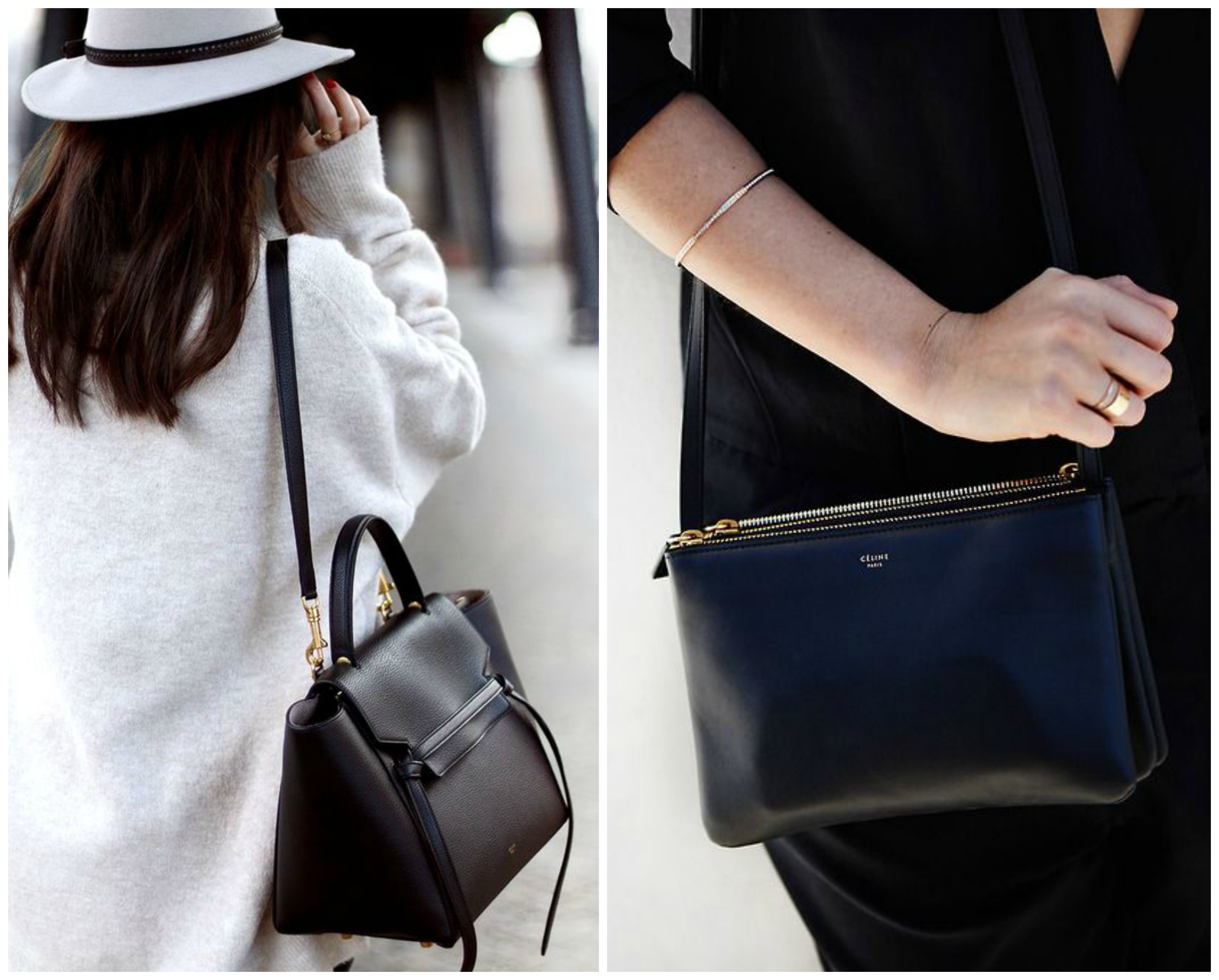 Taas ne ovat vahvasti ajatuksissani…laukut nimittäin. Ostin Célinen belt bagin muutama vuosi sitten ja olen ollut erittäin tyytyväinen valintaani aina siitä asti. Mielestäni se on muotokieleltään yksi tyylikkäimmistä laukuista markkinoilla. Kun ostin omani, malli oli juuri lanseerattu, joten siitä oli vain yksi koko tarjolla. Noin vuosi sitten mallistoon tuli sama laukku pienempänä ja vielä olkahihnalla varustettuna. Tiesin heti, että se olisi omiin tarpeisiini parempi. Jätin ajatuksen kuitenkin hautumaan, mutta nyt kesällä laitoin vanhan laukkuni myyntiin, joten uuden hankinta on ajankohtainen. Tiedän siis, että haluan saman, mutta pienempänä, joten ensi viikolla kipaisen Pariisista sen hakemaan.
Mikä on kuitenkin aiheuttanut hieman enemmän mietintää on pienempi Chanelini. Harkitsen vakavasti sen myyntiä, sillä kaipaisin ehkä kuitenkin sen sijaan arkisempaa crossbody-laukkua. Jotain mikä sopisi kaiken kanssa ja minne mahtuisi ne pakolliset asiat. Yhtenä vaihtoehtona on Célinen trio, jota ajattelin ainakin sovittaa Pariisissa. Onko kenelläkään teistä tätä kyseistä laukkua? Entä suosittelisitteko sitä muille?
Bags, bags, bags. I'm definitely a bag lady, because I'm obsessed with these things. I only have a few in my closet, but in bags (as in life general) I always choose quality over quantity. I've tried to build a timeless collection. I've had Céline's belt bag ever since it was launched, but as you know, now they have a smaller one with a shoulder strap on the market. As it's better for me, I sold my old one just to change to that one. Next week, I'll be heading to Paris to get it.
Another bag on my mind has been the Céline trio, which is a perfect casual bag for every occasion. I have a small bag from Chanel, but the gold details don't really make it an everyday bag. I have been using it a lot, but would like something more neutral (if that can be said). So, does any of you have the trio bag? Would you recommend it?
*Photos: Pinterest.