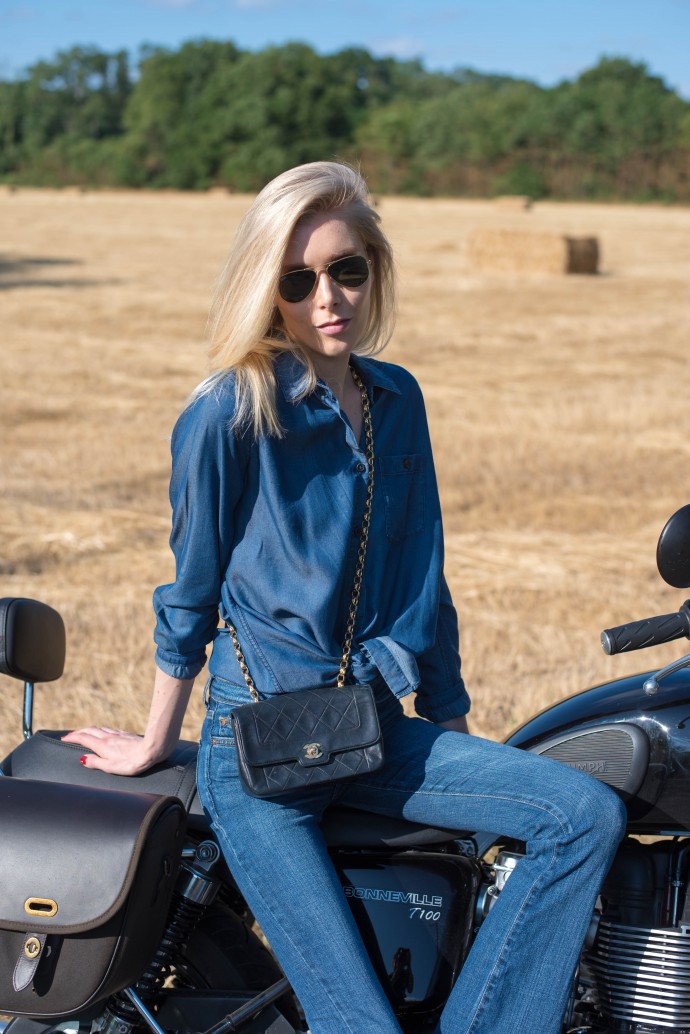 [dropcap custom_class="normal"]Olen aina rakastanut autoja ja ajamista, mutta moottoripyörät eivät ole ikinä oikein kolahtaneet. Ei vaikka nuorena tuli sahattua Pappa-Tunturilla mökkitietä pitkin niin, että hiekka pöllysi. Poikaystäväni isä osti hiljattain uuden menopelin ja päätimme käydä poikaystäväni kanssa sunnuntaiajelulla sen kanssa. Poikaystäväni jakaa isänsä kanssa kiinnostuksen kaikkea kohtaan missä on moottori ja autotallista löytyy jos minkämoista härveliä. Tämä uusin tulokas oli oikeastaan ensimmäinen mihin itse kiinnitin huomiota – onhan se tyylikäs jos ei muuta.[/dropcap]
Lähdimme siis yksi aurinkoinen sunnuntai kruisailemaan ja olihan sitä pakko pysähtyä kuvia varten. Mikä täydellinen lavaste kuviin! Kiitinkin poikaystäväni isää tästä mahtavasta "propsista" heh. Pyörä oli muutenkin harvinaisen mukava ja sen kyydissä olisi voinut olla pidempäänkin. Tämän moottoripyörän myötä myös varmistui se fakta, että uusi nahkatakki on hankittava. Kuinka hyvältä se vasta näyttäisikään tämän moottoripyörän kanssa. Syytän nyt siis poikaystävääni ja hänen isäänsä siitä, että heidän uuden prätkänsä takia "joudun" hankkimaan nahkatakin. Kätevää!
I have always loved cars and driving, but for some reason, motorcycles have never been my thing. Not even when considering that in my teens I was driving this super old school motorbike like a maniac in the dirt-roads around our summerhouse. My boyfriends dad bought recently a new toy and we decided to take it out for a ride. My boyfriend and his dad share their passion for everything that moves with an engine, so motorcycles (as well as quads and cars…) are their thing.  This motorcycle is something that I actually noticed this time, because I think it looks rather stylish.
So one sunny afternoon we took this beauty for a ride and of course I saw a photo opportunity, so we stopped for a mini shoot. This motorcycle was actually a great prop for outfit pictures! Such a multifunctional item, heh. Well besides it's dashing looks, it also actually moves (very smoothly) and is super comfortable. This motorcycle made me also realize how absolutely essential it is that I get myself a leather jacket. I mean, I gotta look the part right? Now I have the perfect reason to get the jacket! Thank god for motorcycles.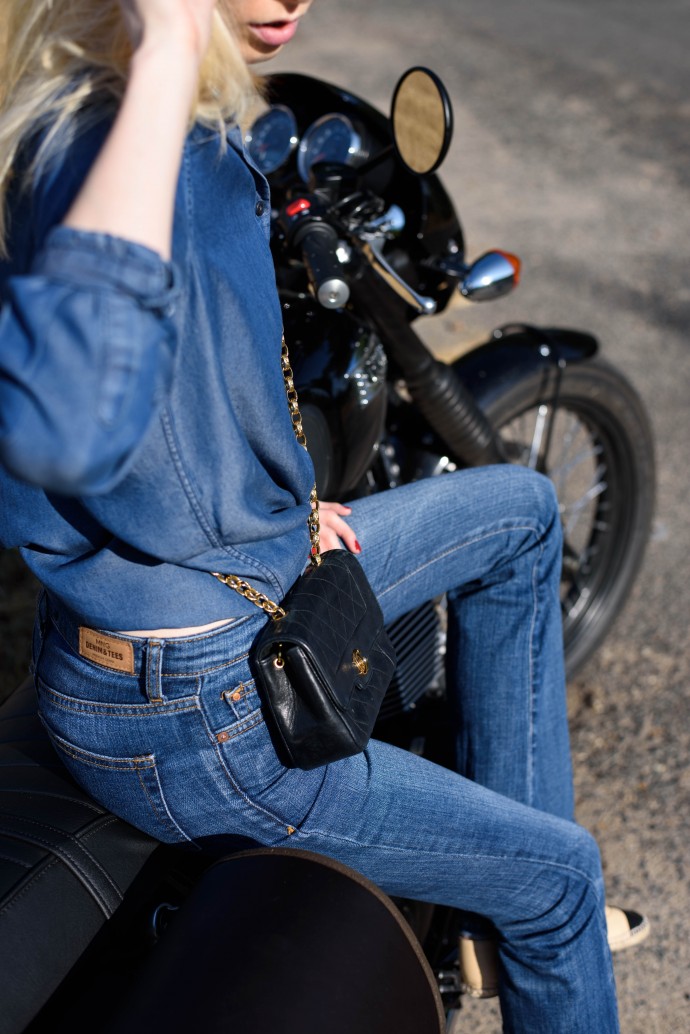 Jean shirt / Uniqlo
Jeans / Mango
Bag / Chanel
Shoes / Chanel
Sunnies / Ray Ban