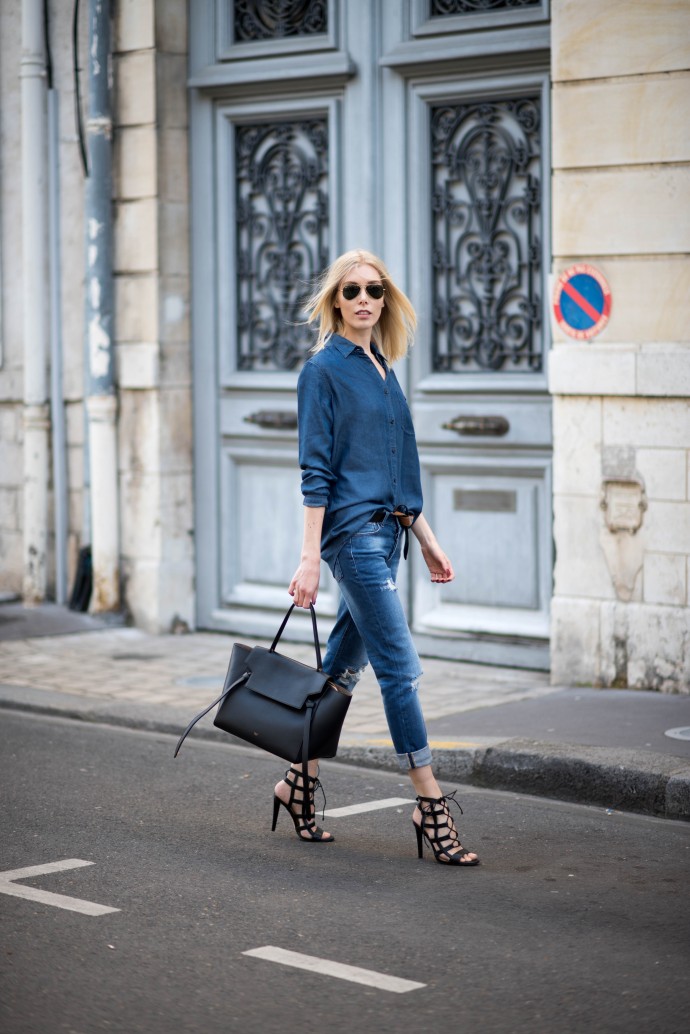 Vielä pari vuotta sitten vannoin, että en pukisi farkkua farkun päälle. Nyt tämä kombo on yksi suosikeistani, etenkin näin kesäisin. Niin se mieli vaan muuttuu! Kokeilin muuten tätä asua poikaystäväni Hermèsin H-vyöllä, mutta se logo oli jotenkin ihan liikaa. En tiedä mikä logo-ähky minulle on tullut, mutta asu oli paljon raikkaampi ilman sitä metalliosaa. Oikeastaan Vuittonin viikonloppulaukku on ainoa näkyvästi logollinen tuote mihin en ole kyllästynyt. Jopa Hermèsin H -käsikoru tuntuu liialta…
Uskon, että tämä logo-ähky on ohimenevää, sillä pidän ne logolliset tuotteet muutenkin ihan minimissään. Eihän se yksi H-logollinen käsikoru ranteessa voi olla niin vakavaa. Ja miten se onkaan niin, että kun muut merkkituotteet ärsyttävät niin Chanelin tupla-C on aina yhtä ihana? Oi voi. Näitä elämän suurimpia mysteereitä, heh.
Nämä uuden kotikaupunkini ovet ovat jotain niin ihanaa ja onko mitään ranskalaisempaa kuin pastellinsävyiset ulko-ovet? Näistä nautin! Ja hei yritän ensi viikolla postailla ranskalaisten ruokailutottumuksista. Sitä on toivottu, eli heti kun kiireet helpottavat niin pureudun aiheeseen!
Note to self: Kannattaisiko vaihtaa sukat johonkin vähemmän puristaviin, heh?
A few years back I was sure I would never dress in double denim. Well, now it's one of my favorite looks for summer. Funny how your mind works! I tried this outfit with my boyfriends Hermès belt, but for some reason the belt buckle (H) just felt too much. I guess I have an overdose of logos at the moment and I felt this look was more fresh without the belt buckle. Actually at the moment, Louis Vuitton's weekend bag is the only logo-item in my closet that works for me. Maybe that's funny since it's the most branded item I own…
I'm sure this is just a phase, because I never wear too many visible logos all at once in any case. And how is it that I never have a problem with Chanel's double C? Oh well…these are the biggest mysteries of life, heh.
By the way, I just love these pastel colored French doors. Aren't they beautiful?
Note to self: Find socks that don't kill the blood circulation around your ankles.
Shirt / Uniqlo
Jeans / Eleven Paris
Heels / Zara
Bag / Céline
Sunnies / Ray Ban
Belt / Hermès