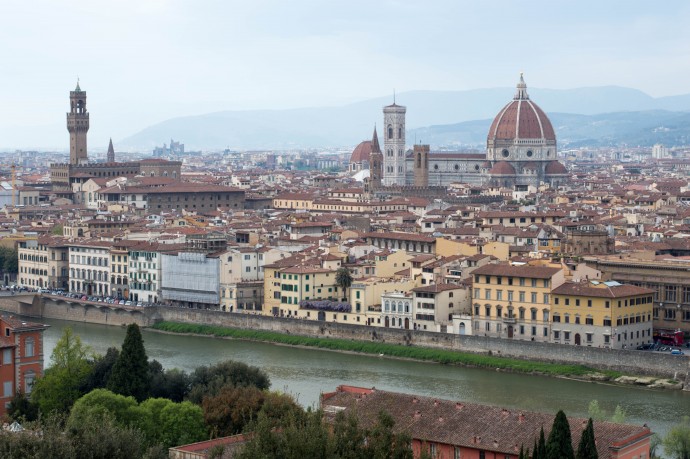 Firenze oli vielä upeampi kuin mitä olisin voinut kuvitella. Kerroinkin täällä, että olen matkustellut paljon Italiassa ja olen nähnyt monia upeita kaupunkeja, mutta Firenzestä taisi tulla uusi suosikkini. Sieltä löytyy lähes kaikki mitä elämässä tarvitsee – mieletöntä ruokaa ja loistavia viinejä, kaunista arkkitehtuuria, muotia, ystävällisiä ihmisiä, leuto ilmasto ja upea maaseutu kivenheiton päässä keskustasta. Jos sieltä vielä löytyisi perhe, poikaystävä ja kaikki ystäväni niin ei tarvitsisi montaa kertaa miettiä sinne muuttoa, heh.
Florence was even more beautiful than I had imagined. As I told you before, I have traveled quite a lot in Italy and seen many cities, but I have to say that Florence is my new favorite. This city has so much to offer and almost everything you need in life – delicious food, excellent wines, beautiful architecture, fashion, friendly people, great climate and a breathtaking countryside just next to the city. If my family, boyfriend and friends were all living there as well it would definitely be an easy decision to move there, heh.
Yksi asia mistä pidin erityisesti oli se miten kompakti kaupunki Firenze on ja että siellä pystyy kävelemään lähes joka paikkaan. Myös heti kaupungin reunoilta alkava maaseutu luo ihan maagisen tunnelman tähän kaupunkiin. Ruoan hintataso oli todella kohtuullinen (edullinen Suomen mittakaavassa), joten oli ihana nauttia joka ilta herkullisesta illallisesta ja hyvistä viineistä ilman, että piti maksaa itsensä kipeäksi. Ihmiset on myös todella rentoja ja ystävällisiä. Töiden jälkeen viinibaarit täyttyivät iloisista paikallisista ja mikäs siinä olla heidän seassa ja saada pieni annos sitä heidän täydellistä "elämä on nauttimista varten"-asennetta.
One thing that I really loved about the city is that the center is very small and you can walk almost everywhere. Also the beautiful countryside starts immediate after the city so it's super close. The food is actually quite cheap (at least if you compare to the Finnish prices) so it was so nice to enjoy a great meal with wine every night. I also loved how open and friendly the locals are. They really enjoy life to the fullest, which is something we all should aim at!
Muoti on myös Firenzessä läsnä ja huomasin etenkin, että vanhemmat miehet pukeutuvat todella tyylikkäästi. Oli ilo katsella kun miehet painelivat puvut päällä viimeisen päälle pukeutuneena töistä kotiin iltapäivällä. Muotimerkit Ferragamo, Gucci ja Aquazurra on myös Firenzestä kotoisin, joten heidän myymälöissä kannattaa käydä. Unohtamatta Guccin museota.
As we are talking about Italy, fashion is very present in Florence as well. Especially the older men dress very smartly and it was great seeing them walk home after work in their tailor-made suits and briefcases. Fashion brands such as Ferragamo, Gucci and Aquazurra are originally from Florence so you should definitely visit their stores. Also the Gucci Museum is something worth seeing!
Olin valinnut ihan täydellisen ajankohdan vierailulleni sillä joka päivä lämpötilat kohosivat lähemmäs +24 astetta. Oli siis todella kesäinen tunnelma! Sen vuoksi me vietettiinkin mahdollisimman paljon aikaa ulkona ja yksi päivä vierähti kokonaan upeassa puistossa. Siitä lisää ihan omassa postauksessaan.
My timing was perfect as summer had arrived in Italy! The temperatures rose up to +24 everyday, which was something I was so happy about. We spent a lot of time outside and one day spent a whole afternoon in a park. More about this beautiful place in a separate post.
Tämän viikon aikana kehiin on siis tulossa vielä Firenze postauksia, joten stay tuned! Itseeni iski ihan hirveä Italia kuume tämän reissun jälkeen taas (se on ollut jossain unholassa Ranskassa vietettyjen vuosien ajan) ja nyt tehtävä numero yksi on saada poikaystäväni ihastumaan Italiaan itseni tavoin (hän sanoo olevansa allerginen Italialle sillä niiden muutaman Italian reissun aikana hän on aina sairastunut korkeaan kuumeeseen – en kestä). Firenze voisi olla hyvä paikka aloittaa tämä brainwash koska tästä kaupungista ei voi muuta kuin tykätä!
So this week I'll post more about Florence, so stay tuned! My love for Italy is back (it was gone for a while when I was living in France) and now my job number one is to make my French boyfriend fall in love with the country as well. He tells me he's allergic to the country since he always gets high fever when visiting, heh. But I think I need to take him to Florence, because it's a city you simply cannot dislike!