Kutsukaa mua hulluksi, mutta ostin viime viikolla neuleen syksyksi ja talveksi…ei ehkä vielä ihan ajankohtainen, mutta oli niin täydellinen yksilö, että se oli tuotava heti kotiin! Kokemuksesta tiedän, että mieluisia juttuja (hyvällä hinnalla) ei kannata jättää kauppaan. Neule on villaa ja cashmerea, joten kaikin puolin siis täydellinen.
Rakastan muhkeita neuleita ja koska tämä oli malliltaan omaan makuuni liian slim fit, joten otin pari kokoa isomman. Näyttää kivemmältä näin kuin todella tiukkana. Ja onko parempaa yhdistelmää kuin kapeat farkut ja muhkea neule? 🙂 Tuleva kombo siis syksyyn! Pariisissa on ollut kaunis viikonloppu ja vaikka alkuperäiset suunnitelmat meni uusiksi (Pariisin lähettyvillä oli vakava juna onnettomuus, joten ei päästy viikonlopuksi poikaystäväni vanhempien luokse) meni viikonloppu taas hujauksessa. Ja tänään on muuten Ranskassa kansallispäivä (Vive la France!), joten illalla ohjelmassa ilotulituksia ja muuta. Hyvää viikonalkua kaikille!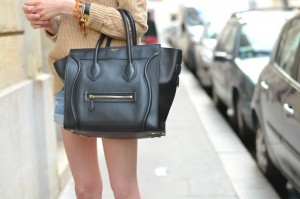 Knit/MassimoDutti, Shorts&Heels/Zara, Bag/Céline, Sunglasses/RayBan, Bracelets/Hermes,Fendi, Saint Laurent, H&M
First of all, I want to wish you all a great French national day (especially my French readers)! 🙂 Secondly, I want to introduce you to my new knit (wool and cashmere)…the perfect chunky version for Fall! I actually bought it in two sizes bigger than normally just to get the chunky cut. Think it looks better this way than if it was super tight! You can call me crazy for buying a wool knit in July, but it was too perfect to pass up and I'll be set for Fall 🙂 Enjoy your Sunday!