Taas se on maanantai ja rentouttavan viikonlopun jälkeen on kiva aloittaa uusi työviikko. Meidän viikonloppu meni tosissaan täysin rentoutuessa, hyvää ruokaa syöden ja leffoja katsellen. Koko lauantai satoi todella rankasti aamusta iltaan, joten sai hyvällä omallatunnolla maata sohvalla ja vaan olla! Tosin uhmattiin sadetta ja tuulta illemmalla kun vietiin koira lenkille, mutta siitäkin selvittiin! Miten teidän viikonloppu meni? Tällä viikolla on muuten Vogue Fashion Night Out ja yritän ottaa sieltä kuvia jotta pääsen ne täällä teille jakamaan!
Muotia ei aina tarvitse ottaa niin tosissaan ja heti kun näin nämä lasit niin mietin, että ne toisivat sopivasti huumoria mihin tahansa asuun! Ihan mahtavat mun mielestä! Tosin näitä kuvia ottaessa tajusin, ettei lasit pysy päässäni sitten millään, joten joudun ne varmaankin harmikseni palauttamaan, mutta toivottavasti löydän vastaavat jostain muualta! Hyvää viikonalkua kaikille!
It's Monday again and it feels nice to start the week after a relaxing weekend. We spent ours at my boyfriends parents place and it was nice as always; great company, good food and plenty of sleep. On Saturday it rained all day, so we just chilled at the house and watched movies all day. Perfection! How was your weekend? Hope it was good!

These glasses remind me how fashion should not be taken too seriously. I love a very classic style, but admire people who can pull of crazier looks. When I saw these glasses, I knew they would bring a little fun to any outfit! What do you think?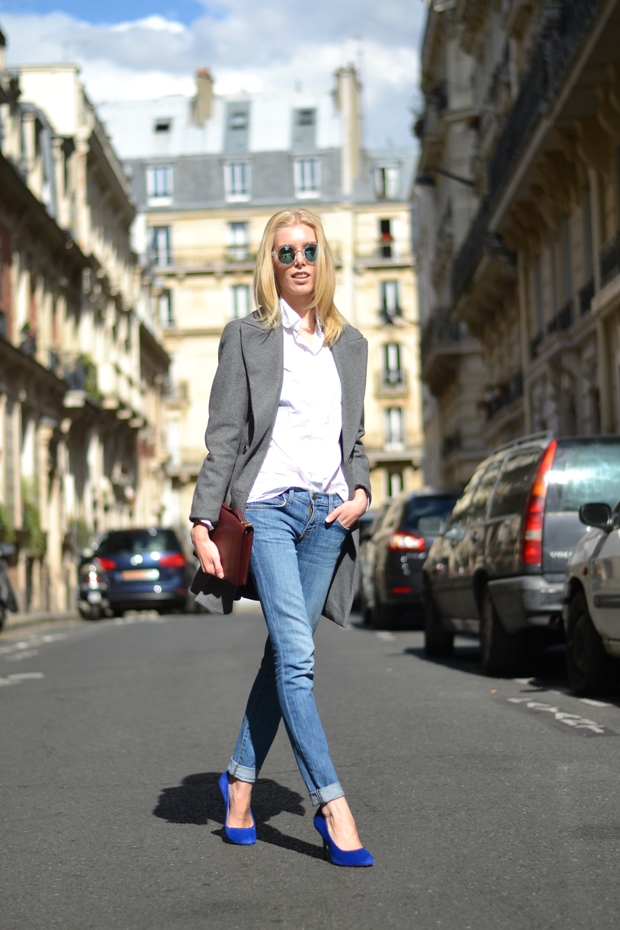 Coat / Zara
Shirt/ Stella McCartney
Jeans / Current Elliott
Clutch and Heels / Céline
Sunglasses / Zara