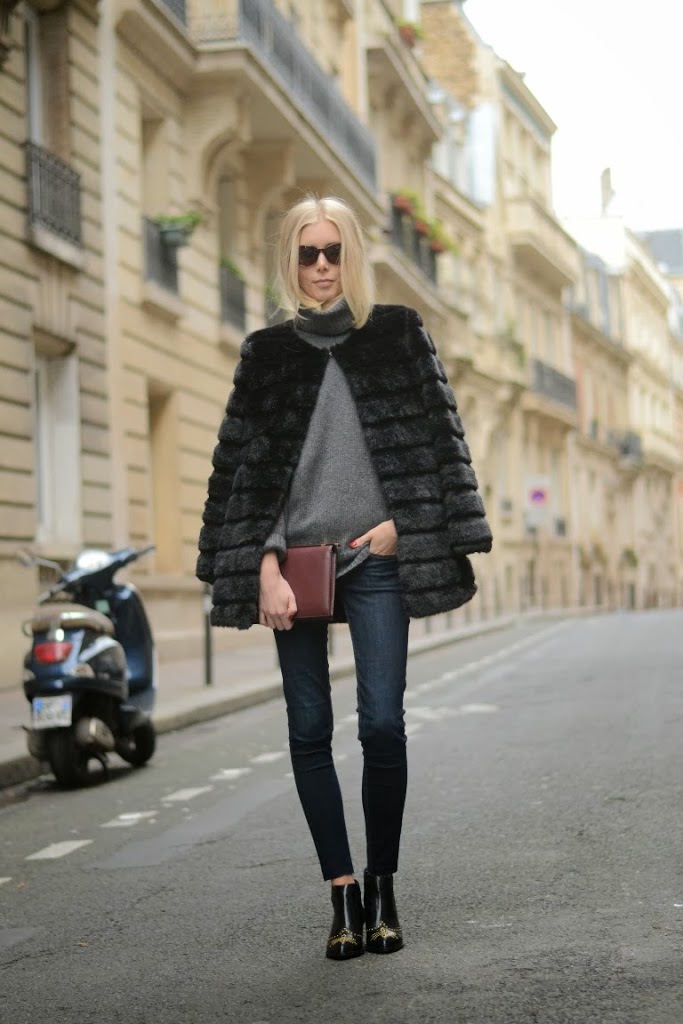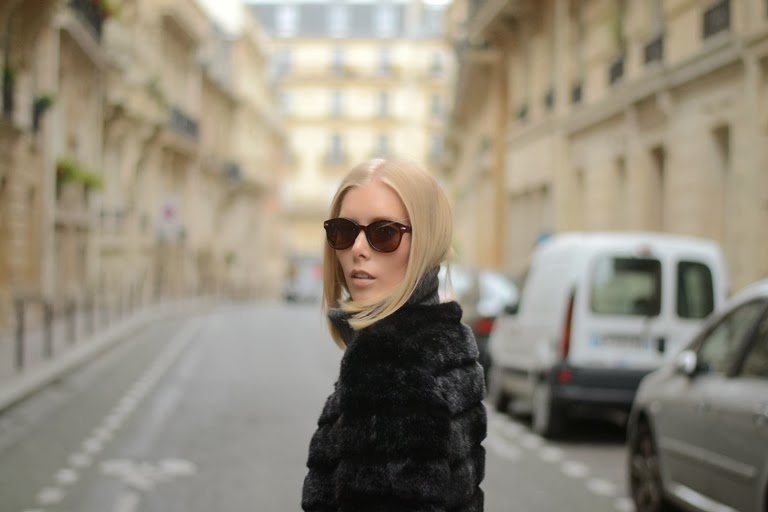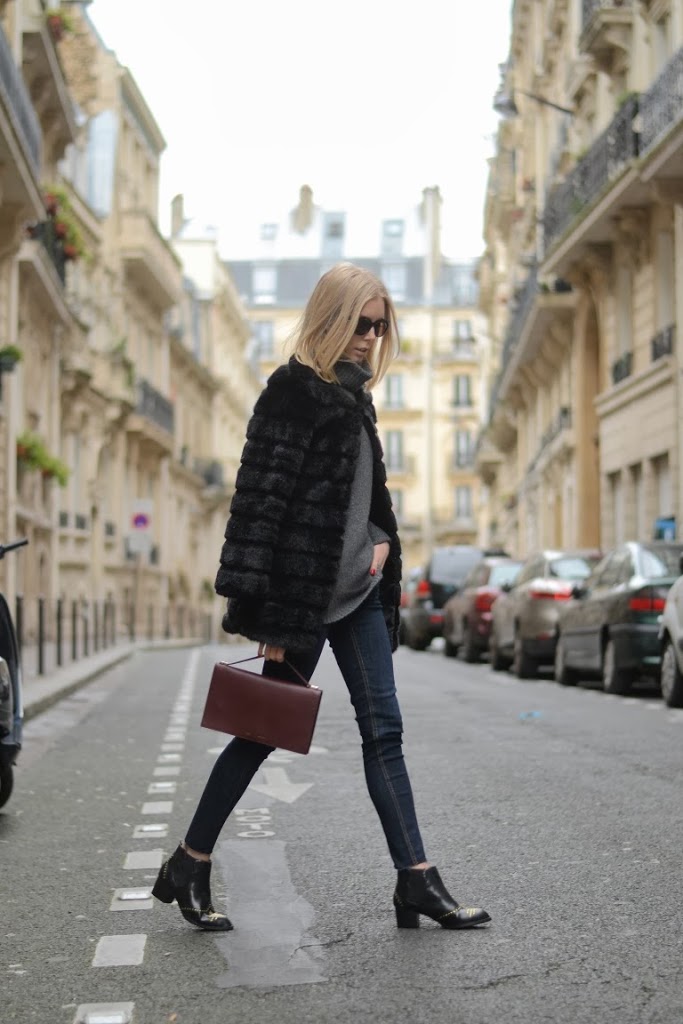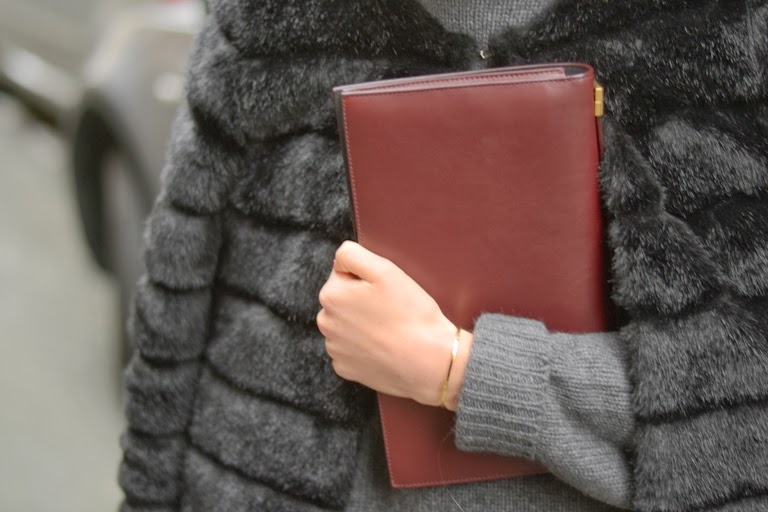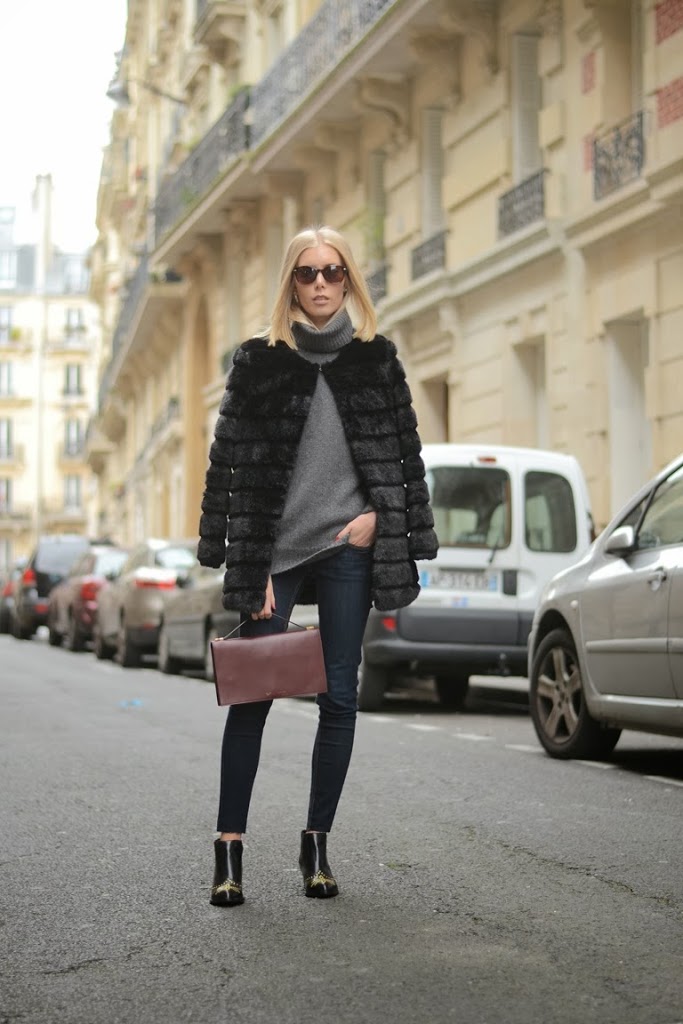 Coat / Storets
Knit / Joseph
Jeans & Boots / H&M
Clutch / Céline
Bracelet / Saint Laurent
Sunglasses / Lindex
Hello from Paris! I flew in yesterday and had a proper French welcome; the taxis were on strike. Just when I was travelling with two heavy suitcases and a weekend bag. The most luggage I've had since moving abroad…just my luck! I made it home eventually, but almost considered flying back to safe and organised Finland! 😉 Oh well, Paris is Paris…hard to leave this city behind! Today we managed to take some outfit pictures (it's been ages). The weather was a little cold so I wore my faux fur coat and a chunky turtleneck sweater from Joseph. Easy and a simple as usual!
Terveisiä Pariisista! Lentoni laskeutui eilen illalla ja heti terminaalista ulos päästyäni sain oikein kunnon ranskalaisen tervehdyksen; koko Pariisin taksit olivat lakossa. Juuri silloin kun matkustin kahden ison ja raskaan matkalaukun kanssa ja matkassa oli vielä viikonloppuveska joka oli sullottu täyteen Fazerin suklaata ja suomalaisia muotilehtiä. Siinä teki mieli ottaa paluulento takaisin Suomeen. Jos jokin asia tässä maassa ärsyttää niin se on jatkuva lakkoilu ja säätäminen. No, pääsin sitten bussilla suhteellisen lähelle kotia ja poikaystävä tuli vastaan auttamaan kamojen kanssa. Muussa tapauksessa olisin varmasti vieläkin raahaamassa niitä kotiin. No mutta, loppu hyvin kaikki hyvin!
Tänään ehdittiin ottaa nämä asukuvat ja tuntuu kyllä ihanalta päästä blogin normipostausten pariin. Päälle valikoitui Storetsin tekokarvatakki ja paksu pooloneule. Täällä on suhteellisen lämmintä vuoden aikaan nähden, mutta pureva tuuli tekee ulkonaliikkumisesta nihkeämpää (ainakin vähissä vaatteissa). Mutta tuttuun tapaan asu on helppo ja yksinkertainen! Hyvää illanjatkoa kaikille! Ja muuten ilahduin paljon teidän kommenteistä "Random facst about me"-postaukseen. Tällä blogilla on kyllä blogimaailman ihanimmat lukijat. Kiitos!