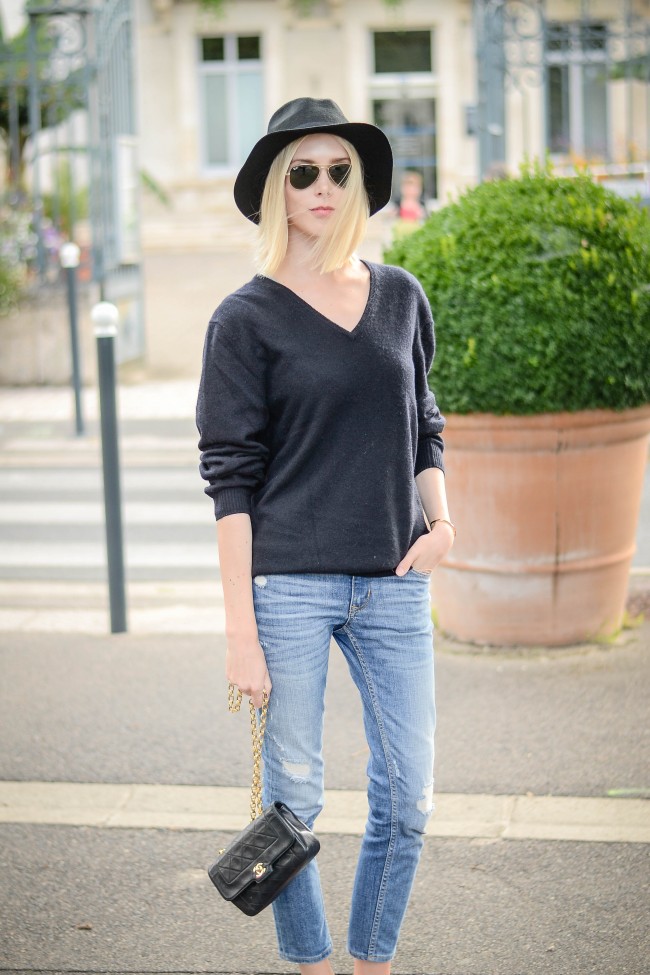 [dropcap custom_class="normal"]Opin käyttämään hattuja vasta pari vuotta sitten. Ennen sitä pidin niitä aina jotenkin koomisen näköisinä omassa päässäni vaikka ihastelinkin niitä muilla. Pari vuotta sitten hankin ensimmäisen oman villahattuni ja kankean alun jälkeen aloin tottua siihen. Sen jälkeen kaappiin on tullut useampi lisää joista tämä kuvissa oleva on uusin[/dropcap]Suurin ongelma mun kohdalla on se, että mun pää on niin pieni. Harvoin ketjuliikkeiden valikoimissa on kahta kokoa enempää valinnanvaraa ja se pienin on usein aivan liian iso. Tämänkin hatun ostin kiireessä ja vasta himassa tajusin, että sekin olisi voinut olla pienempi.
Täytyy jossain vaiheessa satstata yhteen laadukkaaseen yksilöön ja ostaa se sitten merkiltä miltä saa tilattua omien mittojen mukaisen hatun. Sitä päivää odotellessa nämä edullisemmat vaihtoehdot käyvät kyllä hyvin! Ja löysin muuten H&M:n lastenosastolta hyvän kokoisen hatun, eli täytyy ehkä vastaisuudessa tehdä mun hattu ostokset lastenpuolella, hih?
Tänä syksynä hatut on erityisen in ja niitä löytyykin lähes joka merkiltä. Onko teihin iskenyt hattu-hulluus vai jätättekö ne suosiolla hyllyille?
This season hats are very trendy. I bought my first felt hat a few years back and after a slow start, I started wearing it more often. After that my hat collection has expanded by a few more and this one in the pictures is my latest purchase. My biggest issue with hats is that my head is ridiculously small. Most brands make hats in only a few sizes and usually the smallest is still not small enough for my head. Even this new one is a little bit too big, but works just about. As long as there is not wind, hah!
At some point I need to invest in a hat and most brands specialized in hats make several different sizes. At least this way I would find a right fit! Another option for me is to buy them from the children's section…I already found one in H&M and the fit was perfect. I can't believe a 26-year-old finds her hats in the children's section, hih! Well…whatever works, right?
Jeans, knit / Zara
Sandals / Les Tropeziennes
Bag / Chanel
Hat / Pimpkie
Bracelet / Saint Laurent
Sunnies / Ray Ban