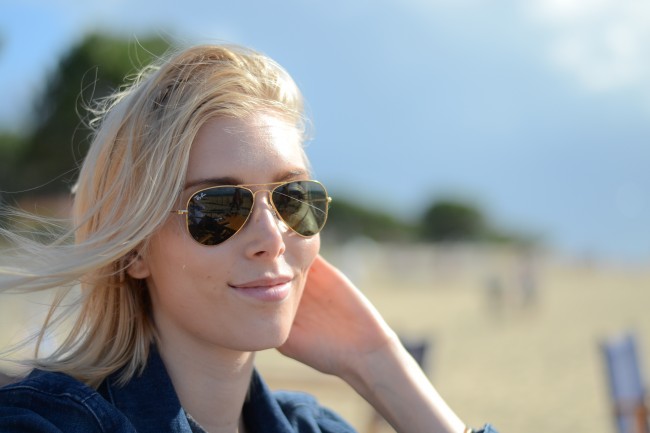 Olen vasta parin viime vuoden aikana oppinut sanomaan "ei"-useammin. Mun mielestä oma jaksaminen ja terve itsekkyys on tärkeitä asioita. Varsinkin ulkomailla asuminen ja lyhyet visiitit Suomeen on oikeastaan opettanut sen, että ihan joka suuntaan ei voi revetä. Silloin kun aika on rajallista niin haluaa nähdä vain ja ainoastaan niitä rakkaita ja läheisiä ihmisiä.
Ennen ulkomaille muuttoa olin yhden mallitoimiston listoilla ja ehdin tehdä muutaman keikankin. Ihan rehellisyyden nimissä ne hommat ei ehkä ollut ihan mun juttu ja yhdissä kuvauksissa jännitin niin paljon, että unohdin hengittää ja pyörryin. Heh, ehkä siis ihan hyvä, että laitoin opiskelut etusijalle!
Olen niin iltaihmisiä kun olla ja voi. Aamut on vaikeita enkä silloin ole parhaimmalla tuulella. Ollaan itseasiassa poikaystäväni kanssa ihan samanlaisia, joten voitte kuvitella millaista meillä on aina välillä aamuisin!
Olen aina ollut tosi hoikka ja kuullut siitä ihan pienestä asti. Monia arvuutteluita olen kuullut, mutta luin vauvapalstalta kerran ehkä kaikista mielenkiintoisimman tulkinnan. Siellä arvuuteltiin, että ranskalainen poikaystäväni "pakottaa" mut pysymään näin hoikkana. Ja samaan hengenvetoon mainitiin, että ranskalaiset miehetkän on kaikki pettureita. Että näin…;)
Mä olen varmaan ollut taxikuski aikaisemmassa elämässä sillä rakastan ajamista ja hyppään auton rattiin aina kun mahdollista.
Mulla on aika lyhyt pinna ja välillä olen hyvinkin temperamenttinen (aika harva näkee tämän puolen). Juurikin liikenteessä tulistun nopeasti, mutta toisaalta rauhoitunkin sitten heti.
Rakastan matkustelua ja olen äärettömän kiitollinen vanhemmille siitä, että olen päässyt matkustelemaan paljon ihan pienestä pitäen. Olin noin kuusi vuotias kun matkustettiin Intiaan ja se oli ensimmäinen kerta elämässäni kun näin todellista köyhyyttä. Se jäi mieleeni ja siitä lähtien olen osannut arvostaaa sitä mitä itselläni on ja niitä mahdollisuuksia mitä me suomalaisina saamme.
Mua ahdistaa liika tavaranpaljous ja siksi kierrätänkin omia juttujani säännöllisesti. Siinä on jotain terapeuttista kun saa kaapeista kaiken turhan pois!
Olen oppinut, että kaikkia ei voi miellyttää vaikka mitä tekisi ja ehkä ihan hyvä niin. Ei kukaan tarvitse kaikkien hyväksyntää ja tärkeintä on, että itse uskoo itseensä ja siihen omaan juttuun.
Meillä tulee poikaystäväni kanssa 5-vuotta täyteen parin viikon päästä enkä voisi olla onnellisempi hänen kanssaan. Ollaan käyty yhdessä jo aika rankkojakin aikoja läpi, mutta rakkaudella (ja huumorilla) niistäkin on selvitty. Mun mielestä suhteessa pitää osata nauraa itselleen ja toisilleen ja tämä taito me kyllä osataan. Kun toisen kanssa on hauskaa niin elämäkin on parempaa!
//
In the last few years I have learned to say "no" and be selfish in a good way. The fact is that sometimes you have to put yourself first and really choose your "battles".
I did some modelling before I moved abroad, but it really wasn't my thing. I even fainted once at a shoot, because I was so nervous!
I love evenings and early mornings are like torture to me, which means I am not the happiest person at 6am.
I have always been skinny (by nature) and people have always questioned why that is. The funniest "reasoning" so far has been that "my French boyfriend forces me to be this size". Oh lord, that's the craziest thing I have ever heard…but at least we had a good laugh!
I must have been a taxi driver in my former life, because I just love driving!
Many people don't see this side of me, but I can have quite a temper.
I love traveling and I'm so grateful to my parents for taking me to many different countries since I was born. I think it's so important to see how other people live. I was six when we traveled to India and it was the first time in my life I saw such poverty. It really helped me to appreciate everything I have from an early age and not take it for granted.
I get anxious if I have too many things. I love cleaning out my closets and think it's so therapeutic to get rid of unncessary posessions.
I have learned that you can never please everyone at the same time and that it's probably a good thing. I don't need everyone's acceptance as long as I believe in myself and what I'm doing.
In a few weeks I have been with my boyfriend for five years. During these years we've had to deal with some difficult times, but he has been my rock through all of it. I also think that it's super important to be able to laugh at yourself and each other in a long relationship. When you have fun together  and no trust issues, the relationship is built on solid ground!