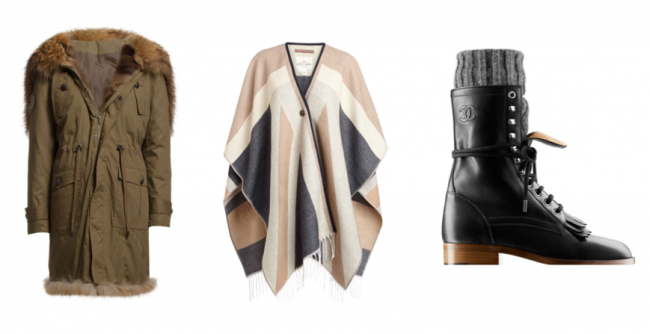 Taas on aika valita viikon parhaat löydöt! Olen päättänyt, että parka takki on sellainen johon aijon satsata. Sen kanssa on nimittäin käynyt aikaisemmin samalla tavalla kuin mitä mm. mun nahkatakkien kanssa. Edullisia versioita on tullut ostettua, mutta sitä täydellistä ei ole vieläkään löytynyt. Parka on niin ajaton, että haluan ensi kerralla ostaa laadukkaan joka palvelee monta vuotta. Yksi hyvä vaihtoehto on tämä Julie Fagerholtin* turkiskauluksinen versio!
Toinen löytö on tämä Lindexin poncho. Malli ja värimaailma on kaunis, mutta toivoisin, että materiaali olisi akryylin ja polyesterin sijasta vaikka villa.
Kolmas löytö on nämä Chanelin maiharit. Maiharit on muutenkin hakusessa, mutta tuntuu vaikealta löytää siroja sellaisia. Nämä Chanelin on täydelliset, mutta hintakin sitten sitä suolaisempi. Mitä maihareita te suosittelisitte? Dr.Martensithan on ne klassikot, mutta onkohan ne kuinka raskaat käytössä?
Hyvää viikonloppua kaikille!
It's again time for my Friday picks! I'm craving for a parka coat, a poncho and some sturdy ankle boots. This parka coat from Julie Fagerholt* is gorgeous and I have another one on my mind as well ( from Burberry). This poncho from Lindex has a great cut and colors, but I just wish it was made of wool! And don't we just love these Chanel boots…?
Have a great weekend everyone!
*Commercial link / Mainoslinkki.