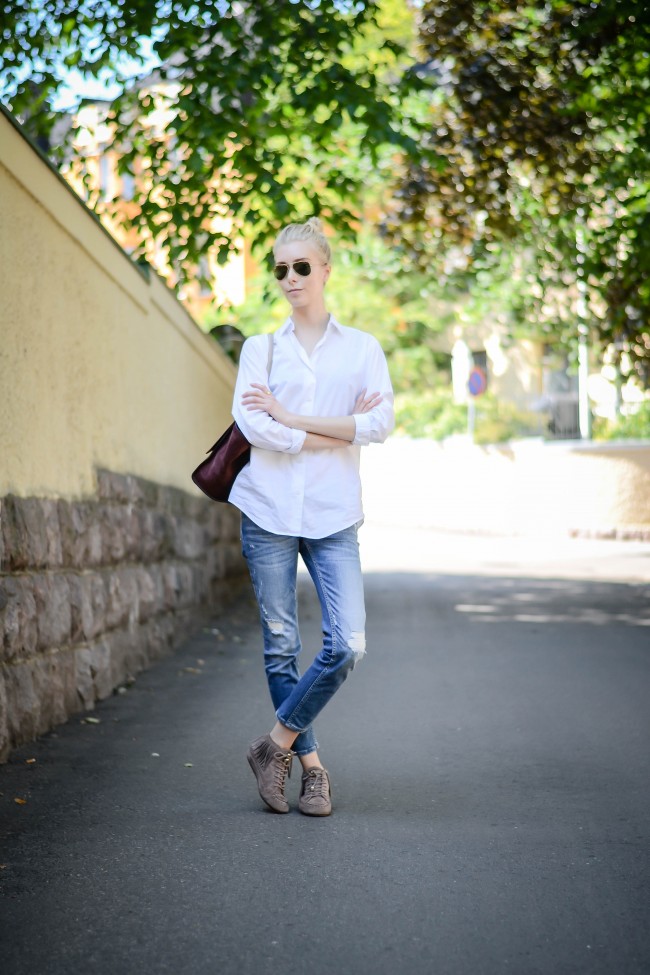 [dropcap custom_class="normal"]Onko mitään ihanampaa kuin näin kaunis syksy? Olen tällä monesti sanonutkin, että syksy on mun lempivuodenaika ja nautin pukeutumisesta ja muodista silloin eniten. Ainahan tämä syksy ei ihan näin aurinkoinen ole, mutta nyt täytyykin ottaa kaikki ilo irti näistä upeista ilmoista! Mä olen lähes joka viikonloppu mennyt landella koska siellä niin ihana olla just tähän aikaan vuodesta. Landella vallitsee oma rauha ja on ihana tehdä ulkotöitä kun ilma on hieman viilempi, mutta aurinko paistaa. I love it![/dropcap][spacer]
Tämä asu on jo hiukan vanhempi, mutta menisi vieläkin hyvin jos tuohon heittäisi takin olalle. Olen myös miettinyt miten saisin nuo tennarit toimimaan myös syksymmällä ja yritän ainakin jossain vaiheessa yhdistellä niitä nahkahousujen ja neuleen kanssa. Saa nähdä miltä se kombo näyttäisi! Olin muuten Lontoossa pikaviisitilllä poikaystäväni kanssa ystäviemme luona parisen viikkoa sitten ja otin ehkä huonoimmat kengät mukaan. Kuvittelin, että mun Louboutinin slipper-malliset kengät on ollut sen verran usein jo jalassa, että niillä pystyisin hyvin kävelemään sen kaksi päivää. Ei mennyt ihan niin…jo lentokentällä alkoi tehdä kipeetä ja Lontoon päässä kantapäissä oli valtavat rakot. Ei siis auttanut muuta kun mennä ensimmäiseksi kenkäostoksilla. Onneksi mustat perustennarit on ollut toivelistalla jo ties kuinka pitkään, joten nyt oli hyvä sauma hankkia ne. Löysin Adidaksen Stella McCartneyn mallistosta yhden todella yksinkertaisen mallin, jotka käy loistavasti city lenkkareina. Asua tästä rennosta lookista ensi viikolla!
We have had such an amazing Fall (so far) here in Finland! It's been warm and sunny almost everyday. As you know, Fall is my favorite season and it's when I feel the most inspired fashion wise. I have also been spending almost every weekend at our summerhouse, because there I can really enjoy and see the season changing.
This outfit is a bit older, but I could still wear it now with an overcoat or knit. What do you think of this look?
Shirt / Zara
Jeans / Zara
Bag / Céline
Shoes / Louis Vuitton
Ring / Cartier
Sunnies / Ray Ban