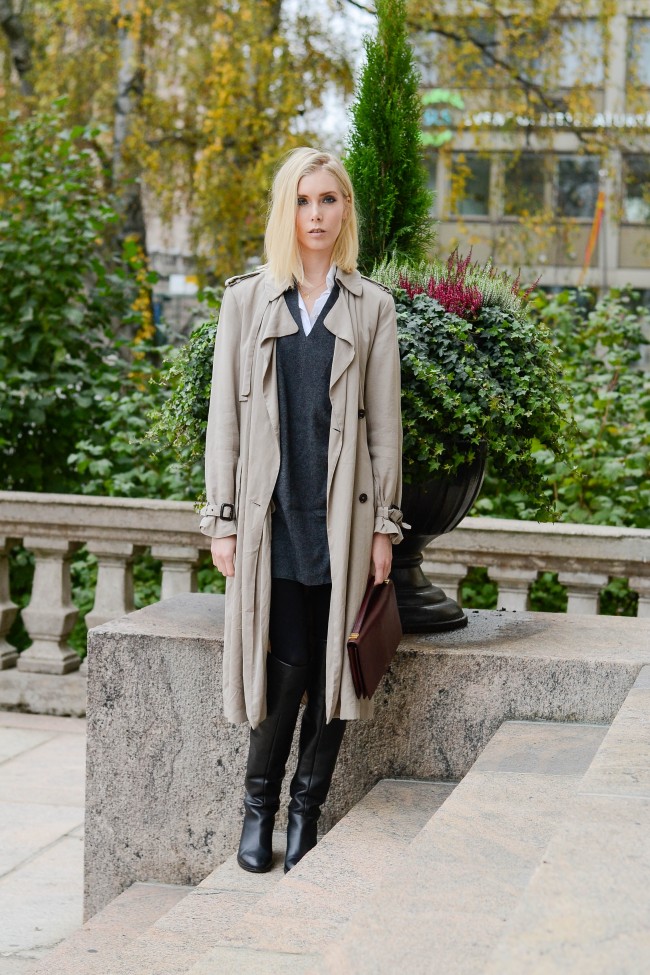 Poikaystäväni oli täällä viime kuussa ja onneksi näin, sillä pystyttiin olemaan samassa maassa kun meille tuli 5-vuotta yhteiseloa täyteen. On hurja miettiä, että siitä on jo viisi vuotta kun tavattiin Etelä-Ranskassa. Tuntuu, että todellisuudessa se tapahtui vasta hetki sitten. Aina tällaisena päivänä sitä tajuaa miten nopeesti aika menee eteenpäin. Meillä on ihanat viisi vuotta takana ja toivottavasti yhteisiä vuosikymmeniä vielä edessä.
Vuosipäiväksi valitsin päälleni tämän asun. Peruskauraa niin kuin aina. Nyt odottelen, että pääsen ensi kuussa herran luokse Pariisiin ja siellä meillä onkin tiedossa isot juhlat ystävien kesken. Niihin haluan sitten panostaa asuvalinnallani hiukan enemmän! Kuun lopussa on muuten luvassa kysymyspostaus ja mietin jos Pariisissa vastailisin sitten videon kautta niihin kysymyksiin. Ekasta videopostauksesta olen nyt toipunut, joten ei muuta kun eteenpäin, hih.
Hyvää alkanutta viikkoa kaikille!
P.S. Tällä viikolla julkaisen joka ilta yhden lempiasuistani Pariisin ajoilta, joten stay tuned!
Last month me and boyfriend celebrated our five years together. It's just crazy to think it's already five years since we me in South of France, because sometimes I feel like it's only been such a short time. Time flies when you're having fun I guess!  Hopefully we'll have many more good years together.
For our anniversary I chose to wear this simple look. Next month I'm flying to Paris to be reunited with my love and I'm already packing my bags with all my favorite pieces. I was also thinking of making a post at the end of the month where you can ask me anything and then I'll make a video post in Paris to answer them. I have recovered from the first video post so now it's time to make a new one, heh!
Have a great new week lovelies!
P.S. Every evening this week I'll be posting an old look (some of my favorite outfits) from Paris, so stay tuned!
Trench coat / Zara
Knit dress / All Saints
Shirt / Stella McCartney
Boots / Zara
Clutch / Céline
Necklace / Dinh Van